Shabazz Muhammad's father pleads guilty in federal fraud case (updated)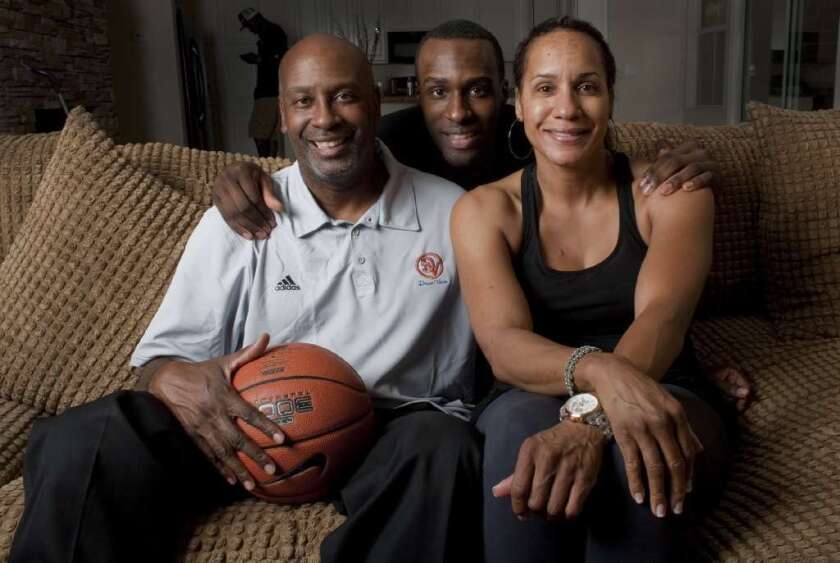 The father of NBA rookie Shabazz Muhammad has pleaded guilty to conspiracy to commit federal fraud.
Ronald Holmes had originally pleaded not guilty to the charge, along with several other counts, when he was indicted in late May. On Thursday in U.S. District Court in Las Vegas, Holmes changed his plea, court records show. He also agreed to pay $1.7 million in restitution as part of his plea.
A former USC basketball standout, Holmes was arrested as part of a long-running FBI investigation into mortgage fraud in and around Las Vegas. He was accused of using false information and straw buyers to buy and sell homes in the area. In some cases, the indictment said, Holmes lived in houses obtained with fraudulent mortgage applications in the names of other people, but seldom, if ever, made payments. He also filed multiple bankruptcy applications, apparently in bids to forestall foreclosure of the homes.
This is not Holmes' first brush with the law. In 2000, he was sentenced to six months' house arrest for engaging in similar mortgage fraud schemes in Los Angeles County.
Holmes played shooting guard for USC in the mid-1980s, and all of his children are athletes as well. His daughter, Asia Muhammad, is a professional tennis player and his younger son, Rashad Muhammad, is a freshman at San Jose State, where he leads the basketball team in scoring.
Shabazz Muhammad, a highly touted recruit out of high school, played one season at UCLA before being drafted 14th overall in the NBA draft. His professional career with the Minnesota Timberwolves has gotten off to a slow start, however, with Muhammad averaging 4.1 minutes and 1 point per game.
In March, the Los Angeles Times revealed that Muhammad was in fact a year older than previously reported, a fact that federal prosecutors have pointed to in the fraud case as evidence of Holmes' character.
[Updated, 5:27 p.m. Thursday: Appearing in court on Thursday, Holmes admitted that he gave false information to lenders in order to secure loans and that proceeds from the loans were wired to escrow companies based on fraudulent representations made by him.
Holmes agreed to pay restitution for the losses suffered by lenders in the fraud scheme. U.S. Attorneys in the case have indicated that Holmes has not held formal employment in years and has few sources of income. Under the rookie salary scale, Shabazz Muhammad will earn roughly $1.9 million this season.]
Since his indictment, Holmes has been held under house arrest in the Las Vegas area. [Updated, 5:27 p.m. Thursday: The federal judge in the case said Thursday that Holmes would be allowed to travel to watch his children in sporting events, but cannot leave the country.]
His detainment will continue until his sentencing, which is set for March 13. Individuals with knowledge of the case expect him to receive two to three years of prison time.
ALSO:'Jeopardy' takes a shot at Barry Bonds
Baseball to eliminate home plate collisions by 2015
14 gamblers bet on Auburn to win BCS title at 1,000-1 odds
---
Get the latest on L.A.'s teams in the daily Sports Report newsletter.
You may occasionally receive promotional content from the Los Angeles Times.