Shaquille O'Neal is as entertaining as ever after Hall of Fame selection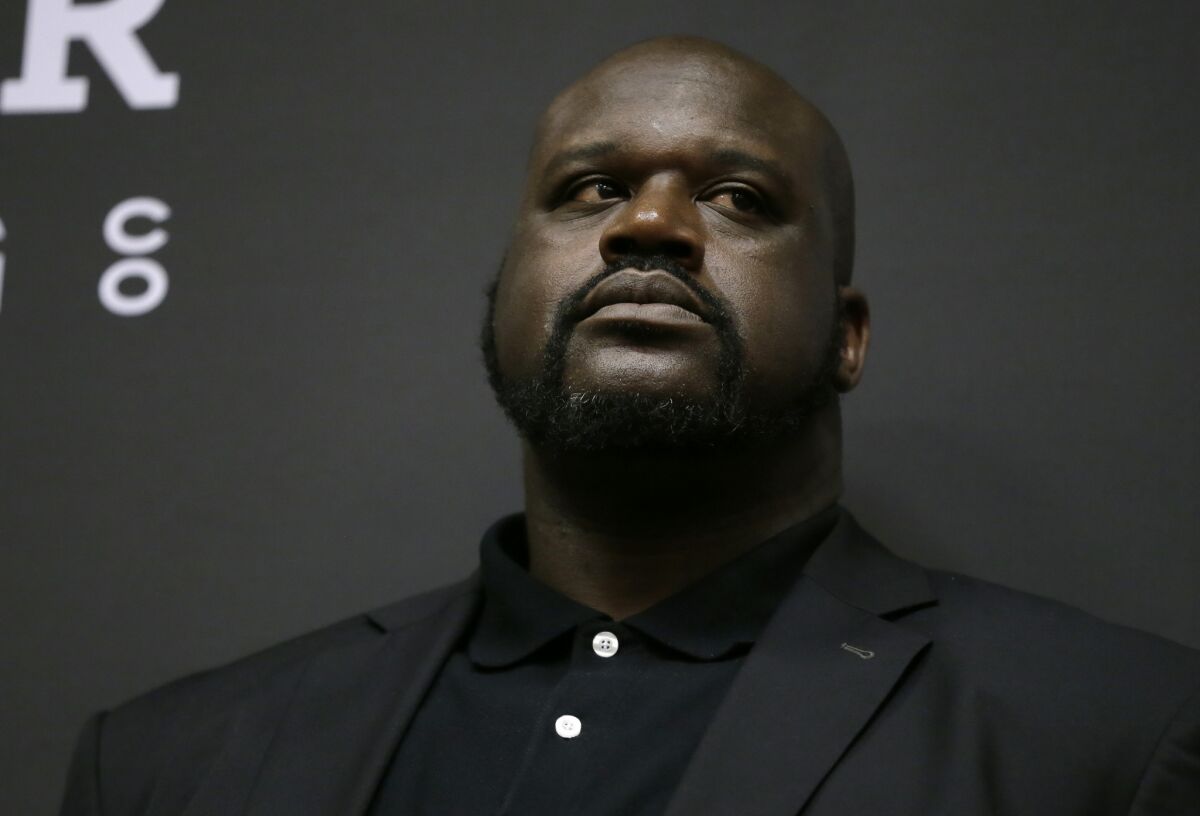 Reporting from HOUSTON —
In his busy retirement from basketball, Shaquille O'Neal said, he often fretted over the Basketball Hall of Fame. Would he get in the first year he was eligible?
"I used to ask [Charles] Barkley, 'How long?'" O'Neal said. "'What year is this?'"
As if O'Neal, one of the most uniquely talented players in NBA history, had any reason to worry. He ranks the sixth of all time in offensive rebounds (4,209), seventh in points scored (28,596) and eighth in blocks (2,732). He is a four-time NBA champion -- three times with the Lakers -- a three-time NBA Finals MVP, a one-time NBA MVP and a 15-time all-star.
On Monday, it became official: O'Neal was announced as part of a 10-member class to be inducted into the Naismith Memorial Basketball Hall of Fame.
At a press conference on Monday, O'Neal said he was saving his best material for his formal induction ceremony in September. Then, ever effusive, he held forth on his stepfather, former Lakers owner Jerry Buss and the current state of the Lakers.
O'Neal attributed much of his career to his stepfather, Phillip Harrison, who died in 2013. O'Neal always figured he'd grow up to be 6-feet-6. He trained himself to be a guard. Harrison, he said, taught him to be a center.
"He told me as a youngster if I listened to him and stayed out of trouble he would make me as good as Kareem Abdul-Jabbar, Bill Russell, Wilt Chamberlain," O'Neal said.
O'Neal, who is known almost as much for his outsized personality and off-the-court interests as his on-court dominance, credited his persona, too, to Harrison.
"I tried to mix being dominant and entertaining every game," O'Neal said.
Once, O'Neal said, Harrison took him to a game. He had to borrow money to buy the tickets, O'Neal recalled.
It was a dud, a boring, blowout of a game.
"On the way back, he turns the music down and says, 'If you ever make it to this level, make sure you entertain the people,'" O'Neal said.
O'Neal has had a more fraught relationship with Buss, who also died in 2013. Buss traded O'Neal in 2004, opting instead to build around Kobe Bryant. O'Neal was often booed when he returned to Staples Center.
But on Monday, O'Neal grew wistful speaking about Buss.
"I just wish two people were here with me, [Harrison] and Jerry Buss," he said. "I just wish I could just look at them one last time and say, 'Thank you very much.'"
The state of the Lakers now is "hard to watch."
If O'Neal were playing in the current guard-dominated league, he predicted, "I'd average $40 million a year." And, he added, were he on the Lakers, "we'd be neck and neck with Golden State."
O'Neal was introduced at the press conference by ESPN's Jay Bilas, who described O'Neal's basketball achievements before listing O'Neal's off-the-court pursuits. O'Neal, he said, is a platinum-selling artist, a PhD, and an analyst for the show "Inside the NBA."
O'Neal shook Bilas' hand and whispered in his ear. Bilas burst out laughing.
"I was told I forgot to mention 'Kazaam,'" Bilas said, referencing the 1996 movie in which O'Neal plays a genie who emerges from a boombox.
Bilas asked O'Neal if, after his induction, he'd add another nickname to his already lengthy list of monikers.
"No," O'Neal said. "Just 'Hall of Famer.'"
Get our high school sports newsletter
Prep Rally is devoted to the SoCal high school sports experience, bringing you scores, stories and a behind-the-scenes look at what makes prep sports so popular.
You may occasionally receive promotional content from the Los Angeles Times.