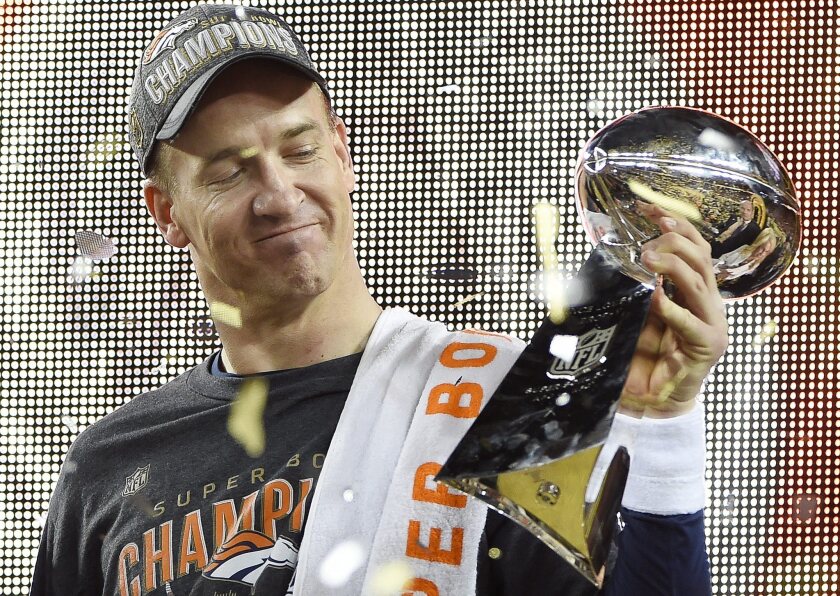 Seems like kind of a silly question.
Peyton Manning has two Super Bowl rings and five NFL MVP awards. He's passed for more yards (71,940) and more touchdowns (539) than anyone in league history.
But he is going to be 40 next month and his playing ability clearly isn't close to what it used to be. Plus, he has the chance for a storybook ending to his career after winning Super Bowl 50.
Kind of seems like the question should be, why wouldn't Peyton Manning retire right now?
Yet, when given the chance to ride off into the sunset by announcing his retirement immediately after his Denver Broncos' 24-10 victory over the Carolina Panthers on Sunday night, Manning didn't take it.
"I'll take some time to reflect," Manning said during the CBS postgame broadcast. "I have a couple of priorities first. I want to go kiss my wife and my kids. I want to go hug my family. I'm going to drink a lot of Budweiser tonight, I promise you that. I'm going to take care of those things first, and say a little prayer to thank the man upstairs for this great opportunity."
Manning later said he's taking the advice of Tony Dungy, his former coach with the Indianapolis Colts, who told him not to make an emotional decision.
In other words, the decision has not been made yet. At least not entirely.
Who knows the reason. Manning obviously has nothing left to prove. Maybe it's just as simple as he loves the game of football and just wants to keep playing as long as there's a team out there willing to have him.
What do you think he should do?
---