A little offense is enough to get U.S. past Colombia at World Cup, 2-0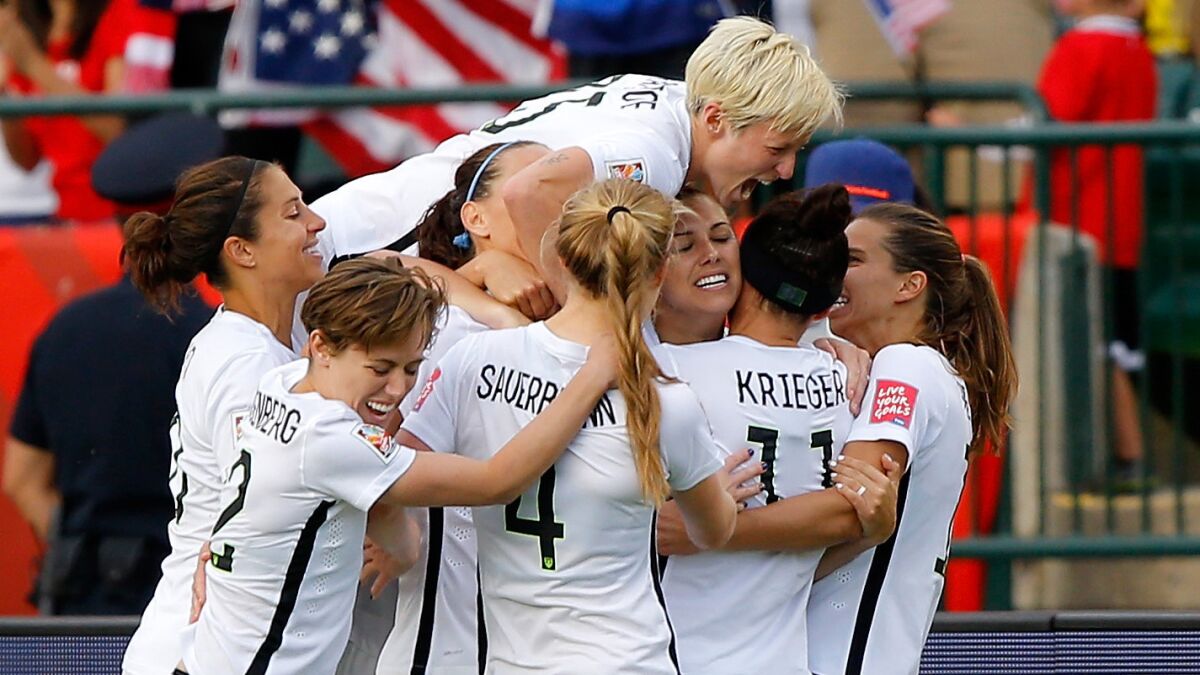 Reporting from Edmonton, Canada —
Colombia wanted respect. The U.S. wanted a win.
Both got what they were looking for Monday.
The Americans survived their most important test so far in the women's World Cup to win, 2-0, on second-half goals from Alex Morgan and Carli Lloyd. And Colombia, which played the second half short-handed, proved it deserves to be considered among the sport's elite.
"The whole world saw how Colombia has made progress in terms of women's soccer," Coach Fabian Taborda said. "I think the future will shine for us."
The U.S., meanwhile, will be trying to forget the recent past as it prepares for its World Cup quarterfinal with China on Friday. Because while the U.S. remains unbeaten in the tournament, it is limping past opponents.
Monday marked its second straight win over an opponent playing short-handed — the U.S. ended group play with a win over 10-player Nigeria — and it has scored just two goals from open play in the two games combined.
"The frustrating part of it is we all want to do well," Lloyd said. "[But] what's done is done. These four matches are done.
"We've just got to keep moving forward, keep plugging away."
The U.S. won't keep moving forward much longer, though, if it doesn't find a way to jump start a sluggish offense that is lacking in both rhythm and chemistry.
"I know we need to score goals. But we only need to score more than our opponents," said Abby Wambach, who missed badly on a penalty kick Monday and has scored just once in the tournament.
"At times we're a little frustrated," said midfielder Megan Rapinoe. "We'd obviously like to be scoring more goals and getting a few more chances."
Against Colombia the few first-half chances the U.S. did get were turned away by Catalina Perez, the backup goalkeeper, who stopped stops from Wambach, Tobin Heath and Alex Morgan in the first 30 minutes. Wambach did get the ball past her once, but an offside penalty negated the apparent goal.
But a red card for a tripping Morgan, denying the U.S. player a goal-scoring opportunity, two minutes into the second half both ended Perez's night and forced Colombia to go the rest of the way with just 10 players.
And the U.S. took advantage of both circumstances when Perez's replacement, Stefany Castano, came off the bench cold on a chilly night and failed to make a save in her first two opportunities
The first came in the 53rd minute when Morgan, given plenty of space by the short-handed Colombians, charged into the box from the right side and put a low right-footed shot on goal that a diving Castano deflected into the net with her right hand.
The second came on a Lloyd penalty shot 15 minutes later after Rapinoe was tripped in the box by Colombian defender Angela Clavijo.
It then fell to a U.S. backline that has played brilliantly in this World Cup to make that lead stand up and it was equal to the task, extending its scoring streak to 333 minutes.
That also allowed goalkeeper Hope Solo, who wasn't called upon to make a save until the 84th minute, to reach a number of milestones. The shutout was the 87th of her career, extending her national team record, and eighth in World Cup play. Solo also tied Brianna Scurry for most wins by a keeper with 133.
So while the U.S. effort wasn't pretty and wasn't dominant, it was successful. And Wambach said that's really the only thing that matters.
"We . . . have to be proud of ourselves, that we're moving on," she said. "We want to look at all the positives. There's certain things that we can do better. And from a forward's position — and actually from a leader on this team — I want to score more goals."
On Monday, she reminded everyone, two were enough to send the Americans on to the next round, giving them four more days to find a solution for its ailing attack.
"We're obviously pleased to be moving on," Coach Jill Ellis said. "This is the World Cup. I'm really satisfied with advancing. It's about finding a way. I'm pleased with where we are."
So is Colombia, which goes home having beaten France, the world's third-ranked team, and frightened the second-ranked U.S. in a World Cup where no one gave it a chance.
"They played very, very hard from start to finish," Taborda said of his young players. "At times the best team in the world didn't look very good because of the way we played.
"If we had not had our goalkeeper sent off, perhaps the outcome would have been different."
Follow Kevin Baxter on Twitter: @kbaxter11
---
Get our high school sports newsletter
Prep Rally is devoted to the SoCal high school sports experience, bringing you scores, stories and a behind-the-scenes look at what makes prep sports so popular.
You may occasionally receive promotional content from the Los Angeles Times.