USC falls to Washington State, 10-7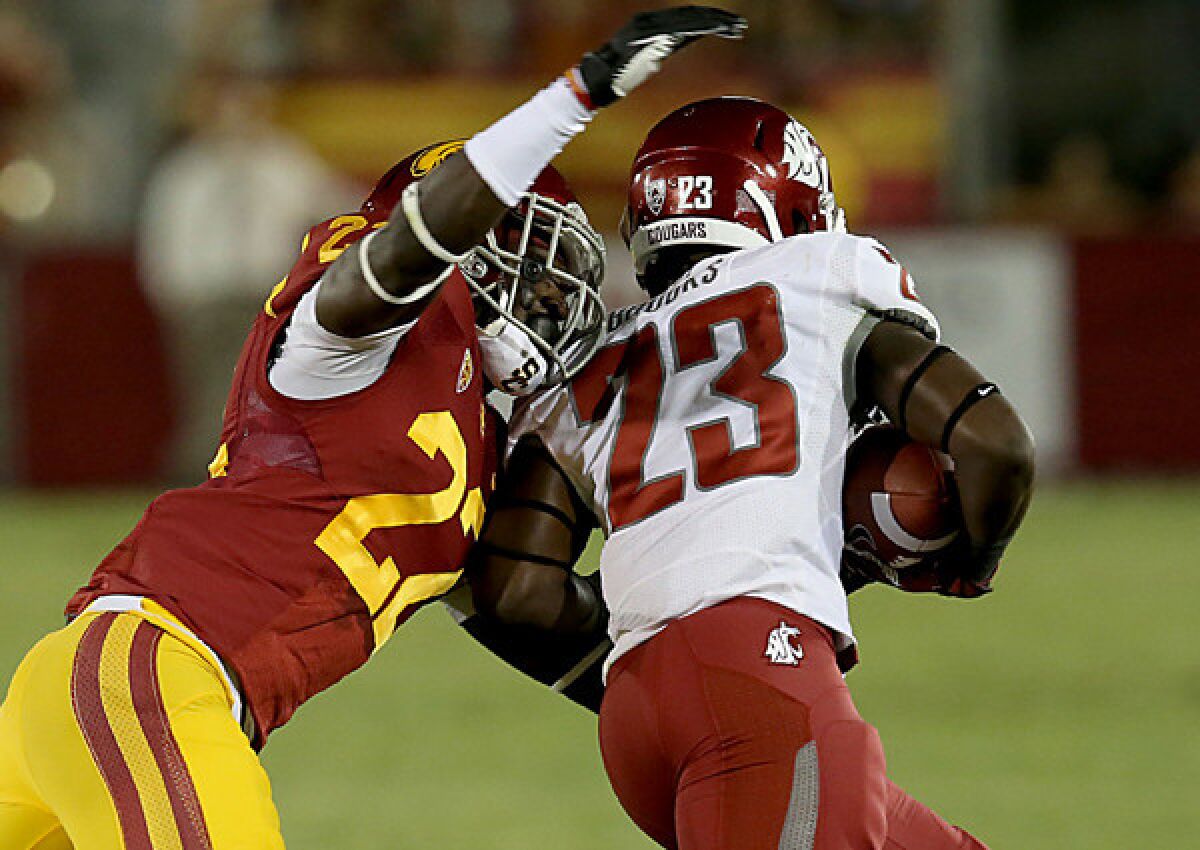 USC's streak of 15 consecutive wins in home openers is over.
Washington State defeated the Trojans, 10-7, at the Coliseum in what was also a Pac-12 Conference opener.
USC was held to less than 10 points for only the fourth time in 143 games.
The Trojans' final five possessions ended this way:
Blocked field goal, missed field goal, failed fourth-down play, punt, interception.
USC (1-1) wasted a 150-yard rushing performance by tailback Tre Madden, who carried 32 times.
USC's defense came up with three first-half turnovers, but a couple of big interceptions by Washington State's Damante Horton proved the difference.
He returned the first 70 yards for a touchdown. He made the second in USC territory late in the game, setting up a game-winning 42-yard field goal by Andrew Furney with 3 minutes 5 seconds left in the game.
Washington State improved to 1-1.
---
The fourth USC play was worse than the first: it WAS intercepted.
Max Wittek tried to throw to Darreus Rogers found the hands of Washington State corner Damante Horton instead, at the USC 37.
He returned the ball to the 32.
Cougars with the ball and the lead.
---
USC takes over at its own 12 with 2:58 left in regulation.
First play: A Wittek pass toward Nelson Agholor that was nearly intercepted.
---
Washington State 10, USC 7, 3:05 left in fourth quarter
Hey, the scoreboard works!
Andrew Furney has drilled through a 42-yard field goal to put Washington State in the lead.
There was really only one play that moved Furney into position -- a 49-yard pass play from Connor Halliday to Dom Williams that started as a short screen pass.
---
Wrong about Tre Madden.
USC did try to get him the ball, but quarterback Max Wittek missed him with a pass, then Madden was stuffed on a one-yard gain, then Wittek tried to find Marqise Lee with a third-and-9 pass that fell incomplete.
Lee, an All-American last season, has taken the ball by pass or run 10 times in the game, and gained 23 yards.
Washington State takes over at its own 15 with 6 minutes 18 seconds left in regulation.
---
As bad as USC's offense has been, the Trojans' defense has been just that good.
On consecutive Washington State pass plays, USC nearly came up with interceptions on the first two plays, then Morgan Breslin sacked Cougars quarterback Connor Halliday for a loss.
USC has the ball back at its own 38 with 7 minutes 16 seconds left in regulation.
The guess here is that Tre Madden is going to get the ball -- a lot.
He has run for 143 yards in 30 carries.
---
So Marqise Lee finally catches a couple of passes from Max Wittek.
Don't get excited Trojans fans. His three catches on the last drive went for a total of 13 yards.
Worse, Lee cost USC a first down when he caught a pass seven yards downfield on a fourth-and-seven play, then jumped back a yard trying to break a bigger play.
Instead, he was swarmed under and the Trojans were stopped a yard short.
Still 7-7 with a little more than 8 minutes to play in regulation.
---
It's the start of the fourth quarter at the Coliseum in Los Angeles and USC and Washington State are tied, 7-7, in a Pac-12 Conference football opener.
Game high/lowlights so far:
USC's Tre Madden has run for 102 yards in 22 carries. The USC defense has three turnovers.
Washington State, despite those turnovers, has a 164-131 edge in total offense.
USC kicker Andrew Heidari has missed two field goals. The first was blocked, the second, from 43 yards, was wide left.
---
Starting its second drive of the half near midfield, USC has come up empty again.
And quarterback Max Wittek still hasn't gotten off a pass.
Washington State helped, too. Cougars freshman Daquawn Brown was called for pass interference on a Wittek pass that floated high and long in the general direction of Marqise Lee.
Deone Bucannon picked off the floater, but Brown was called for roughing up Lee before the ball got there.
The call gave USC a first down at the Washington State. And three Tre Madden runs moved the ball to the 24.
But then Wittek tossed the ball backward to Lee, who turned what might have been a five-yard loss into a two-yard gain -- officially counted as a run, and on the next play Wittek was sacked for a 10-yard loss.
Next up, the third-and-17 call: a handoff to Madden, who gained five yards.
That brought Andre Heidari on for a 43-yard field-goal try, which was wide left.
Heidari is now on the USC bench, head buried in his hands. TV cameras care catching many USC fans in the same pose.
---
USC looked like it had a little more energy with Max Wittek taking over at quarterback on the Trojans' first drive of the second half.
Except it still didn't lead to any points.
Tre Madden busted off a couple of nice runs and the Trojans benefited from a 15-yard facemask penalty that gave them an automatic first down. And still, nothing.
Andre Heidari tried a 32-yard field goal, but his kick was low and swatted down by Kalafitoni Pole -- the very Cougars player who gave USC a boost with the facemask penalty.
Wittek tried to throw two passes on the drive and got neither of them off.
---
USC has the ball first in the second half, in a 7-7 tie against Washington State.
Max Wittek is in at quarterback for the Trojans, after Cody Kessler played the first half.
---
Well, this is confusing.
Isn't Mike Leach, Washington State's football coach, supposed to be an offensive genius?
USC is making him look like a defensive guru.
The Trojans, who are lucky to be in a 7-7 tie, amassed all of 59 yards in the first half against the Cougars. And the boo birds are chirping at USC Coach Lane Kiffin.
USC quarterback Cody Kessler rarely threw the ball downfield, and on one of the few times he did, his pass found Cougars cornerback Demonte Horton, who returned it 70 yards for a touchdown.
Kessler has completed eight of 13 passes for 41 yards. And he didn't get any kind of vote of confidence from Kiffin in a halftime TV interview.
Asked whether Kessler would be the quarterback in the second half, Kiffin said, "I don't know. We'll figure that out at halftime."
He has a lot to figure out on offense, but the defense has been stellar.
USC has forced three turnovers -- two by interception, plus a fumble recovery.
Washington State has gained 126 yards, with quarterback Connor Halliday passing for 121 yards. He has completed 14 of 23 passes, but has those two interceptions.
--
USC 7, Washington State 7 (27 seconds left in second quarter)
After more great defense by USC, the Trojans were in scoring position with time running out in the first have until ... receiver Nelson Agholor turned right and Cody Kessler's pass went left -- right into the hands of Washington State cornerback Demonte Horton, who returned it 70 yards for a touchdown.
---
After Washington State's third turnover of the frist half gave USC the ball at the Cougars' 43, the Trojans took the ball and went ... nowhere.
Well, next to nowhere.
Three plays netted one yard and USC punted.
Time to see if that defense can carry the night again -- and maybe see if they can return the next turnover for a touchdown or close enough for a field-goal try when the USC offense bogs down again.
---
USC's defense came up with four turnovers last week against Hawaii, and the Trojans have nearly matched that in the first half against Washington State.
The latest: a diving interception by Dion Bailey of an off-balance Connor Halliday pass at the Washington State 43.
---
The boos can be heard at the Coliseum, even though USC leads Washington State, 7-0, and the Trojans defense is playing pretty well.
Fans don't get into defense, though.
They want to see USC and quarterback Cody Kessler throw the ball down the field.
When a throw-back pass to Marqise Lee went for a loss of seven on USC's last drive, Coach Lane Kiffin heard the wrath of some fans.
---
USC 7, Washington State 0 (9:59 left in second quarter)
USC and quarterback Cody Kessler have found the end zone -- converting on a first-and-goal situation no less.
The Trojans came up empty on a few of those situations last week against Hawaii, but they converted this time when Kessler faked a handoff to the left and swung back around on a bootleg to the right for four yards and a touchdown.
The score came on the sixth play after a turnover gave the Trojans the ball at the Washington State 22.
Kessler has completed six of seven passes for 32 yards. Tre Madden has five carries for 22 yards.
---
Another nice drive by Washington State thwarted by Cougars mistakes.
Washington State had driven from its own 21 to the USC 33 before a holding penalty stalled momentum. Then, back to back sacks killed it completely.
The first was turned in by USC Morgan Breslin, for a loss of eight. The next was a sack and forced fumble by George Uko. Devon Kennard scooped up the ball at the Washington State 42 and returned it 19 yards to the 23.
---
There is no score at the Coliseum after one quarter of play in a Pac-12 Conference opener between USC and Washington State.
Washington State outgained USC, 111 yard to 34, in the first quarter. Quarterback Connor Halliday completed 10 of 14 passes for 95 yards.
---
The boo birds are already out on Lane Kiffin's play-calling, and USC isn't even through the first quarter of its home and Pac-12 Conference opener against Washington State.
The boos rained down as quarterback Cody Kessler hit Marqise Lee with a quick out pass on third and 2 at USC's 41
The play lost two yards after, who had no chance of getting a first down when he caught the ball -- the play was well defended -- cut back to the middle of the field, picked up a great block from Kessler, but was swarmed by defenders.
---
Turnovers killed Washington State last week against Auburn, and another thwarted the Cougars in the end zone on their second drive tonight against USC.
On third and goal from the 9, quarterback Connor Halliday's pass intended for Kristoff Williams was picked off by USC's Torin Harris.
To that point, Washington State looked sharp on a 12-play drive.
USC has five interceptions. The Trojans had four last week against Hawaii.
---
USC's first possession ended in a punt after a first down.
Cody Kessler, starting at quarterback for the second consecutive week, completed all three of his passes -- for five yards to Marqise Lee, a six-yard loss to Nelson Agholor and for a gain of seven yards to freshman Darreus Rogers.
---
Washington State won the coin toss and elected to receive -- shocker!
Cougars took ball at their own 25 and lined up as if they were going for it on fourth and one from the 34.
In other words, it took Mike Leach less than two minutes to act like ever-aggressive, go-for-broke Mike Leach.
Except, after a timeout, the Washington State coach elected to punt.
Sanity.
---
Cody Kessler was announced as USC's starting quarterback on the Coliseum video board and the USC Athletics Twitter feed, reporter Gary Klein of The Times says.
It's the second consecutive start for the third-year sophomore from Bakersfield, who completed 10 of 19 passes for 95 yards and a touchdown, with one interception, in the Trojans' season-opening victory at Hawaii.
Senior linebacker Morgan Breslin, who sat out the opener because of injury, was announced as a starter. Breslin led the Trojans last season with 13 sacks.
The Trojans' defense will once again feature three starting safeties -- senior Dion Bailey, junior Josh Shaw and freshman Su'a Cravens.
---
It's about 15 minutes before kickoff at the Coliseum, where USC plays Washington State in a Pac-12 Conference opener. It's also USC's home opener.
USC is coming off a 30-13 season-opening victory over Hawaii. Washington State lost to Auburn, 31-24, in its opener.
This is the first game between the schools since 2010, so most of the players on both teams have never played the other school.
USC linebacker Morgan Breslin, who sat out the opener against Hawaii because of an apparent ankle or foot injury, is in uniform and going through warmups.
Breslin is expected to play. Tailback Silas Redd will not.
Cornerback Anthony Brown, who suffered an injury against Hawaii, is not in uniform.
Hiserman is reporting from Los Angeles, though not from the Coliseum.
ALSO:
USC's Tre Madden looking forward to first home game as tailback
College mailbag: Yes, we're anti-USC, just ask any (unranked) Trojan
Miami says goodbye to rivalry agianst Florida with some 'flop' payback
Get our high school sports newsletter
Prep Rally is devoted to the SoCal high school sports experience, bringing you scores, stories and a behind-the-scenes look at what makes prep sports so popular.
You may occasionally receive promotional content from the Los Angeles Times.