Commentary: Sports media: Broadcast networks all-in on sports gambling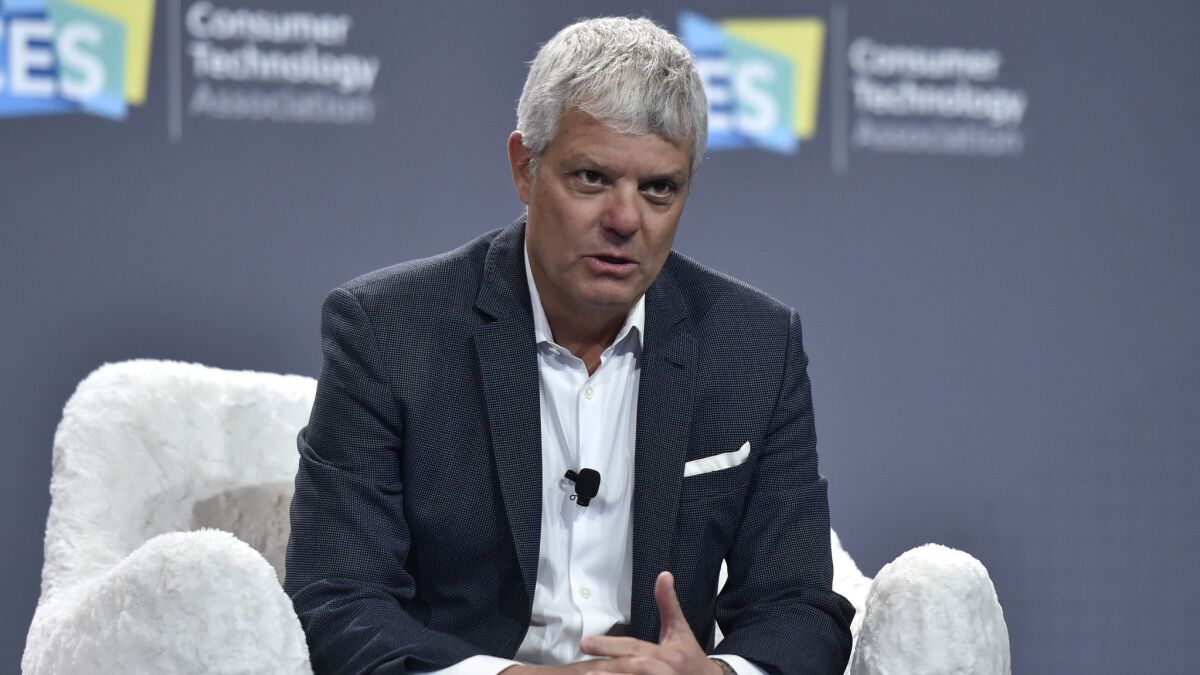 Don't be concerned with the over/under on when sports networks will become completely transparent about wanting an element of gambling to be part of their viewership.
The age of innocence — and feigning indifference — is over.
Coded language is being used less and less by media executives positioning themselves to capitalize on the effects of last year's Supreme Court decision that allows states to legalize sports books.
One quote in particular resonated from last week's Consumer Electronics Show in Las Vegas, from Turner Sports' David Levy, whose company recently coordinated the Tiger Woods-Phil Mickelson golf match in Las Vegas, rich with live-screen gambling odds and results:
"Here's what we know about sports betting. If you bet on a game, you're almost 80-90% more likely to watch the event," Levy said. "If you watch more of the event, you're engaged. And if you're engaged, guess what happens to ratings? One of the metrics for Nielsen is time spent viewing. And with more time spent viewing, ratings will go up."
Here's another educated guess: More media wants in on the action, and will normalize the process as much as is digestible.
Last Friday, NBC Sports Washington aired the first of eight "alternative sports betting-infused broadcasts" for the NBA's Wizards. On a parallel feed, viewers saw live "moneyline" odds with continual on-screen stats. An interactive element across the bottom of the screen was essentially a rotation of prop bets that could enhance a chance at winning a "Predict the Game" contest for a $500 prize.
Darren Rovell of the Action Network reported Monday that 20% of the people who streamed the broadcast watched only the alternative feed. Imagine that option for a Lakers or Clippers telecast.
"I live in the D.C. area and haven't watched a game all year long," one viewer from Maryland told The Action Network. "Yet I'm playing along on a Friday night. This idea is brilliant."
Sign up for our daily sports newsletter »
If NBC companies are part of the testing ground for any of this, perhaps someday Al Michaels won't have to cleverly couch over/under numbers on a "Sunday Night Football" broadcast and simply will refer to them on the scroll across the bottom of the screen.
"I'm as curious and fascinated as anyone on how this will work, in this new age of digital and interactive watching," Michaels said Monday. "The networks ultimately have to be aligned with the leagues, because they have a certain degree of control. The NBA has been, to use a football term, really ahead of the chains in doing this.
"I do get a kick out of watching [ESPN's late-night 'SportsCenter' host] Scott Van Pelt and how he pulls off the 'One Big Thing' because I think getting all that out in the open, people can have fun with [gambling information]. I was almost ready to throw something out during the Indianapolis-Kansas City game" — an NBC playoff telecast last Saturday — "when there was a late touchdown, but I realized that it was a couple points short" of affecting the spread.
"I will say this," Michaels added. "Gambling information won't have a negative impact on ratings. People who want to watch, whether they're betting or not, won't go away, but it makes sense that some will stay tuned longer because of it."
Rapper's delight
Kings fans could be justified in barking for a Snoop Dogg audio option for future Fox Sports West telecasts, based on the rapper's booth visit Saturday.
Highlights of Snoop Dogg's commentary during the first period of the Kings-Pittsburgh broadcast included, "Somebody gotta be willing to take a shot … somebody gonna want that moolah," as the Kings passed the puck around on a power play, and a "Oh come on, nephew" after someone broke a stick.
Kings color man Jim Fox, who slid over to let Snoop sit next to play-by-play man Alex Faust, laughed when asked if he may consider working some Snoop language into his analysis.
"As a broadcaster, you're always looking for a different way to call the same play," Fox said. "If there is a common cadence, maybe there is something with rapping as there is in calling a hockey game. We talked to him during the commercial timeout before he came on. He has an upper-level knowledge about sports. He was very comfortable with the surroundings, extremely professional, sharp, enthused, and he took the time to make the most of it."
Also …
• CBS' coverage of the Chargers' one-sided playoff loss at New England on Sunday morning drew a 19.2 overnight national rating, which the L.A. market didn't match (17.2) and the San Diego market exceeded (29.7), according to Sports Business Daily.
• Longtime sports radio personality Vic "The Brick" Jacobs will be given a lifetime achievement award Saturday at the 69th annual Golden Mike Awards, put on by the Radio & Television News Association of Southern California at the Universal Hilton.
---
Get our high school sports newsletter
Prep Rally is devoted to the SoCal high school sports experience, bringing you scores, stories and a behind-the-scenes look at what makes prep sports so popular.
You may occasionally receive promotional content from the Los Angeles Times.