Tens of thousands object to Michael Vick's induction into the Virginia Tech Sports Hall of Fame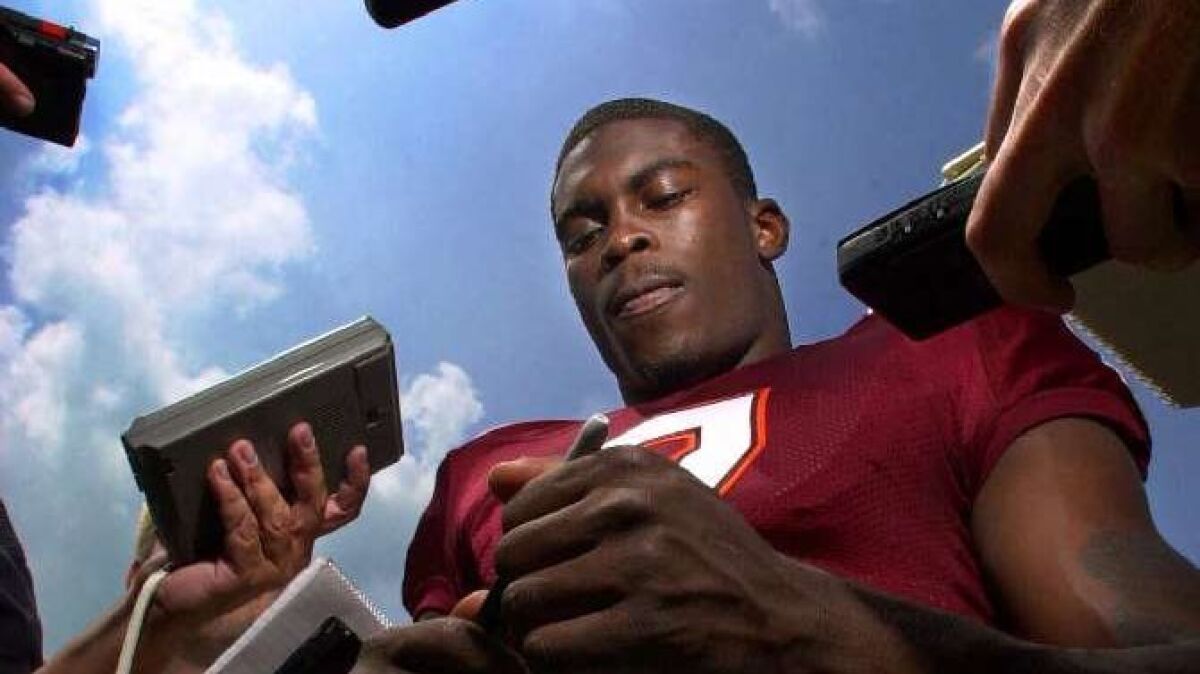 Michael Vick is not the most popular former Hokie out there. And soon he will not be the most popular person to be inducted into the Virginia Tech Sports Hall of Fame.
Less than two weeks after the college announced its intention to include the recently retired NFL quarterback as one of five 2017 recipients of the honor, two online petitions have gathered a total of more than 93,000 signatures opposing the move.
In addition, the Virginia-Maryland College of Veterinary Medicine — which names Virginia Tech as one of its two parent universities — released a statement from Dean Cyril R. Clarke also in opposition of honoring Vick in such a manner.
Vick finished third in Heisman Trophy voting in 1999 and led the Hokies to the national title game that season. His NFL career was interrupted by a prison stint of nearly two years after he was found guilty on dog-fighting charges. Since then, he has publicly supported legislation for animal rights.
"By inducting Michael Vick, a non graduate, into the Virginia Tech Sports Hall of Fame, the University has decided to honor a man for his athletic ability rather than honor a person for being a decent and honorable human being," wrote Jennifer Breeden, whose change.org petition has received more than 60,000 electronic signatures.
Rachel Beasley, whose change.org petition has received more than 33,000 signatures, wrote: "The criteria states, 'Must be of good character and reputation/not have been a source of embarrassment to the university in any way.' Michael Vick was an outstanding football player, but his character is far from outstanding."
Clarke echoed the sentiments in his statement: "The College unequivocally opposes honoring an individual whose past actions contradict our values and the cornerstone of our mission. Over the course of several days, I have communicated with President [Timothy] Sands and other campus administrators to express our disappointment and opposition to this decision. I continue to be in conversations with the president regarding this issue."
Virginia Tech plans to induct Vick and the four others during a ceremony on Sept. 22 and honor them during halftime of the Hokies' home game against Old Dominion the next day.
"Mr. Vick's induction into the university's sports Hall of Fame acknowledges his tremendous achievements as a student athlete — who some will say was the greatest in the history of the university," the school said in a statement. "We understand that there are those who do not and will never agree with this decision.
"In considering Mr. Vick's nomination to our sports Hall of Fame, the criminal activities in which he engaged, his subsequent conviction and time he served for his crime were also considered, and it was informed by the remorse he has shown since that conviction, the work he is currently engaged in to advance animal welfare issues, as well as his efforts to help our current student athletes, based on lessons he's learned in his own life, make positive choices as they begin their adult lives. This in no way condones the actions for which he was convicted. The university remains dedicated to the protection of animal health and welfare and embodies great care and compassion for all living animals."
Twitter: @chewkiii
Get our high school sports newsletter
Prep Rally is devoted to the SoCal high school sports experience, bringing you scores, stories and a behind-the-scenes look at what makes prep sports so popular.
You may occasionally receive promotional content from the Los Angeles Times.