Angels broadcaster Mark Langston undergoing tests at hospital after medical emergency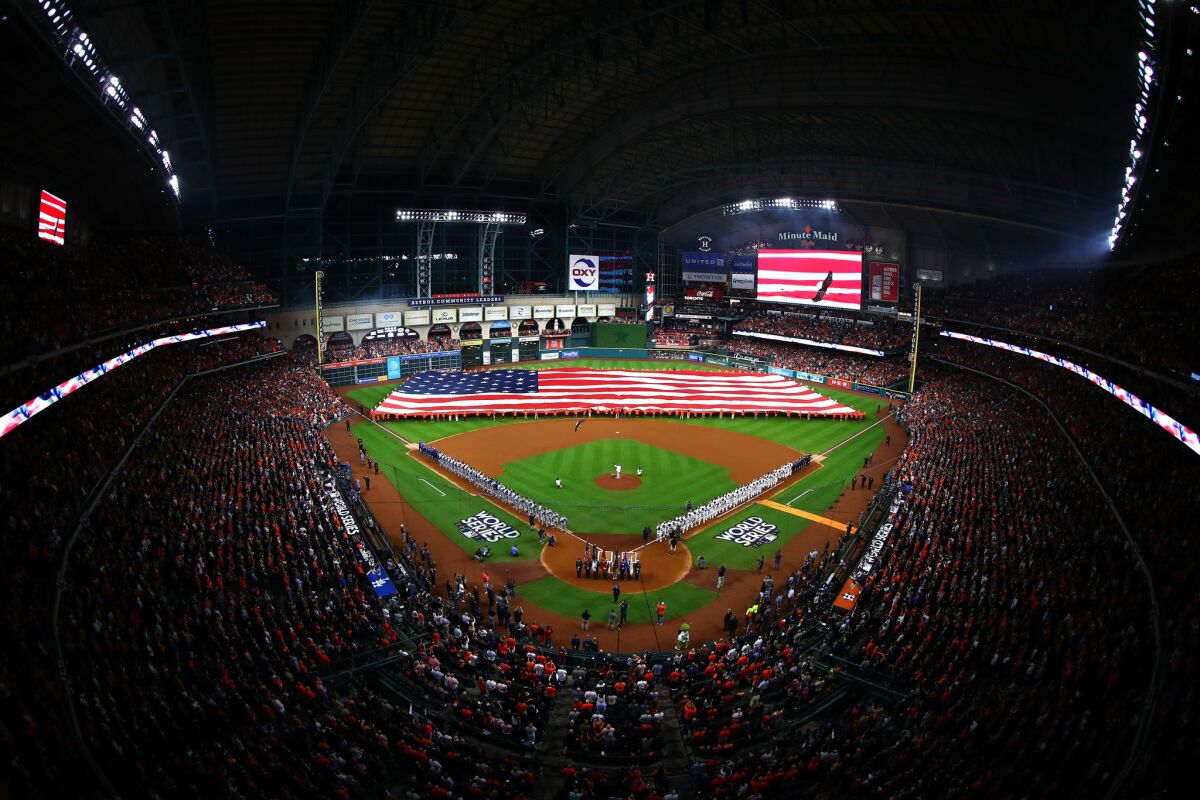 HOUSTON —
Angels radio broadcaster Mark Langston was transported to a Houston hospital after suffering a medical emergency at Minute Maid Park on Friday evening.
Langston was alert and undergoing testing, the Angels announced. He appeared in good spirits when team employees visited him after the Angels lost 6-4 to the Houston Astros. The Angels announced Saturday he was still undergoing tests at the hospital and resting comfortably.
Langston, who spent half of his 16-year MLB career pitching for the Angels from 1990 to 1997 before retiring with the Cleveland Indians in 1999, has been a member of the Angels' broadcast team since 2012. A color analyst, he served as the Angels' lone representative on two games broadcast exclusively by YouTube this season.
Langston, described by those close to him as a very healthy person, suffered the undisclosed incident moments after announcing lineups on the air for Friday's series opener between the Angels and Astros. He received CPR in the radio booth prior to being moved.
"Just saw him and he looks great and in good spirits," television announcer Mark Gubicza said when reached by the Times.
Langston, who turned 59 on Aug. 20, is a California native. He went to high school in Santa Clara and was drafted in the second round by the Seattle Mariners in 1981 out of San Jose State.
Langston was a three-time All-Star and five-time Gold Glove winner while he was with the Angels. In his first season after signing with them as a free-agent, he combined with reliever Mike Witt to throw a no-hitter on April 11, 1990. He might have made at least 25 starts in each of his first six campaigns in Anaheim if a labor dispute had not cut short the 1994 season.
Langston, who led the American League in strikeouts as a rookie in 1984 and again in 1985 and '86, was a premier free agent he when agreed to a five-year, $16-million contract with the Angels in December 1989. At the time it was signed, Langston's deal was the most lucrative the sport had seen, surpassing the $13.6 million Dave Winfield was guaranteed by the Yankees in a 10-year contract before the 1981 season.
Angels fall to Houston
In Friday's 6-4 loss to the Houston Astros, Angels second-year pitcher Jaime Barria struggled to get a feel for his slider, a pitch he throws 48% of the time. The powerful Astros exploited the weakness, drilling Barria's go-to breaking pitch for three home runs in the first inning at Minute Maid Park.
Barria allowed six runs on four homers over 2 2/3 innings. His last pitch of the night plunked catcher Robinson Chirinos in the shoulder.
Despite facing all nine Astros batters in the first inning, Barria remained in the game. He recovered and retired six in a row. The hanging slider he threw to Carlos Correa, who homered in the first, with one out in the third inning ended the streak.
"I can learn from this," Barria said in Spanish. "I practice something in every bullpen. I try to make adjustments the best I can. That's what this game is about. You make mistakes but you try to make as few as possible."
Catcher Kevan Smith saved the Angels from a demoralizing defeat. He capped a fourth-inning, three-run rally against Houston starter Zack Greinke with an RBI double to right field. All three of Smith's hits went to the opposite field, including the solo shot he smoked off Greinke's first pitch of the third inning.
Since snapping an 0-for-29 skid on Sept. 5, Smith has enjoyed a nice streak. He has 14 hits in his last 33 at-bats. His resurgence is a welcome development for a team that lost its most powerful sluggers — Mike Trout, Shohei Ohtani and Justin Upton — to season-ending injuries last week.
Injury updates
Trout had successful surgery on right foot Friday to remove the Morton's neuroma that had been bothering him for about a month. He sent a picture of it to manager Brad Ausmus, who compared it to uni, the mustard-colored edible part of a sea urchin. "It looked larger than I thought it was gonna be," Ausmus said. … Fellow outfielder Justin Upton will be on crutches for two to three weeks while he waits for the platelet-rich plasma injection he received Friday to take effect on his injured right knee. … Catcher Max Stassi, bothered by a sore oblique, hasn't played since Sept. 2 and likely won't get another chance. He went to Nashville, Tenn., on Friday to see a specialist. The Angels had not received feedback from the visit before playing the Astros on Friday night. … Ohtani, who had left knee surgery a week ago, will likely begin rehab activities next week.

---
Get the latest on L.A.'s teams in the daily Sports Report newsletter.
You may occasionally receive promotional content from the Los Angeles Times.