Jorge Vergara, owner of Mexico's Chivas soccer team, dies at 64
Jorge Vergara, the mercurial owner of Mexican soccer club Chivas of Guadalajara and former owner of failed MLS club Chivas USA, died Friday following a heart attack. He was 64.
Vergara suffered cardiac failure while in New York City, his son Amaury said in a statement.
"With deep sadness and pain in my heart, I communicate to you that my father, Jorge Carlos Vergara Madrigal, passed from this life due to cardiac failure," the younger Vergara wrote in Spanish.
"We honor my father the way he always taught us with his example: working day in and day out, taking care of others and reaching our dreams."
A flamboyant, self-made billionaire who loved motorcycles and soccer, Vergara took over a failing franchise in 2002 and guided it to the championship of Mexico's Apertura season in 2006, along the way making Chivas, alongside Mexico City's Club America, one of the country's most popular teams.
But Vergara's impatience also led him to change coaches 28 times in 17 years, and that, combined with a volatile personality and love of the spotlight, earned comparisons to U.S. owners such as Jerry Jones and George Steinbrenner.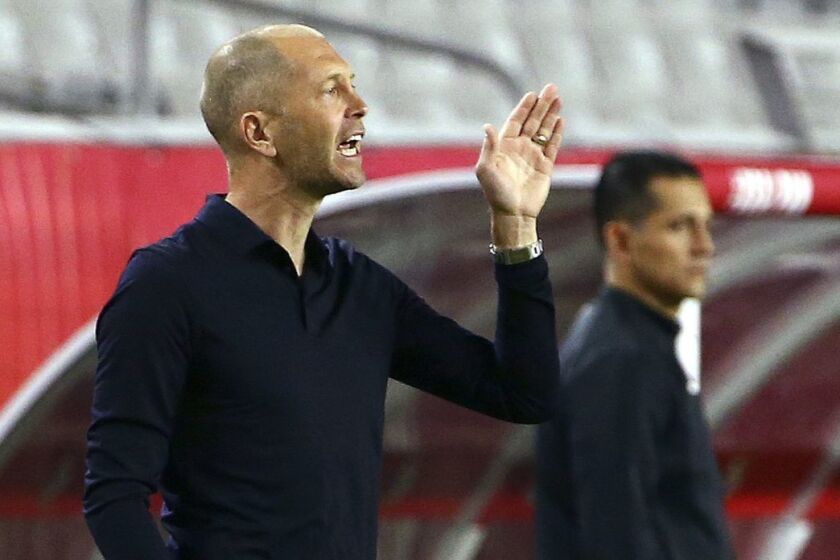 The U.S. men take on Canada in a group stage match of the Nations League on Friday
Vergara saw Chivas as a national treasure and managed it that way. One of the founding members of the Mexican league and one of just two teams that have never been relegated to the second division, Chivas is the only club in Mexico that doesn't allow foreign players on its roster.
That nationalist streak proved unworkable when he joined a team of investors that included his former wife, Angelica, in putting up $10 million to found MLS club Chivas USA in 2005.
Vergara hoped to use the team, which shared what was then StubHub Center in Carson with the Galaxy, as a sister club to his Mexican team, and the youth-development system he established under sporting director Dennis te Kloese — now the Galaxy's general manager — was one of the best in MLS. But after some initial success, including four playoffs berths in the team's first four seasons, Vergara lost interest in Chivas USA and MLS. The team averaged fewer than eight wins in each of its last five seasons and was last in the league in attendance. In the team's final season, Vergara tried to institute a policy that all team business be conducted in Spanish, one that landed Chivas USA in court.
Early in 2014, the league bought out Vergara, folded the team after the season, then sold the rights to a second Southern California franchise to a sprawling group of Hollywood dealmakers who founded LAFC.
Vergara also owned Costa Rican team Saprissa from 2003 to 2011.
The son of a Guadalajara executive, Vergara skipped college and worked as an office runner, mechanic, translator and maitre d', among other jobs. When his attempt at a wholesale food business failed, Vergara was, in his words, "fat, sick and broke." So when he met Mark Hughes, the founder of the Herbalife brand of dietary supplements, Hughes encouraged him to sell the products in Mexico.
Zlatan Ibrahimovic will not be returning to the Galaxy, the team confirmed Wednesday, ending speculation over the MLS future of the 38-year-old superstar.
That proved to be the move that changed Vergara's life. After finding flaws in Hughes' business model, Vergara borrowed $10,000 to start his own supplement company, Omnilife, which now has about 5.2 million people distributing products in 22 countries. The company has claimed annual sales of $4.2 billion, while Vergara had a net worth of about $1.5 billion.
Vergara is survived by six children and his second wife, Rossana Lerdo de Tejada, whom he married in 2017.
His funeral will be held in Guadalajara, his family said.
---
All about the beautiful game
Go inside the L.A. pro soccer scene and beyond in Kevin Baxter's weekly newsletter.
You may occasionally receive promotional content from the Los Angeles Times.