LeBron James says community hub he's building is about creating change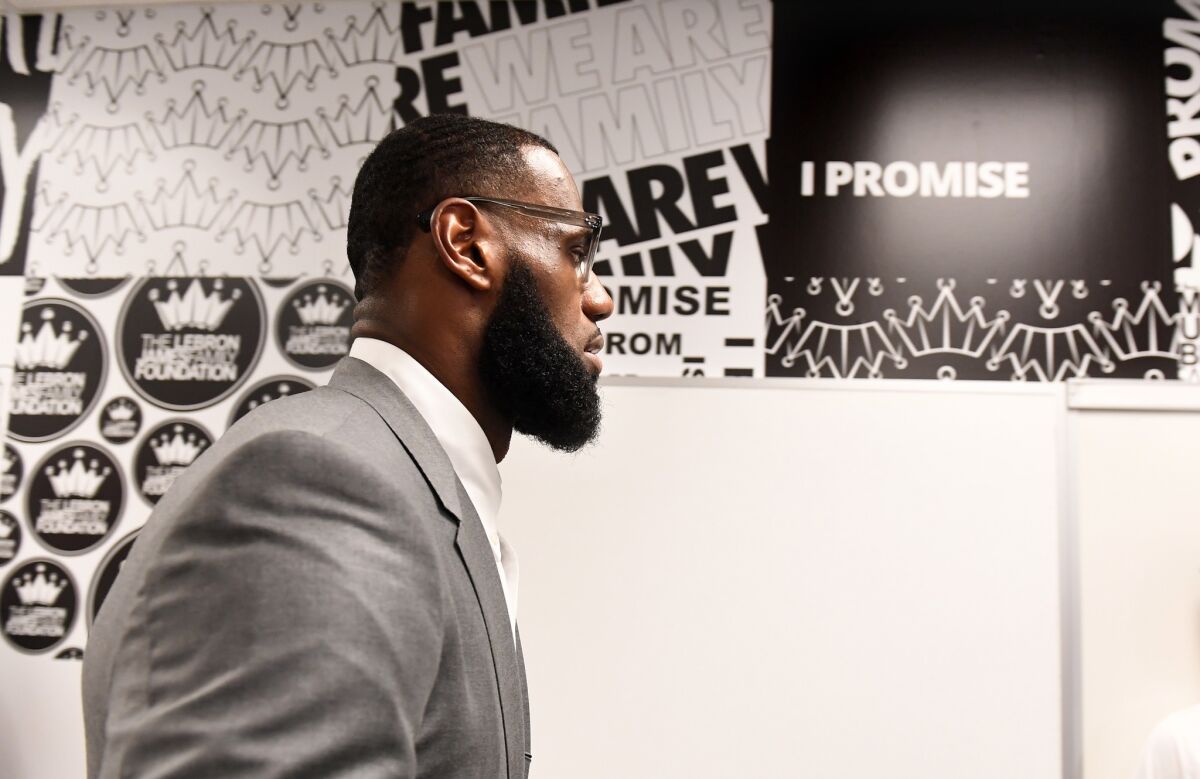 LeBron James was speaking passionately before he boarded a plane for Phoenix, traveling on the eve of his preseason debut with the Lakers on Wednesday.
He was naming his friends, his support staff, his day ones. They were the folks that, armed with James' earth-altering basketball talent, enabled all of this with the hope that it could trickle down and cause even more.
"You guys can do the math," James said.
Earlier Tuesday, his foundation unveiled their latest endeavor — House Three Thirty — a multi-faceted community center in Akron, Ohio, for families in James' "I Promise" program that includes a school, low-cost housing and now, plans for a center where financial planning, job training, physical activity and community events can be housed in a single location.
When talking about the project, James can't escape the numbers that defined much of his life.
One parent. Sixteen years old. His grandmother gone three years later. The weight of his inner-city upbringing in Akron is undoubtedly part of the reason his shoulders are now so broad. But it wasn't a solo project. The gratitude for the community that carried him, coaches, friends, mentors and partners, is a force in his work back home.
"I know you hear this a lot when people do community events and things of that nature and they say the notion of, 'I was one of those kids,' but I was literally one of those kids," James said. "My mom was literally one of those parents. I come from a single-parent household. I come from the inner-city. We come from not much at all. … It's easy for me to understand when they're talking to us and saying these are the things that they need. These are the things that will help them get through. These are the things that will help a better future for them.
"Because, I'm not going to sit here and say that I did it on my own because I didn't. I had that support."
On the court, he hopes to offer that same support to his teammates, saying Tuesday that he's willing to take on any role necessary, potentially even playing less point guard after leading the NBA in assists last season on the way to a NBA championship.
The LeBron James Family Foundation continues to help reshape the definition of community in Akron, Ohio, with projects for vulnerable students and families.
"Whatever it is, I just want to win and that's all it's about for me," he said.
It's a simple goal that takes a lot of complicated steps to be accomplished before it can be achieved. Same goes for his work in Akron.
"I just want to create change, man, for the greater good," James said. "If you can create change with one family, hopefully it can trickle to two. Two go to four, four go to eight, 16, 32 …"
Like winning a title, it takes steps and it's easier said than done. But James is committed and connected.
The site of James' latest project is a community building where he used to celebrate his earliest achievements. Tuesday, he imagined another.
He imagined the children from the families he helped coming up to him in the future — a doctor and a nurse doing incredible work at the Cleveland Clinic, a philanthropist working in Africa, an architect and an inventor — products of this program.
"Seriously, that would be incredible for me to hear," he said. "… Obviously you can tell, I'm very passionate about that, man. It needs to be done. It needs to be done in our communities and I'm proud as hell that I can be an inspiration to some other athletes that want to create that same change."
---
Get our high school sports newsletter
Prep Rally is devoted to the SoCal high school sports experience, bringing you scores, stories and a behind-the-scenes look at what makes prep sports so popular.
You may occasionally receive promotional content from the Los Angeles Times.