(Wally Skalij / Los Angeles Times)
Max Duggan was desperate. So often during this most improbable of football seasons for Texas Christian, the Horned Frogs' fearless Heisman Trophy finalist was at his most dangerous in those particularly grim moments, beaten and bruised with his back against the wall, forced to dig down deep, conjuring whatever miracle he could manage through a combination of sheer will and intestinal fortitude.
Yet no amount of heart or hope or, heck, even divine intervention could compete with the crushing inevitability of the Georgia Bulldogs, who left no discernible doubt about who belonged atop the sport as they rolled to a 65-7 victory on Monday at SoFi Stadium, the most lopsided in the history of the College Football Playoff.
Georgia has evolved into a college football powerhouse on the backs of three-star recruits who have carried it to consecutive national championships.
Georgia (15-0) had spent all of their title defense this season specifically stomping out such miracles, winning 14 straight in scorched-earth fashion ahead of Monday, when a desperate Duggan dropped back just before half of the national title game, hoping his Horned Frogs might still have a shot and a prayer.
Except that familiar brand of hope, which had kept TCU (13-2) alive all season, wouldn't do much good here. Not against a dominant Georgia defense that held TCU under 200 yards or its well-oiled machine on offense, which racked up nearly 600. Not against the defending national champions, who hadn't lost since last year's Southeastern Conference Championship game. Not against Stetson Bennett, another Heisman finalist at quarterback whose own underdog story surely will be recounted for years to come.
In Georgia's case, there was never any need this season to rely on hope or hold out for miracles. Like it had so many times before on its way to becoming the first repeat college champion in over a decade, Georgia would overwhelm TCU in every other facet of the game. By the time Duggan threw that ill-fated third-down pass into a crowd of Georgia defenders, the Bulldogs had already left little doubt. The interception — his second — only sped up the process.
Soon enough, Bennett would do the rest.
The sixth-year senior quarterback had long ago already cemented his place in Georgia lore. A former walk-on who dreamed of one day quarterbacking the Bulldogs had already carried the storied program to a national title the year before, ending a 40-year drought. He'd proven nearly everyone wrong in the process, his own coaches included, leaving little about his collegiate legacy in question.
But leaving on top last season had never settled right with Bennett. Almost one year ago exactly, he showed up in Georgia coach Kirby Smart's office, asking the coach if he should return.
"He said, 'I don't understand everybody's telling me I should just ride off into the sunset and be the legendary quarterback who won a national title,'" Smart recalled. "'That's not who I am. I don't get it. Why should I do that if I have an opportunity to play again? Why don't we go win it again?'"
That bulletproof self-assurance was on display from the start Monday as Bennett put together a career-defining performance. He accounted for six touchdowns himself, two of which came on the ground, tying a College Football Playoff record. He threw for 304 yards and added 39 with his legs.
"Stetson speaks for himself, the way he leads and prepares," Smart said. "His mental makeup is such of a quarterback that believes he can make every throw, and what he did tonight was truly amazing. Probably had his best game of his career, in my opinion."
The stellar stats alone couldn't quite capture how completely and confidently the quarterback had quelled concerns of an upset on Monday night. Bennett marched Georgia down the field in just five plays on its opening drive, finishing it himself with a 21-yard keeper for a score.
He added another touchdown on a 37-yard deep ball to Ladd McConkey and another on a second keeper for a score before Duggan handed the ball back just before the half, with the Bulldogs already leading 31-7.
It was in that moment that Georgia and its quarterback decided to douse any lingering hope of a comeback with kerosene. Bennett launched a pass effortlessly toward the end zone, where Adonai Mitchell came down with a touchdown while fighting with a TCU defender.
There was little fight left in the Horned Frogs after that. They managed just 67 yards in the second half, stifled by a dominant Georgia defense.
"They're a great team," Duggan said. "Obviously that's not what we thought was going to happen or wanted to happen or what we worked for. But it was just one of those nights we couldn't really do much on our end."
Georgia looks to remain college football's team to beat in 2023, but other schools, including Michigan and Alabama, will challenge the Bulldogs.
In the end, it was once again red confetti that fell from the sky, a conclusion that all college football season had felt inevitable. The plucky upstarts had been pummeled. A second national title had been secured. And now, there was no question of where he would go from here. So Stetson Bennett took a puff from his cigar and took in the scene, knowing he and Georgia had rolled their way into the record books once again.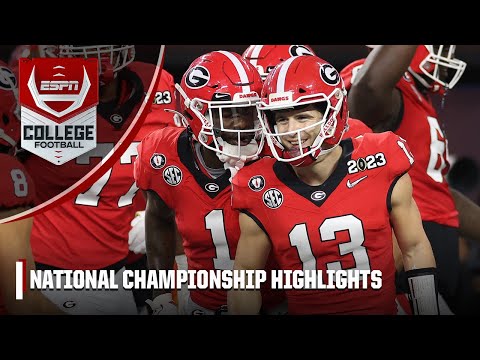 Get our high school sports newsletter
Prep Rally is devoted to the SoCal high school sports experience, bringing you scores, stories and a behind-the-scenes look at what makes prep sports so popular.
You may occasionally receive promotional content from the Los Angeles Times.