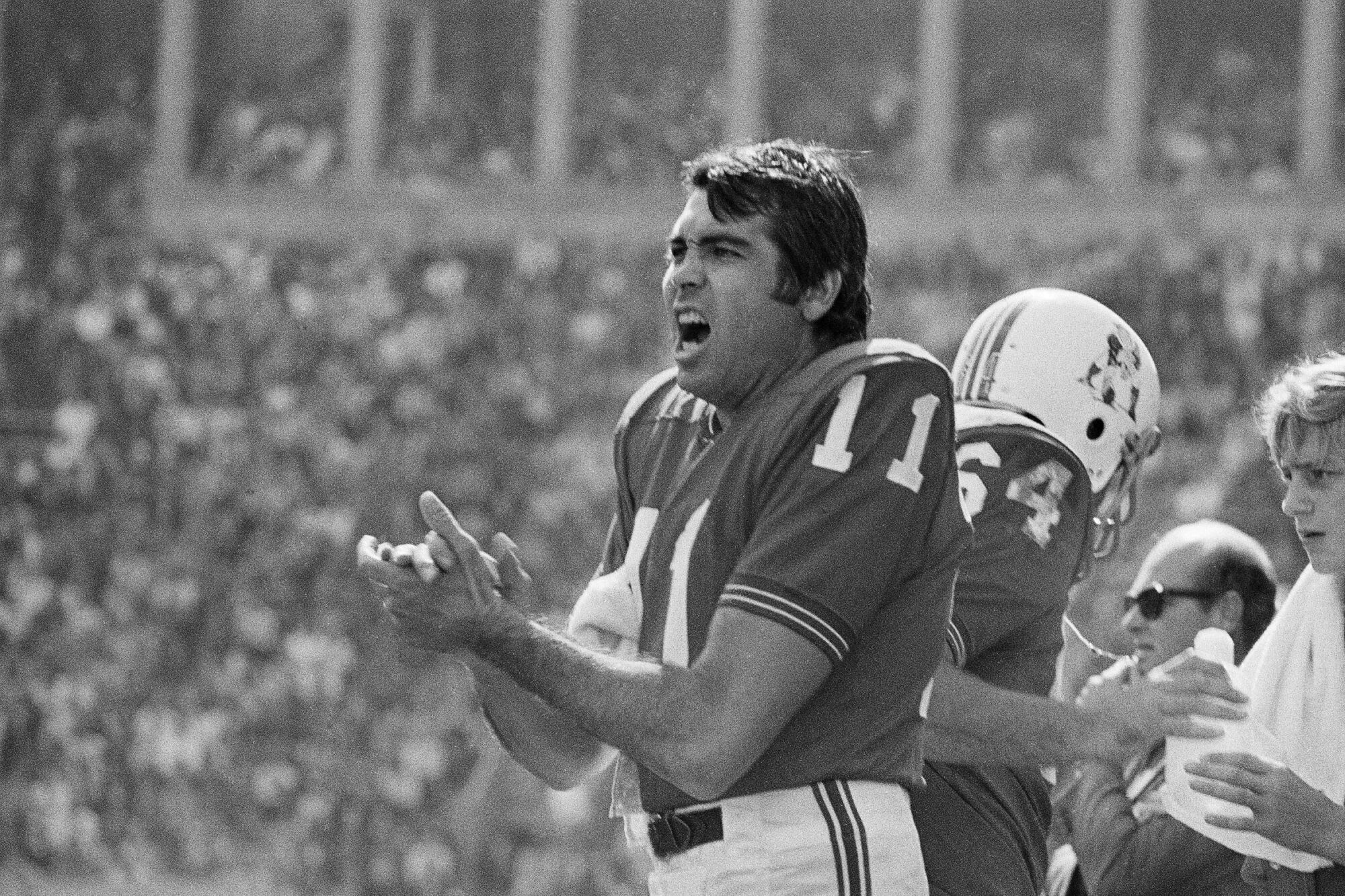 The football player on the vintage Sports Illustrated cover looks beat.
He's framed from the chest up, the No. 11 on his rumpled purple Minnesota Vikings jersey barely visible. The sky behind him is blue, but the midday sun is blasting down on his face. The player is squinting, he has sweaty, shaggy hair with a couple of strands of gray, and his mouth is open and gasping. Scars decorate his chin.
Beat, but still standing. Still looking for a shot to win.
"The Toughest Chicano: Viking Quarterback Joe Kapp" reads the front of the July 20, 1970, issue. Nothing else.
I first saw it in the late 1990s while trying to find out more about Kapp, who died Monday at 85 after a 15-year battle with dementia. Even back then, I knew my place in sports: on the sidelines. While my favorite cousins Vic and Plas and our best friend Art ruled neighborhood pigskin games and "Madden," my noodle arm and butterfingers read books and articles about the sport's past.
One of them must've mentioned Kapp, because the brief sketches about his career that I came across stuck with me. His short, punchy name, of course. The general impression I got that while he wasn't the most talented of players, he remained a fierce competitor. The trademark Kapp move that all the write-ups seemed to include: While most quarterbacks of his era tried to evade tacklers when they scrambled for some yards, he put down his shoulder and smashed into them — and always got the better of it.
"I'm aware of my own reputation, and I enjoy it. I've been called one-half of a collision looking for the other."
— Joe Kapp wrote in a first-person Sports Illustrated story published in 1970
Once the internet became a thing, I decided to see what more I could find out about him. That's how I came across Kapp's "The Toughest Chicano" cover.
I was already politically awakened but still trying to figure out how I belonged in Southern California. Calling myself a Chicano didn't vibe with my rancho libertarian ethos, which felt the term was an antiquated one only leftists used.
Kapp's cover changed that fast. If a Super Bowl quarterback like him could embrace the term, why couldn't I?
But I also felt puzzlement. None of the pieces I had read about Kapp — who I summarily found out was the son of a Mexican American mother and German father — had ever mentioned his ethnicity. Why? And if the history books weren't telling us things like this, what else were they hiding?
That simple cover unlocked a world of pride in me and a passion for finding the truth that continues to this day.
Twenty years after first seeing it, I still think that "The Toughest Chicano" is one of the boldest covers any magazine has ever published. As Latinos continue to fight for visibility in popular culture and especially the media, to see one of the most prominent publications in the United States use such a loaded term — it was the "Latinx" of its day, kids — remains a landmark achievement. It also shows how ridiculously easy representation can be.
I mean, if Sports freakin' Illustrated could do it, anyone can.
SI's use of "Chicano" would be impressive today, but it was downright radical in 1970. The Chicano movement was in full force and inconveniencing the status quo. Earlier that year, the La Raza Unida Party formed and would disrupt elections in Texas and Los Angeles through the ballot box. About a week after the cover appeared, the United Farm Workers signed contracts with the grape growers they had boycotted for years. A month later, a protest against the Vietnam War in East L.A. ended in brutality, as sheriff's deputies beat up protesters and three people were killed, including pioneering Chicano journalist Ruben Salazar.
The events and emotions of the Chicano Moratorium still reverberate in L.A.'s Latino community 50 years later.
At a time when headlines about Mexican Americans depicted us as criminals, immigrants or activists, Sports Illustrated portrayed Kapp and Chicanos as worthy of adulation. We could disrupt the status quo. We could also go to the Super Bowl.
"The Toughest Chicano" cover was so iconic that it became the title of Kapp's 2019 biography and is being mentioned in all the remembrances about him getting published right now. But what Sports Illustrated's homage and its accompanying article didn't hint at was that Kapp would exemplify the spiritual and mental grit that all prominent Mexican Americans should keep.
Kapp has no chance of joining the NFL Hall of Fame, but his gridiron resume remains impressive. He was the leader of the last Cal Bears team to make it to the Rose Bowl and one of the first Latino college All-Americans. Kapp remains one of just two quarterbacks to lead teams to the Canadian Football League's Grey Cup and the Super Bowl (Joe Theismann is the other). He was the Cal head coach during the infamous 1982 "The Play" face-off against the Stanford Cardinal that ended in an improbable last-second victory for the Bears.
Yet Kapp's career was arguably more consequential off the field.
He filed a pioneering antitrust lawsuit against the NFL when no football team hired him in the offseason after his Super Bowl run. Once his playing career finished, he became a motivational speaker for youths, established a scholarship fund in his name and spoke out against the anti-Latino racism that he had weathered through his career and continued long after.
Kapp also went public with the mental struggles that afflicted him later in life, which his family said came from the multiple hits their patriarch suffered on the field. Kapp joined the 2017 class-action lawsuit against the NFL that claimed the league's long dismissal of concussions and hard hits had led to brain damage for former players.
To the end, Kapp showed up to win, damn the odds.
"I'm aware of my own reputation, and I enjoy it," he told Sports Illustrated in the first-person story that accompanied his 1970 cover. "I've been called one-half of a collision looking for the other."
"The Toughest Chicano," indeed. Joe Kapp, ¡presente!
Get our high school sports newsletter
Prep Rally is devoted to the SoCal high school sports experience, bringing you scores, stories and a behind-the-scenes look at what makes prep sports so popular.
You may occasionally receive promotional content from the Los Angeles Times.