How do the Rams fit into Los Angeles' pop culture? It's complicated
Even in L.A., there are celebrities and then there are celebrity athletes.
Yes, its great to be the star of a blockbuster movie or the latest Netflix must-see series or take the stage at the Hollywood Bowl. But really, can that match the awestruck idealization of Kobe, Magic or LeBron?

For the record:
2:30 p.m. Feb. 4, 2019For the Record: An earlier version of this story stated a possible Super Bowl victory by the Rams would be the city's first football championship. The L.A. Raiders won the Super Bowl in 1984 and the Rams won the NFL title in 1951
Which brings us to the Los Angeles Rams, who in about 24 hours are going to play the dreaded New England Patriots in the Super Bowl, possibly bringing the first NFL championship to this city since the L.A. Raiders in 1984. It's a young, exciting team with a boy genius coach (Sean McVay), a game-changing defensive powerhouse (Aaron Donald) a wildly exciting if uneven running back (Todd Gurley) and a golden-locked quarterback (Jared Goff) with an arm to match.
So how come these guys and the Rams themselves haven't become ingrained into the city's pop culture the way the Lakers (and sometimes the Clippers) and the Dodgers (and sometimes the Angels) have? It's complicated.
Apologies to any visitors to Southern California this weekend, who may note what appears to be a less than heated atmosphere surrounding the game. There are plenty of Rams fans, but depending on the neighborhood, Los Angeles' Super Bowl fever can feel a bit diffuse, which is what happens in a sprawling, definition-defying metropolis that, to paraphrase a line from comic Patton Oswalt, encompasses six of the best cities in the world and two of the worst ones.
Still, the indicators are there. The triple-spired sign outside the Rams' temporary Coliseum home congratulates the team between a scroll of car and airline ads, and the LAX-adjacent Randy's Donuts — maybe our second most famous landmark — was repainted gold and blue in honor of the team's colors this week, as was the ever-crowded Pink's Hot Dogs. Corner parking lots around the city host ad hoc pro shops where bootleg jersey and T-shirt venders usher late arrivers to the #HornsUp bandwagon.
And while you maybe haven't seen Rams gear filling the streets this week — certainly not like the far smaller Boston, where team hats and jerseys are their own fashion category — yes, a lot of people are excited that the Rams are back in the Super Bowl. Fans keep an active vigil on social media, where the team also keeps a Spanish-language account (@VamosRams), and on game days they crowd around barroom big screens just like in every other city.
But tracking the impression the Rams are making by the observations of your afternoon commute is a bit like trying to identify an elephant using only a microscope.
One of the challenges for the Rams is their relative newness. The team only just returned to the city three years ago after billionaire owner Stan Kroenke jilted the team's 20-year home of St. Louis. That city may be the only one outside the New England area rooting against the Rams, whose prior owner Georgia Frontiere famously also spurred hard feelings after the Rams left L.A. in 1995 (and won the Super Bowl five years later).
While there were many faithful Rams fans who welcomed the team back to town, the rest of L.A. — who were either neutral or opted to follow the city's Raiders from 1982 to 1994 — watched the best games of each week's TV schedule and pursued their own allegiances.
Still, somewhere, in a parallel universe, the Rams never left and pro football remained ingrained in the city's fabric. But as it is, there is is still an introductory period for the city, which Sunday's game has already helped along. Like anywhere else in America, Los Angeles loves a winner. But it also values star power. Ask the Kings, who for all their recent success might not exist had Wayne Gretzky not come to town in 1988.
"A team that plugs away doesn't work as well in Los Angeles, or at least blends into the tapestry more easily, because there's just so much else to distract attention," columnist and Sports Illustrated contributor Will Leitch wrote in 2016, back when the Rams finished with 12 losses and looked only a touch more likely to appear in the Super Bowl than the Dodgers. "There are die-hard, devoted fans of those teams in Los Angeles, just like there are in every city, but unless there's one breakout star, those teams can't quite break through."
Rams quarterback Jared Goff, left, and Patriots quarterback Tom Brady talk on stage during media day.
(Wally Skalij / Los Angeles Times)
Rams quarterback Jared Goff answers questions as members of the media surround him during Opening Night.
(Wally Skalij / Los Angeles Times)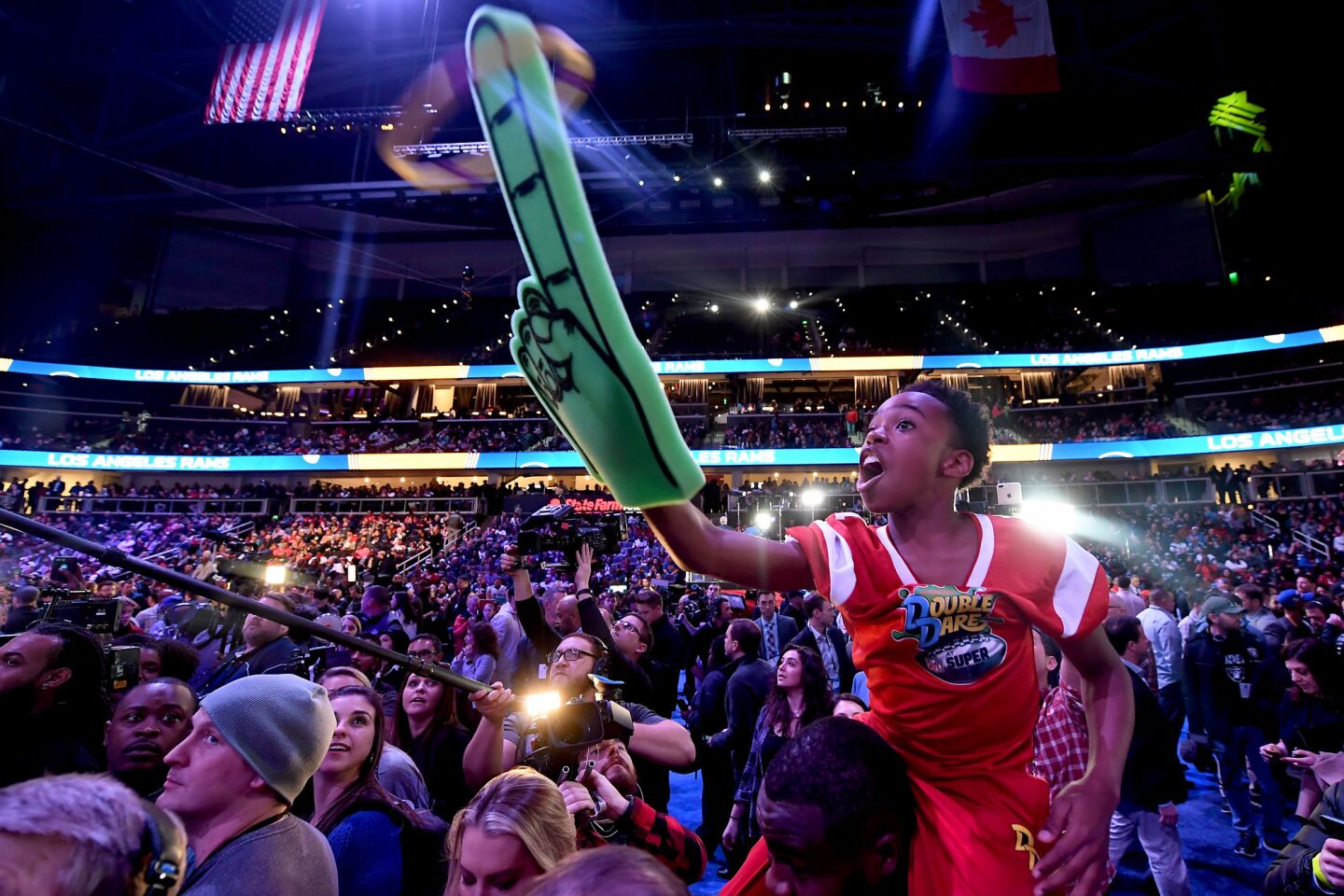 Actor Dallas Dupree Young catches a ring thrown by Rams quarterback Jared Goff during media day.
(Wally Skalij / Los Angeles Times)
Rams Aaron Donald answers questions during media day in Atlanta.
(Wally Skalij / Los Angeles Times)
Rams Aaron Donald wears his necklace during media day.
(Wally Skalij / Los Angeles Times)
Rams head coach Jared Goff answers questions as members of the media surround him during Opening Night.
(Wally Skalij / Los Angeles Times)
Members of the media take pictures of Rams head coach Sean McVay.
(Wally Skalij / Los Angeles Times)
Actor Dallas Dupree Young dances with the Rams cheerleaders during media day.
(Wally Skalij / Los Angeles Times)
FULL COVERAGE: Super Bowl 2019 »
But even if they win their first L.A.-based championship Sunday the Rams will still take a backseat to the city's one unifying sports love, the Lakers.
It's hard to overstate the hold the Lakers have on the city, especially when they're winning. The Dodgers were in the World Series a few short months ago (against, in an act of cosmic symmetry, another team from New England), and the Kings won the Stanley Cup for the second time in three years in 2014. But even as the Dodgers' Clayton Kershaw, Justin Turner and, to a lesser extent, the Kings' Anze Kopitar captured fans' imagination, their impact can't compare to the reign of the Kobe-Shaq Lakers from 1996 to 2004.
With NBA championships briefly an annual tradition, L.A. showed its colors with purple and gold Lakers flags mounted above car windows, a distinctive flourish that allowed the space where we spend too many hours a chance to pop its jersey too.
As exemplified by last year's signing of LeBron James, the Lakers have long fed on celebrity, on and off the basketball court. While an injury-plagued James has yet to engineer a turnaround for the team, famous fans have been vying for courtside seats since Jack Nicholson's "Showtime" days.
Like the Dodgers during their World Series runs, the Rams have their own celebrity fans in actor-restauranteur Danny Trejo, "SNL" alumnus Taran Killam and hip-hop musician Kendrick Lamar, who was spotted during the team's 2016 run on HBO's "Hard Knocks." But the NFL's luxury-box stadiums, bird's-eye views and crowded sidelines present challenges for such displays of glitz.
Magic, LeBron, Kobe and Shaq would be easy to spot anywhere in town, but football requires a more distant, armor-plated game that takes years of success before a face appears from under the helmet.
Having accumulated almost every NFL accolade at 41 years old, Patriots quarterback Tom Brady travels everywhere with tabloid photographers in tow. Only 7 years old when Brady led the Patriots over the St. Louis Rams in the 2002 Super Bowl, Goff is off to a promising start, but without the help of a No. 16 jersey not that many in Los Angeles would know if he sat across from them at lunch.
Despite a talented roster, the biggest breakout star of the Rams is the architect of the team's impressive two-year turnaround in McVay.
Just 33 years old, McVay has already earned comparisons to New England's longtime mastermind Bill Belichick. At the cusp of a crowning achievement, McVay is ready for his celebrity moment — a fast-talking, good-looking savant who seems exactly the right fit for Los Angeles.
Rams fans hope McVay will lead the changing of the guard from one long-running dynasty to a renewed L.A. powerhouse that's now, after a long absence, in ascension. Ask a Rams fan about it when you see one. Like every thing else in the city, there's more to their story than there may seem.
'Super Bowl Kickoff Show'
Where: CBS
When: 1 p.m. Sunday
'Super Bowl LIII'
Where: CBS
When: 3:30 p.m. Sunday
Follow me over here @chrisbarton.
Get our high school sports newsletter
Prep Rally is devoted to the SoCal high school sports experience, bringing you scores, stories and a behind-the-scenes look at what makes prep sports so popular.
You may occasionally receive promotional content from the Los Angeles Times.