Rams' Todd Gurley and Aaron Donald are hoping to make a signature Super Bowl play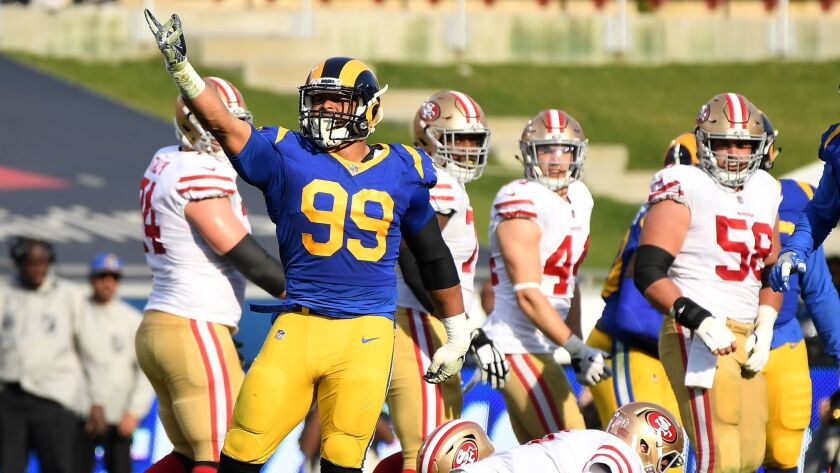 Reporting from atlanta —
Percy Harvin's kickoff return for a touchdown for the Seattle Seahawks. Consecutive kickoff returns for touchdowns by the New York Giants' Ron Dixon and the Baltimore Ravens' Jermaine Lewis. Linebacker James Harrison's 100-yard interception return for a touchdown for the Pittsburgh Steelers. Spectacular catches by Giants wide receiver David Tyree and Steelers receiver Santonio Holmes.
Those are highlight-reel Super Bowl plays that Rams running back Todd Gurley readily recalls.
Gurley and his teammates will have an opportunity to leave their legacies Sunday when they play the New England Patriots in Super Bowl LIII at Mercedes-Benz Stadium.
"Every year, there's definitely one play that needs to be made or has to be made that adds kind of like the game breaker," Gurley said Wednesday. "So somebody's going to have to make one."
The Rams returned to the field Wednesday for the first time since last week, when they installed the game plan for their matchup against a Patriots team led by coach Bill Belichick and quarterback Tom Brady. The Rams went through a walkthrough Wednesday, and will practice Thursday and Friday.
"Kind of finalize the game plan, really put the last final touches on it," coach Sean McVay said. "You kind of want to protect yourself from having so much time that you overthink things."
Before the on-field activities Wednesday, several Rams recounted their favorite Super Bowl plays.
Aaron Donald, regarded as a lock to repeat as the NFL's defensive player of the year, said Von Miller's strip-sack in the Denver Broncos' victory over the Carolina Panthers in Super Bowl 50 stood out.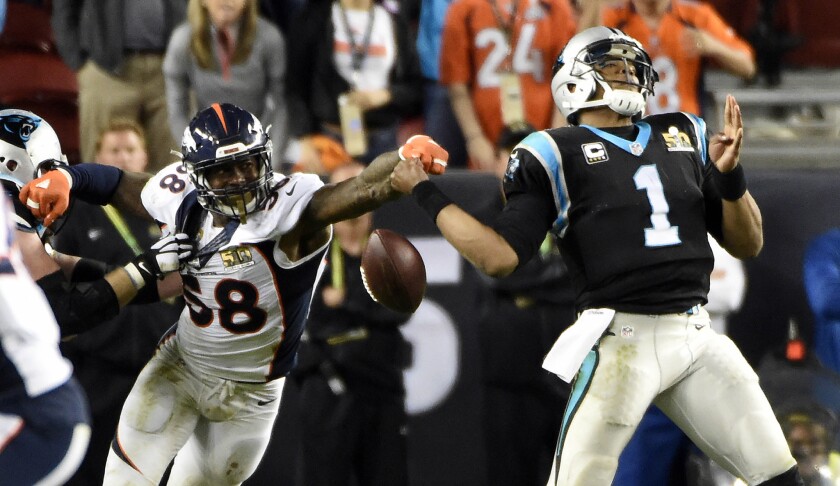 "I'm just saying, 'Wow, he's getting the ball out of the quarterback's hands,' " Donald said during a news conference. "I feel like he took over the game, and when you got a guy like that, that can do that on defense, ain't much you can do."
The Rams have a guy like that. His name is Aaron Donald, and he said he has thought about making a game-turning play in the Super Bowl.
"That's what you dream about," he said. "How you not going to think about making the big play, the game-changing play? Somebody is going to need to make it so I hope it's me. I'm going to try to find a way to make it me.
"I'm going to try and do my job and try to make as many plays as I can and help my team win. I'm on the biggest stage of my life. All that hard work, this is what you work for here."
Los Angeles Rams beat writer Gary Klein looks back on covering Pete Carroll during his USC days and during the Super Bowl when Carroll and the Seahawks won the Lombardi Trophy.
Kicker Greg Zuerlein has Super Bowl memories tied to the Patriots, specifically kicker Adam Vinatieri and his game-winning field goals.
"Those are always cool to see," Zuerlein said. "I really probably couldn't even tell you where he made those kicks from.
"Seeing him celebrate is what I remember."
Zuerlein kicked a game-winning, 57-yard field goal in the Rams' 26-23 overtime victory over the New Orleans Saints in the NFC championship game.
Full Super Bowl coverage from the L.A. Times »
Zuerlein, who kicks with his right leg, is recovering from a left-foot strain he said he suffered when his foot landed awkwardly on a metal plate that was beneath the turf at the Mercedes-Benz Superdome.
The plan, he said, was to test his condition Friday.
"I feel good now," he said, "and I don't anticipate any changes to that."
A kicker's plant foot is important "accuracy-wise" because "you want that pointed where you want the ball to go," Zuerlein said.
The game winner against the Saints was not struck as cleanly as Zuerlein would have liked, "but I'm not going to complain about it, obviously," he said.
Zuerlein's kick cleared the crossbar with plenty of room to spare.
Asked how far he could kick a ball in perfect conditions, Zuerlein was noncommittal.
"I don't really know," he said. "I don't know what perfect conditions are. I mean kicking on [Mt.] Everest where the ball will go a mile? I don't know."
Sign up for our daily sports newsletter »
Follow Gary Klein on Twitter @latimesklein
---
Get our high school sports newsletter
Prep Rally is devoted to the SoCal high school sports experience, bringing you scores, stories and a behind-the-scenes look at what makes prep sports so popular.
You may occasionally receive promotional content from the Los Angeles Times.