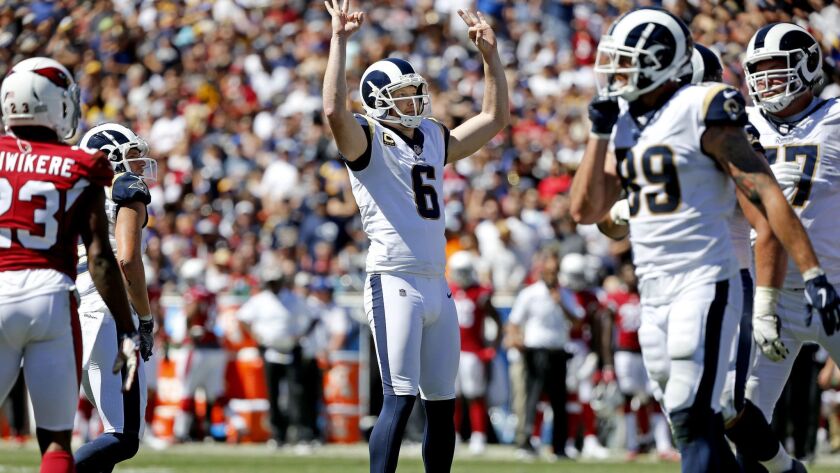 Reporting from Atlanta —
They once competed as walk-ons for the same job at Oregon State.
In 2008, Rams punter Johnny Hekker and New England Patriots punter Ryan Allen were just trying to earn scholarships.
Hekker got the first opportunity — and the scholarship — and never let go. Allen backed up Hekker for two seasons before transferring to Louisiana Tech, where he twice won the Ray Guy Award as college football's top punter.
On Sunday, the two friends will compete again, this time for Super Bowl rings when their teams play in Super Bowl LIII at Mercedes-Benz Stadium.
"Having that competition really set us both up for future successes," Hekker said. "So it's been a ton of fun to just admire his career from afar, be his biggest fan and share a field with him in the Super Bowl."
This will be Hekker's first Super Bowl since signing with the Rams in 2012. It is Allen's third since joining the Patriots in 2013.
"It's cool to see where we started to now playing on the biggest stage in sports," said Allen, who won rings in the 2014 and 2016 seasons.
The versatile Hekker, who played quarterback at Bothell High in Washington state, enters the Super Bowl coming off a clutch performance in the NFC championship game against the Saints.
With the Rams trailing 13-0 in the second quarter, Rams coach Sean McVay and special teams coordinator John Fassel called for a fake punt. The 6-foot-6 Hekker, a four-time Pro Bowl punter, delivered a pass to Sam Shields. The play produced a first down and led to a field goal to kick-start a comeback that ended with Greg Zuerlein's victorious 57-yard field goal in overtime.
"It's cool to have guy like Johnny who's not only a great punter, but you can have some fun with him and know he's going to execute," Fassel said.
Said Rams snapper Jake McQuaide: "It's one thing to have a punter that can throw it. It's another to have a punter who can throw it in that situation, in the NFC championship game, and a coach that's going to call it."
McVay has no hesitation about putting the ball in Hekker's hands.
"If you didn't know any better," McVay said, "he looks like a quarterback.'
The pass against the Saints improved Hekker's NFL career passing statistics. He has completed 11 of 19 passes for 156 yards and a touchdown.
Patriots coach Bill Belichick comes from a special teams background, so he knows how valuable Hekker can be.
"He's a weapon on the field," Belichick said. "You have to respect his ability to handle the ball."
It was Hekker's size and passing ability that first attracted the attention of then-Oregon State coach Mike Riley, who saw Hekker working out as a quarterback at recruiting camps. Riley said that Danny Langsdorf, the Beavers' quarterbacks coach, told him that Hekker's recruiting tape included punting highlights.
Riley sent tapes from punting and kicking prospects to Bruce Read, a former Oregon State special teams coordinator working at the time in the NFL.
"He kept sending them back saying, 'No, that's not your guy,' '' Riley said. "So I sent him Hekker and he says to me, 'This guy is raw, but he is talented.' "
Riley offered Hekker a chance to walk on. If he won the job, he would receive a scholarship. Allen also walked on and they competed throughout training camp.
"There was no magic to it and I didn't pretend I can be the best evaluator, but we had to have a punter so I picked one," Riley said. "And as it turns out I couldn't have been wrong."
Hekker averaged 41.3 yards per kick during four seasons at Oregon State. He also completed four of five passes for 35 yards, with an interception.
In a game against Texas Christian, he completed a 23-yard pass on a deep out pattern.
"It wasn't like a little dink pass you throw for a fake punt," Riley said. "And he just hit it right on the money."
Allen continued to compete with and back up Hekker for two seasons. He also backed up the place kicker before seeking a starting opportunity elsewhere.
He enrolled at Louisiana Tech, and averaged 46.1 yards per kick as a junior and 48 yards per kick as a senior. He completed two of two passes for 15 yards.
"It was definitely different in almost every aspect possible, but it was a great opportunity to go play," Allen said. "I got my school paid for, and I maintained a few relationships that are going to be life-long relationships.
"I wouldn't change it for anything."
The Rams signed Hekker as an undrafted free agent. In 2017, he signed a six-year $20.8 million extension, with $10 million guaranteed.
The Patriots signed Allen as an undrafted free agent. He is the final year of a three-year, $6-million contract that included $3 million in guarantees.
Like Hekker, Allen said their competition at Oregon State gave them a foundation for success.
"We were always pushing each other," he said. "It was a great environment for both of us to work in, and it probably started us in a good direction for where we are today."
In 2016, the Rams played the Patriots at Gillette Stadium. Hekker averaged 53.8 yards for eight punts, one for 72 yards. Allen averaged 41.2 yards for six punts. The Patriots won the game, 26-10.
Now they are each competing for their sport's biggest prize.
"Just to play against him will be fun," Hekker said, "and to play against him in this capacity will be awesome."
Staff writer Mike DiGiovanna contributed to this story.
Sign up for our daily sports newsletter »
Follow Gary Klein on Twitter @latimesklein
---