UCLA's Brett Hundley knows staying in school could help or hurt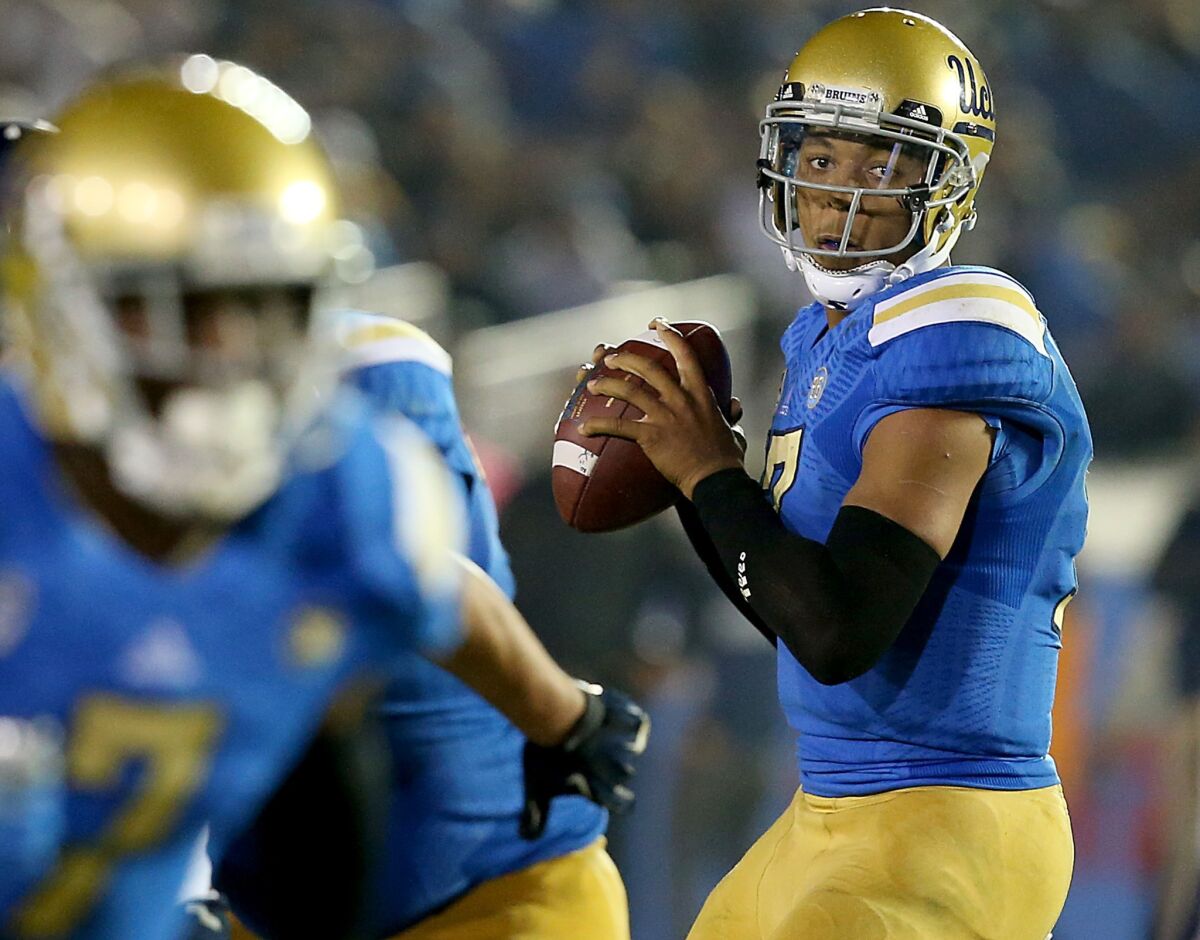 UCLA quarterback Brett Hundley could look across the city last season and see the perils of staying in school.
Former USC quarterback Matt Barkley, whom many thought to be a first-round pick after his junior season, came back for a senior year. The Trojans finished 7-6. Barkley didn't win the Heisman Trophy. He slipped to the fourth round in the NFL draft last spring.
A cautionary tale.
BOWL TIMELINE: Matchups, schedule and picks
Only, all Hundley has to do is look across the locker room to see the upside to playing another season at UCLA. Linebacker Anthony Barr returned this season and has improved his future considerably. He is projected as a top-10 pick.
It's something Hundley, a sophomore, will consider when he makes the decision whether to stay or go after playing Virginia Tech in the Hyundai Sun Bowl.
"It helps a lot to see how he did it and how it paid off for him," Hundley said. "A.B. made a huge progression from last year to this year. I felt I did the same, but I feel there is still stuff I can improve."
While Barkley's decision has been questioned in hindsight, Hundley pointed to other quarterbacks who were not hurt by one more season at the college level.
Stanford's Andrew Luck and Washington's Jake Locker both came back for senior seasons. Luck was the No. 1 overall pick in the 2012 draft. Locker was the eighth overall pick in 2011.
"Everybody remembers the ones that are bad, like Barkley," Hundley said. "You see it work out for a lot of other guys."
James ready
UCLA running back Jordon James was reunited with a season that seemed long lost.
James burst into the season with three 100-yard performances, then vanished after suffering a sprained ankle against Utah in the fourth game. He reemerged against USC to do a little salvage work on a damaged season.
James gained 54 yards in 16 bruising carries in a 35-14 victory over the Trojans.
"You know how running backs are, he feels healthy," said offensive coordinator Noel Mazzone. "He's not thinking about the ankle when he runs. He looks quick. He hasn't looked like this since before the Utah game."
James has 525 yards rushing, 424 in the first three games. He gets a chance to finish the season strong against Virginia Tech.
"It's one more chance to play with the seniors," he said.
Still, he admits that getting to finish this way takes away the frustration he felt much of the season.
"It feels right again," he said.
James, a junior, won the starting job in August. He had big cleats to fill. Johnathan Franklin gained a school-record 1,734 yards in 2012 and finished as UCLA's all-time leading rusher with 4,403 yards.
But James seemed up to the task. He had 155 yards rushing in the season opener against Nevada. He was fifth nationally in rushing through three games.
James missed five games and had only six carries between the fourth game and the USC game.
"Him being out depressed the whole [running backs] group," said running back Paul Perkins.
That changed after the USC game.
"He was back running the ball like he did earlier in the season," Hundley said. "You see that natural running motion is back. Ankle injuries are not fun. I had one as a freshman and it stayed with me throughout the whole season. It's one of those injuries that is always in the back of your mind."
Texas rangers
The Bruins have five scholarship players who are going home to Texas for a bowl game, tackle Caleb Benenoch (Katy), center Jake Brendel (Plano), tackle Simon Goines (Keller), linebacker Deon Hollins (Houston) and receiver Eldridge Massington (Mesquite).
Twitter: @cfosterlatimes
Get the latest on L.A.'s teams in the daily Sports Report newsletter.
You may occasionally receive promotional content from the Los Angeles Times.