UCLA athletic director Dan Guerrero says he's outraged by college admissions scandal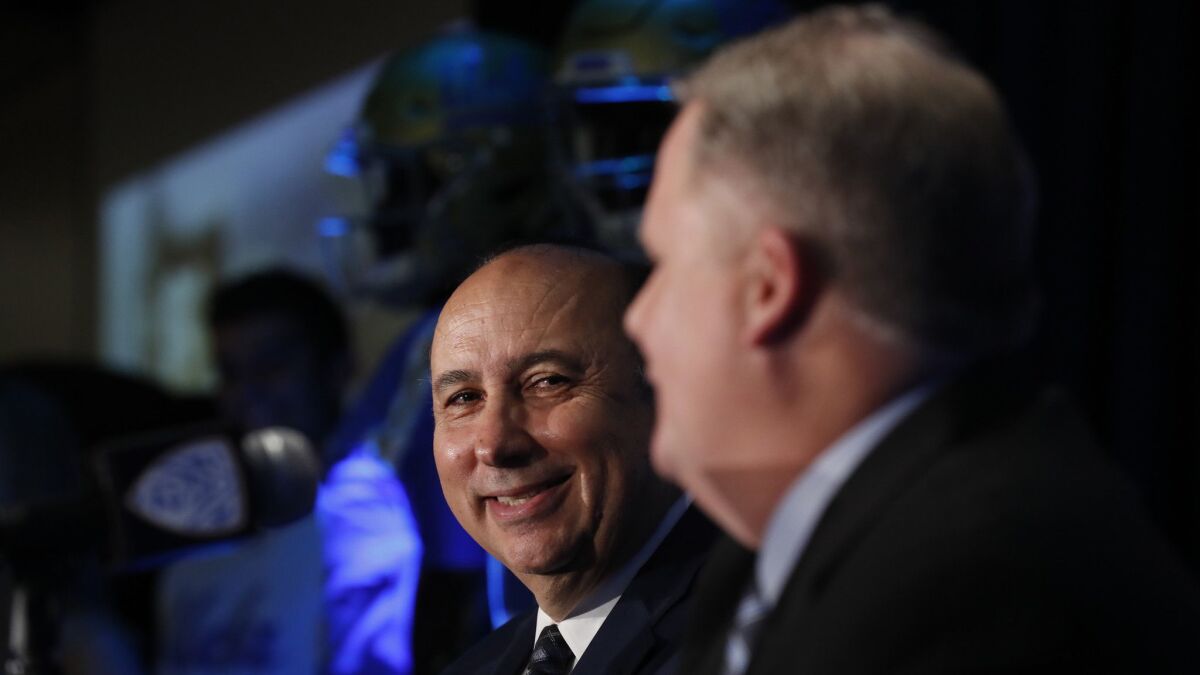 UCLA athletic director Dan Guerrero expressed disgust over the recent admissions scandal that rocked his school in his first public comments about the ordeal Friday and said steps were being taken to ensure it never happened again.
"I understand and share the outrage that this news has sparked," Guerrero said in a statement released by the school. "The behavior described in the allegations is disturbing and unacceptable."
Men's soccer coach Jorge Salcedo resigned earlier this week amid allegations that he accepted $200,000 in bribes to facilitate the enrollment of two students using fake soccer profiles. The allegations facing Salcedo are just part of a wide-ranging corruption scandal involving the indictment of 50 people for working in tandem to doctor college entrance exams and create fake athletic profiles to gain admittance to elite universities.
Guerreo outlined UCLA's student-athlete admission process, which he acknowledged was not perfect despite being "among the most demanding and thorough in collegiate athletics."
Admission to the school involves a multi-step evaluation for prospective scholarship and recruited non-scholarship student-athletes in which applicants are judged on athletic ability, academic preparation and engagement. Coaches play a central role by submitting a list of candidates for admissions consideration to athletic administration officials.
Full coverage: Dozens charged — including Hollywood actresses — in connection with college admissions scheme »
"Inherent in the process," Guerrero said, "is a level of trust that the administration places in the coaches and their evaluations of the abilities and talent levels of prospective student-athletes."
Athletic administration officials present candidates to UCLA's Student-Athlete Admissions Committee, which comprises admissions administrators and faculty members, but do not have a vote in admissions decisions.
Prospective student-athletes are admitted only if in the admissions committee believes they can succeed academically and graduate from the school. They must also be certified as NCAA-eligible in order to be approved for student-athlete admission.
Guerrero said the recent alleged transgressions illustrate that the system is not foolproof.
"Despite the fact that we have confidence in the existing process," Guerrero said, "a breach of the system can obviously occur when individuals choose to act unethically, and contrary to the level of integrity that we expect."
Guerrero said an internal review was underway of the school's admissions procedures to determine the best way to strengthen and safeguard the reliability of the process.
"As an athletic department, we pride ourselves on conducting our business with the utmost integrity," Guerrero said. "As I have said throughout my career, how we do things is just as important as the results we produce. Representing this university with character and integrity is paramount, not just for me, but for every coach, staff member and student-athlete."
---
Get the latest on L.A.'s teams in the daily Sports Report newsletter.
You may occasionally receive promotional content from the Los Angeles Times.