UCLA fires men's basketball coach Steve Alford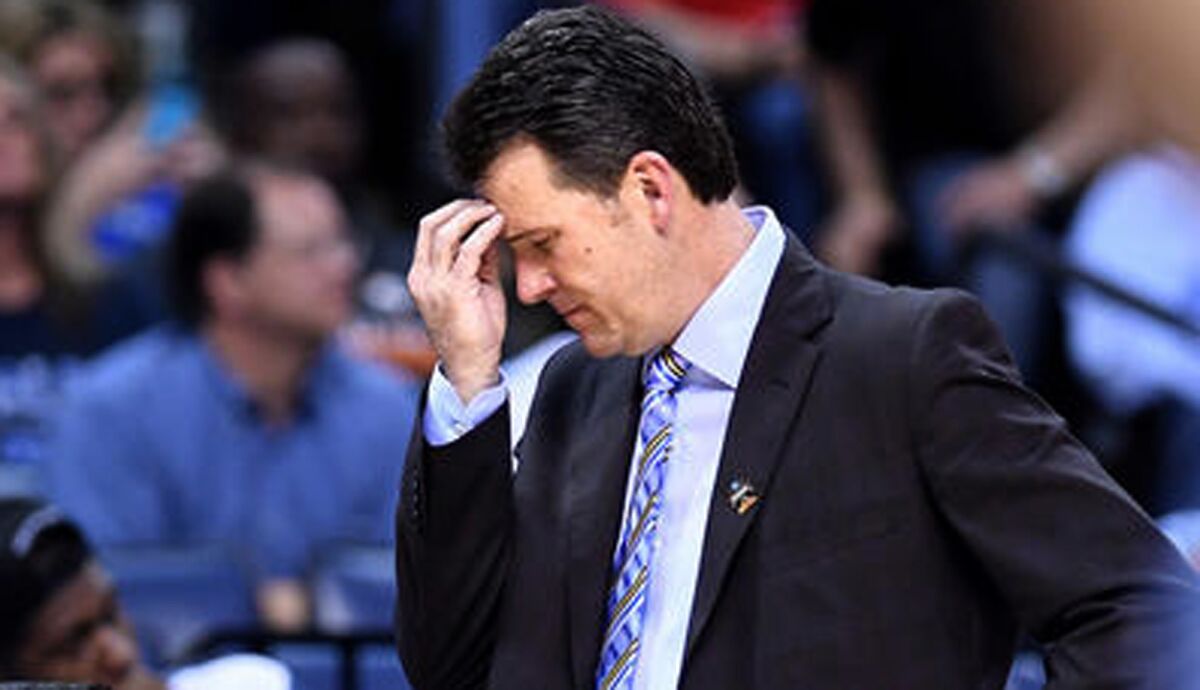 Steve Alford was brought to UCLA to revive the offense, reinvigorate the fan base and connect with a new generation of players.
In what turned out to be his final game with the Bruins, Alford's offense generated more turnovers than baskets before fans who booed the team in the midst of a fourth consecutive loss. Afterward, Alford blamed his players for their inability to execute simple fundamentals that the coach described as "seventh-grade stuff."
The increasingly poisonous environment surrounding UCLA's flagship program resulted in the dismissal of Alford as men's basketball coach late Sunday, one day after a humiliating 15-point defeat at home to Liberty and four days before the start of Pac-12 Conference play.
UCLA announced Monday that assistant Murry Bartow would take over as the interim coach through the rest of the season, with fellow assistants Tyus Edney and Duane Broussard remaining on the staff. Alford, whose contract ran through April 2021, will receive a $3.6-million buyout from athletic department-generated funds plus the balance of his salary for this season.
It was the first in-season firing in the 100-year history of a program with a record 11 national championships, though coach Jim Harrick was jettisoned only two weeks before the start of the 1996-97 season over lies involving an expense report for a recruiting dinner.
UCLA athletic director Dan Guerrero said in a statement that he usually disliked the idea of making a coaching change during the season but felt it was imperative given the state of a team that holds a 7-6 record after a 4-0 start.
"While Steve led us to three Sweet 16 appearances," Guerrero said, "we simply have not been performing at a consistent level and our struggles up to this point in the season do not bode well for the future."
The school announced that the search for Alford's successor would be led by Guerrero, senior associate athletic director Josh Rebholz, associate athletic director Chris Carlson and Golden State Warriors general manager Bob Myers, a member of the Bruins' 1995 national championship team.
Potential candidates to replace the 54-year-old Alford could include the Oklahoma City Thunder's Billy Donovan, Virginia's Tony Bennett, Michigan's John Beilein, Gonzaga's Mark Few, North Carolina State's Kevin Keatts, Texas Christian's Jamie Dixon, Texas Tech's Chris Beard, Cincinnati's Mick Cronin, Wichita State's Gregg Marshall, Utah's Larry Krystkowiak and former Chicago Bulls coach Fred Hoiberg.
Bartow, 57, is the son of the late Gene Bartow, who went 52-9 in two seasons at UCLA as coach John Wooden's successor. Alford hired Murry Bartow last spring to improve the Bruins' defense, which ranks No. 79 nationally in adjusted defensive efficiency.
Bartow took over as the interim coach at South Florida during the 2016-17 season, going 1-16 overall and 1-15 in American Athletic Conference play. He has compiled a 328-264 record overall in 19 seasons as a head coach with stops at Alabama Birmingham, East Tennessee State and South Florida. His teams made four appearances in the NCAA tournament, never advancing past the first round.
Alford finished his UCLA career with a 124-63 record in five-plus seasons, with four trips to the NCAA tournament and three appearances in a regional semifinal. But the Bruins never won a Pac-12 regular-season championship and backslid considerably after winning the Pac-12 tournament title in Alford's first season.
"I'm extremely appreciative to everybody at UCLA for what has been a tremendous run and the chance to work with such special student-athletes and coaches," Alford said in a statement. "While I wish we could have had more success, my family and I are so grateful for our time in Westwood. We wish this program nothing but the best. I sincerely hope that the UCLA community will rally around this team, its players and the coaching staff as Pac-12 play begins."
UCLA was a surprise selection for the 2015 NCAA tournament with a No. 11 seeding and needed a controversial goaltending call and a second-round matchup against 14th-seeded Alabama Birmingham to reach a regional semifinal.
The Bruins finished with a 15-17 record in 2015-16, prompting Alford to write a letter to fans saying he would give back a one-year contract extension while vowing to never allow his defense to rank outside the top 100 nationally. Fans paid for a banner to be flown over campus calling for Alford to be fired.
UCLA rebounded dramatically the next season, finishing 31-5 behind the play of freshman point guard Lonzo Ball and a strong supporting cast, though the Bruins lost to Kentucky in an NCAA tournament regional semifinal.
That was followed by more defensive struggles last season, when the Bruins scraped their way into the NCAA tournament before losing to St. Bonaventure in a play-in game. Another banner was flown over campus afterward reading "Final Fours not First Fours #FireAlford."
The Bruins started this season nationally ranked but regressed considerably after their first four games, losing six of their last nine. Now they will probably have to win the Pac-12 tournament just to qualify for the NCAA tournament.
Alford recruited well, regularly landing classes ranked among the best in the nation, but the free-flowing, fast-paced offense that was his calling card usually required an elite point guard such as Ball or Kyle Anderson to run it effectively. The Bruins have been notoriously stagnant with their ball movement this season, forcing jumpers and failing to effectively space the court, cut or screen.
Alford also struggled to develop his players. UCLA's inability this season to maximize a young roster stacked with four- and five-star recruits triggered criticism from notable former alumni, including Darrick Martin, Andy Hill, Kris Johnson and Matt Barnes.
"We are not very good," Martin recently wrote on Twitter. "We are stagnant on offense and we run the most antiquated offense I have ever seen."
After holding himself accountable for a home loss to Belmont earlier this month, Alford increasingly blamed his players for the team's shortcomings. He suggested that they needed to spend more of their free time in the gym after a 29-point loss to Cincinnati and seemed baffled after the loss to Liberty that his players were unable to execute what they had been taught in practice .
"We'd prepared for the trap in the post," Alford said after his team committed a season-worst 24 turnovers. "If we threw it to the post, we more times than not turned it over. And we prepped for that."
In many ways, Alford was an uneasy fit in Westwood from the start. Some fans accused him of nepotism after he played his son Bryce over promising guard Zach LaVine, who departed UCLA after one season and is now averaging 23.5 points per game for the Chicago Bulls. Alford also hired his son Kory as the video and analytics coordinator, a role he will retain despite his father's departure.
A disciple of former Indiana coach Bobby Knight, who has long been a detractor of Wooden, Alford sparked widespread unease at his introductory news conference when he said he followed the advice of administrators at Iowa in defending Pierre Pierce after the star player was accused of sexual assault by another student in 2002.
Pierce was later kicked off the team after a separate incident involving a former girlfriend and spent 11 months in a correctional facility after pleading guilty to a litany of charges.
Alford issued a statement nearly two weeks after his hiring at UCLA apologizing for the way he handled the sexual assault charge while he was at Iowa.
In the end, after 5½ mostly underwhelming seasons, Alford would not have the final say.
Follow Ben Bolch on Twitter @latbbolch
---
Get the latest on L.A.'s teams in the daily Sports Report newsletter.
You may occasionally receive promotional content from the Los Angeles Times.