UCLA freshman Prince Ali left the Bronx behind but didn't leave all of his game there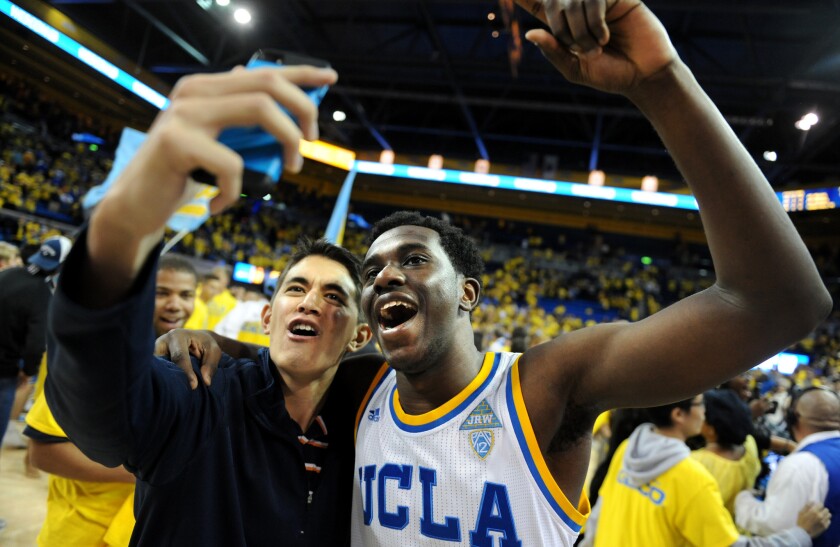 The boy and his brother flew to Atlanta, using most of the cash they had on hand. The rest, they spent on fees for the recruiting showcase in front of some of the biggest programs in college basketball.
Prince Ali, now a freshman at UCLA, was a high school sophomore then, and still mostly unknown. His older brother, Sayed, had been raising Ali for about a year. Before the showcase, he pulled Ali aside. It was a lot of money, he told Ali. Make it count.
Looking back, Sayed says, that moment was one of his proudest from the years he spent rearing his younger brother. He still remembers Prince's confidence.
"I got you, bro," Prince said.
The bond the brothers shared grew stronger over the two most important years of Ali's young life when he moved away from his parents in New York to Miami, with Sayed, 11 years his senior.
The brothers scraped by. Sayed treated Prince like a son as the youngster transformed himself from a swaggering street-ball kid into a more polished, complete player.
This camp was his breakout. Ali made good on his promise. He was small, but no one could guard him. Afterward, college interest intensified before he landed with the Bruins.
It completed a journey from the Bronx, where the brothers had grown up on the playgrounds.
"In the neighborhood, you know, you have the drug dealers, you have the ballplayers, you have the fashion guys," Sayed said. "I fell into the ballplayers."
Prince, and a third brother, Sharif, took after him.
"The older cats, the old heads, they played on one court," Prince said. That was where Sayed played. "And the younger cats would play on the other court."
In grade school, Prince fastened a hoop to his bedroom door, his father said, and would mimic the dunks of Sayed and his friends. He begged his brother to let him play on his court, but he never got the chance. Sayed joined the Army when Prince was 8.
Each time Sayed returned, he'd challenge Prince to a game of one-on-one, to gauge his progress. In the summer before high school, Ali visited Sayed, who was stationed with the Army near Miami, following deployment to Iraq.
By then, Sayed knew Prince could make something of himself, maybe even play professionally, but he was too raw. There were too few basketball teachers in New York.
So, Sayed asked his brother to live with him.
"He didn't even think about it," Sayed said.
Their father, who worked for almost 23 years for the New York City Housing Authority, had planned to retire and move the family to Florida. But he couldn't do that at the time, so for two years, Sayed raised Prince alone.
Sayed was still in the Army and was also attending school, but he did the best he could. Their parents had been strict. They imposed a curfew and emphasized schoolwork before basketball. Sayed set his own ground rules.
"Big-boy rules," Sayed called them, which effectively meant: "Don't do anything stupid."
"The hardest thing was to get him to do the dishes," Sayed said. "Other than that, he was a great kid."
Sayed cooked, when he could, but mostly they ate takeout. They got by on the money Sayed had saved from the Army. Eventually, Sayed entered civilian life, to devote more time to Prince. He took a job with Lockheed Martin. Today, he works for them in Afghanistan.
"I don't even know how we maintained, but we maintained," Sayed said in a phone interview from Afghanistan "He's not that expensive. Get him a pair of Jordans every once and a while, he's happy. He doesn't ask for much."
Sayed tried to teach his brother respect and responsibility, and he listened, mostly. Sometimes, basketball got in the way.
Sayed occasionally received complaints, from others in his condominium, about a bouncing ball. Nonsense, Sayed always replied.
"So I go up to Prince, I was like, 'Were you bouncing the basketball when I'm not home?'" Sayed said. "He was like, 'Bruh, I don't even have a basketball.' Which for some reason, I believed him. Of course he had a basketball."
But the move was working. By the time their parents moved to Miami, when Prince was a junior, he had transferred to a private school, The Sagemont School, where he became known as a ferocious dunker. The brothers explained that the goal in a Bronx game was to embarrass the guy guarding you.
That lesson had stuck. Sagemont's coach, Adam Ross, said Ali pulled a highlight-reel dunk nearly every day. Almost every teammate had been posterized at one time or another.
"He believes that he dunked on me," said Gyorgy Goloman, a sophomore at UCLA who played with Ali at Sagemont. "It's not true."
At first, though, Ali was known as just a street-ball player. When Ali arrived at Sagemont, Ross said, his reputation "was that he was a terrific scorer but not necessarily a terrific teammate, and that he was a little selfish. And he certainly had a reputation of not being able to shoot the ball consistently."
Ross was surprised, then, to learn that the opposite was true. Ali was a good teammate. He scored but was efficient. Admittedly, his jump shot was not good, but he took to coaching well, and it became a strength.
Under Ross, Ali said, "I learned how to play the game, really."
The Bronx edge remained, but within a structured system. At UCLA, Coach Steve Alford said Ali is "fearless."
"Some freshmen are very timid and tentative and passive," Alford said. "The thing I like about Prince is he goes at it, and he goes at you. You saw that in the Kentucky game."
Ali effectively ended that game, a UCLA upset over the top-ranked Wildcats, with one slam. He slashed into the lane, shaking a defender to the floor. He ascended toward the rim, muscling past a big man, and hammered in a vicious dunk.
It was the No. 2 play on ESPN's "SportsCenter" top 10 that night.
Afterward, Ali called Sayed, in Afghanistan. But Sayed was not done raising him. The dunk? Could've been better, he said.
"Bro," Sayed said, "you got to get up higher."
NEXT UP
UCLA VS. NO. 20 GONZAGA
When: Saturday, 7 p.m. PST.
Where: McCarthey Athletic Center, Spokane, Wash.
On the air: TV: ESPN2; Radio: 570.
Update: The Bruins (6-3) have yet to play a true away game this season. They went 2-8 in such games last season. Saturday will be a chance at revenge. Gonzaga (6-2) beat UCLA twice last season, including a win that ended UCLA's season in an NCAA regional semifinal. The Bulldogs' strength is their frontcourt. Forward Kyle Wiltjer is their top scorer (20.6 points a game) and is second in rebounds (7.4). Forward Domantas Sabonis is second in points (14.4) and first in rebounds (10.4). But the team has struggled without 7-foot-1 center Przemek Karnowski, who has missed the last three games with back spasms. His status is uncertain for Saturday's game.
---
Get the latest on L.A.'s teams in the daily Sports Report newsletter.
You may occasionally receive promotional content from the Los Angeles Times.