UCLA's offensive and defensive woes resurface in 86-75 loss to Arizona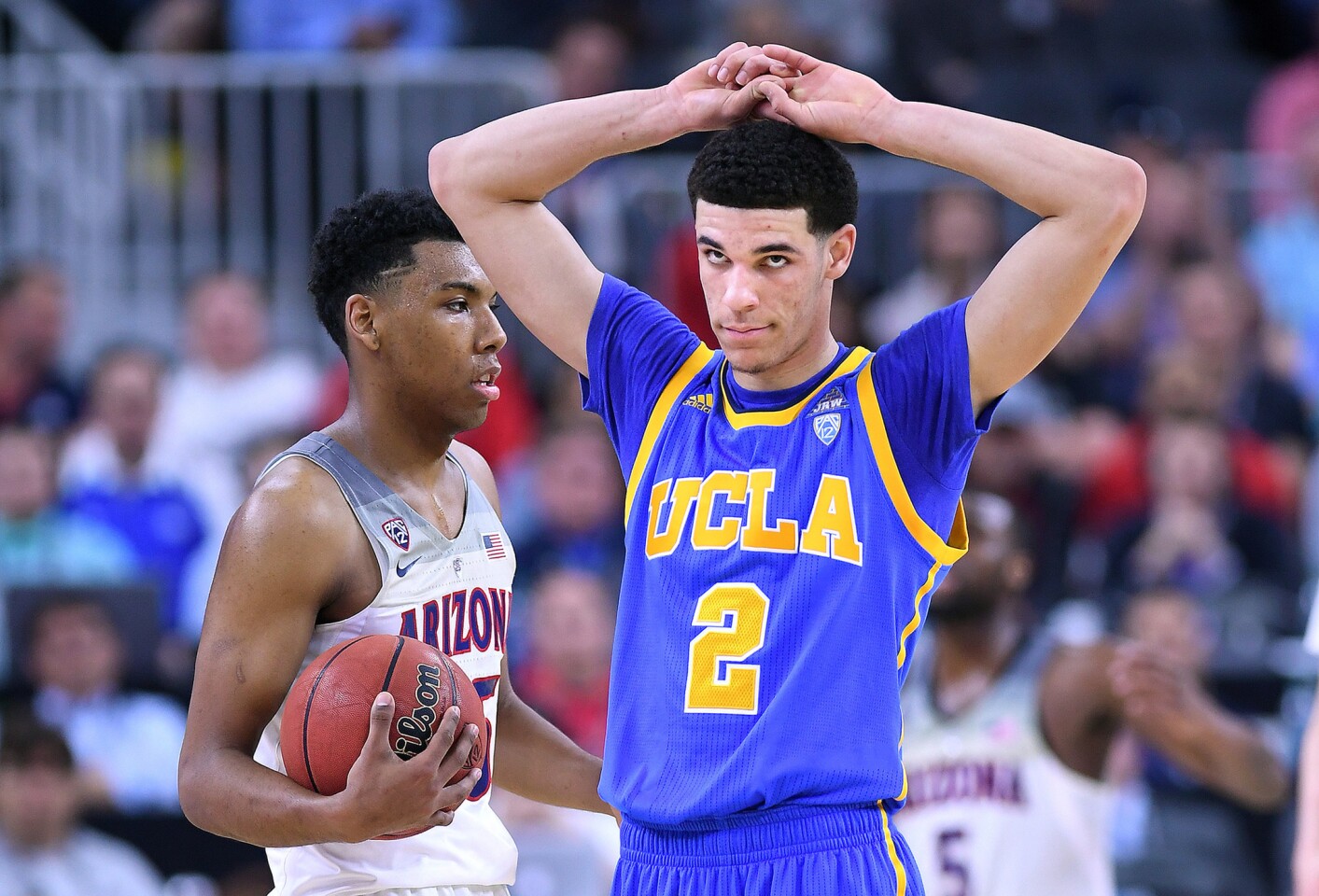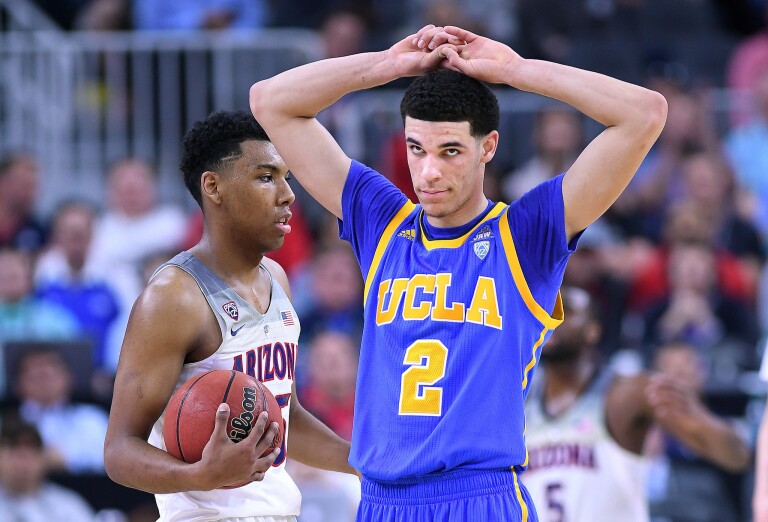 UCLA guard Lonzo Ball reacts after fouling Arizona guard Allonzo Trier during the second half.
(Wally Skalij / Los Angeles Times)
UCLA guard Bryce Alford misses a shot against Arizona guard Kadeem Allen (5) and forward Lauri Markkanen late in the second half.
(Wally Skalij / Los Angeles Times)
UCLA Coach Steve Alford consoles forward TJ Leaf after he fouled out of the game late in the second half.
(Wally Skalij / Los Angeles Times)
Bruins center Thomas Welsh fouls Wildcats forward Lauri Markkanen as he attempts a shot during the second half.
(Wally Skalij / Los Angeles Times)
Arizona's Allonzo Trier keeps the ball away from UCLA's Lonzo Ball and Aaron Holiday late in a Pac-12 Tournament semifinal game on March 10.
(Wally Skalij / Los Angeles Times)
UCLa guard Bryce Alford (20) tries to secure a loose ball against Arizona guard Kadeem Allen during the first half.
(Wally Skalij / Los Angeles Times)
Bruins forward TJ Leaf is fouled by Wildcats forward Lauri Markkanen while driving to the basket during the first half.
(Wally Skalij / Los Angeles Times)
UCLA guard Lonzo Ball is fouled by Arizona guard Kadeem Allen (partially obscured) while he drives against Wildcats guard Allonzo Trier.
(Wally Skalij / Los Angeles Times)
UCLA forward Ike Anigbogu is fouled by Arizona forward Lauri Markkanenon a close-range shot during the first half.
(Wally Skalij / Los Angeles Times)
UCLA guard Lonzo Ball (2) blocks a shot by Arizona guard Allonzo Trier during the first half.
(Wally Skalij / Los Angeles Times)
UCLA forward TJ Leaf attempts a reverse layup against Arizona forward Lauri Markkanen during the first half.
(John Locher / Associated Press)
Reporting from Las Vegas —
Bryce Alford's final shot was more than a chance to salvage an ugly stat line. The UCLA shooting guard spotted up from the corner and launched the ball, his team in need of points in a hurry.
The ball sailed all the way over the rim.
The third-ranked Bruins' final game before the ones that matter most was an airball, their epic shooting struggles and sagging defense resulting in an 86-75 loss to seventh-ranked Arizona in a Pac-12 Conference tournament semifinal Friday night at T-Mobile Arena.
UCLA (29-4) lost more than what had been a 10-game winning streak, the Bruins squandering some of the considerable momentum they had recently built with two shaky showings in consecutive games heading into the NCAA tournament.
They will hope that their three victories over top-five teams combined with only a handful losses is enough to land them a No. 2 seeding when the brackets are announced Sunday.
"We've just got to get everybody healthy," UCLA Coach Steve Alford said, referring to a bothersome thumb that seemed to hinder point guard Lonzo Ball during a rare off night. X-rays after the game were negative. "I'm not concerned; I just want to make sure we're healthy heading into next week."
Arizona (29-4) remained in the hunt for a No. 1 seeding after advancing to play top-seeded Oregon in the Pac-12 tournament championship game Saturday. The Ducks held off California, 73-65, in the other semifinal Friday.
The Wildcats inflicted one final blow to the Bruins by calling a timeout with nine-tenths of a second left. Bruins Coach Steve Alford and Arizona counterpart Sean Miller exchanged more than pleasantries immediately after the game.
"I guess they're upset I called a timeout at their place," Steve Alford said, referring to the end of UCLA's 77-72 victory in Tucson two weeks ago when he wanted to set his defense with the Bruins ahead by five points. "I didn't mean disrespect at all."
Said Miller during an interview with the Pac-12 Network: "When UCLA played us at McKale, I thought they did a great job, they called a timeout with one second left just to make sure they had poise, and I felt like I wanted to make sure our guys had poise at one second left in this game."
Bryce Alford did not have his shooting stroke and never could find it, making two of 12 shots, including one of 10 from long range. The misses were contagious for UCLA, which made only four of 25 three-pointers (16%).
Alford was hardly the only Bruin to have a bad night. Aaron Holiday missed eight of 11 shots. Ball missed five of seven shots and finished with eight points, six assists and five rebounds as well as four turnovers. He said his thumb wouldn't be an issue.
"Nah, I'll be all right," he said.
UCLA power forward TJ Leaf finished with 15 points and eight rebounds but fouled out for the first time in his college career, shaking his head as he started a solitary walk to the bench.
Lauri Markkanen scored 29 points for Arizona, which reprised the dominance it showed in January at Pauley Pavilion while handing the Bruins their only home loss of the season.
The third meeting between these teams felt like a home game for the Wildcats.
Any doubts about crowd composition were answered when UCLA took the court for warmups, the boos emphatically drowning out the cheers. A few moments later, when the Wildcats appeared, there was a deafening "U of A!" chant that made it sound like they were inside the welcoming confines of the McKale Center.
Arizona fans were particularly harsh on Bryce Alford and Ball. After Alford missed a corner three-pointer early in the second half, an Arizona fan yelled, "Hey, Bryce, keep shooting! You're doing well!"
The same statement could be said without the facetiousness regarding the Wildcats. When Arizona's Allonzo Trier made a three-pointer over Ball to give the Wildcats a 61-48 lead, they had made nine of 17 shots from long range to that point. They finished shooting 50% overall and made 10 of 20 three-pointers.
"Our defense has been getting better," Bryce Alford said, "and then today I think we maybe took a little step back."
Arizona fans commenced what felt like celebratory cheering after Chance Comanche's put-back dunk gave the Wildcats a 63-48 lead and Steve Alford called timeout. There was still 13:13 remaining.
The Bruins had another push left in them, Ball converting a four-point play after being fouled on a three-pointer and Bryce Alford finally making a three-pointer to shave his team's deficit to 66-57.
But Markkanen scored the next five points and the volume level rose again among all the red-clad fans. UCLA would not seriously threaten again.
Tipoff came at 8:51 p.m., four minutes later than the start of UCLA's quarterfinal victory over USC. The opening minutes also had a similar feel to the way the Bruins had played the previous night, a strong start followed by a sloppy stretch.
A driving layup by Ball gave UCLA a 13-8 lead but was a prelude to a scoring drought of 5:02 that included five missed shots and some slipshod ballhandling. When Ball fumbled the ball out of bounds for a turnover, an Arizona fan yelled, "Hey, Steph Curry wouldn't have done that!"
It was some needling that alluded to Ball's father, LaVar, having said that his son was already better than Curry, the two-time NBA most valuable player from the Golden State Warriors. It was a forgettable first half for Ball, who would commit four turnovers and make only one of three shots.
It never got any better for Ball, or for the Bruins.
"Our goal all year is to get to Phoenix and to compete for a national title," Bryce Alford said, referring to the site of the Final Four. "So we've got a lot of work left to do and we have some time to figure out what we need to work on from this tournament.
"It was a good lesson tonight. I felt like they were very, very passionate and kind of hit us in the face and we didn't respond the way that we normally do."
Twitter: @latbbolch
---
Get the latest on L.A.'s teams in the daily Sports Report newsletter.
You may occasionally receive promotional content from the Los Angeles Times.