UCLA avoids a letdown with 81-74 victory over Arizona State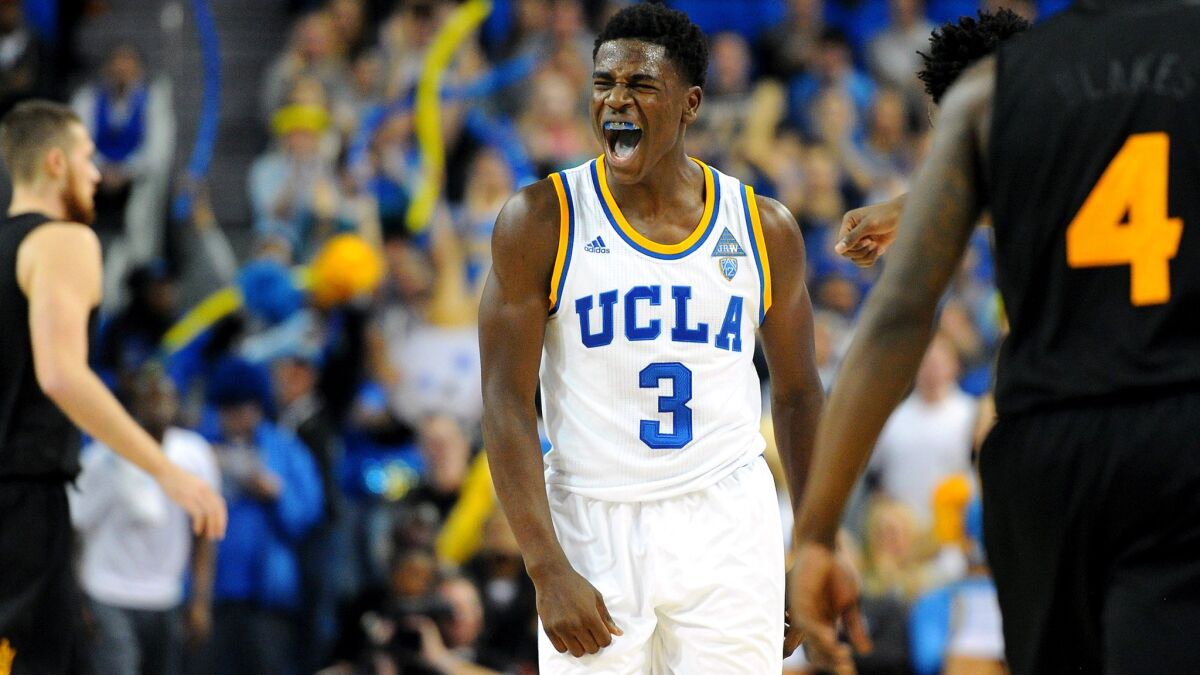 On Thursday night, right after UCLA had defeated No. 7 Arizona, UCLA Coach Steve Alford issued a challenge.
He was still savoring the victory. But, he said, he would use Saturday's game against Arizona State as the week's measuring stick. The Bruins had already demonstrated they could beat top competition. But could they avoid a letdown less than two days later?
With little more than a minute left, the question hadn't been answered. The game was tied. Forward Tony Parker had muscled inside, trying for the lead, but his layup attempt bobbled around the rim and out, toward a crowded paint. An Arizona State player got his hands on it. Then center Thomas Welsh seized it and yanked it free.
He passed to Aaron Holiday, who hit a three-pointer. It was the last of a dozen lead changes in the game, and UCLA won, 81-74.
"Tommy Welsh was huge in the second half on the backboard," Alford said.
Welsh, who had a career-high 16 rebounds, wasn't sure who grabbed the ball first. But, he said, "I just tried to get two hands on it, rip it down, because there was a ton of traffic around me."
On the next possession, guard Bryce Alford ran around a screen, took a pass and made a three-pointer, from nearly the same spot as his game-winner Thursday, to seal the game.
With this week's home sweep, the Bruins (11-6, 2-2) have stabilized after starting the conference season 0-2. They now await a surprisingly significant matchup against crosstown rival USC on Wednesday.
Entering the game, UCLA's most pressing question was its defense, which had been the first thing to evaporate when it had played less-than-elite competition. And early on, UCLA swarmed Arizona State, especially in the backcourt.
In the first half, Holiday and reserve guard Prince Ali sparked a 13-2 run from the defensive end. Ali swiped a sloppy dribble and took it for a layup. Holiday drew an offensive foul to set up another score. Isaac Hamilton was fouled on another breakaway after another steal.
UCLA forced two shot-clock violations, and the Bruins led by as many as 12.
"I thought our defense got better," Steve Alford said. "I think we've got a long way to go defensively, but I thought we did show some growth."
But after Welsh and Parker were benched with two fouls, Arizona State (10-6, 0-3) stormed back. Spanning the end of the first half and into the second, the Sun Devils went on a 27-10 run.
Guard Tra Holder gave UCLA fits. He scored a career-high 26 points on nine-for-14 shooting.
By halftime, the Sun Devils were outrebounding UCLA, 23-12, and they had seven offensive rebounds. Welsh had just two total. So Steve Alford challenged him to be more assertive.
Welsh grabbed 14 in the second half, and UCLA won the rebounding battle, 38-35. Arizona State had only one offensive rebound after the break.
The second half turned into a battle. The lead changed 10 times in the period.
UCLA's guards took over late. They scored all but one of the Bruins' final 25 points.
"I thought our guard play was tremendous in both games," Steve Alford said.
Holiday and Bryce Alford hit the two big shots late, and Hamilton hit most everything else. He scored 26 points and made eight of 16 shots. In the last nine games, he is averaging more than 20 points per game.
Bryce Alford scored 18 points on seven-for-11 shooting and Holiday scored 10 with five assists.
"We came back and just fought," Hamilton said.
zach.helfand@latimes.com
---
Get the latest on L.A.'s teams in the daily Sports Report newsletter.
You may occasionally receive promotional content from the Los Angeles Times.