UCLA loses to Arizona State, 88-79, stopping the Bruins' winning streak at four games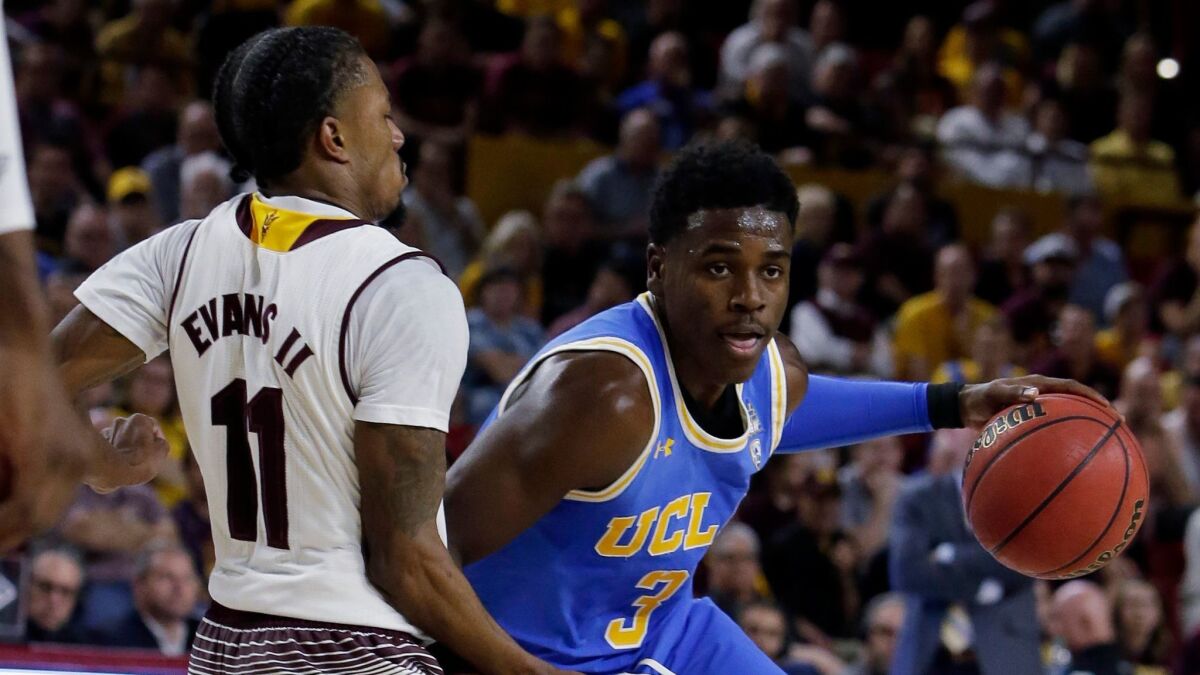 Reporting from Tempe, Ariz. —
Just when UCLA seemed to be lowering the anxiety level about its NCAA tournament chances, an old nemesis reappeared Saturday.
More bubble trouble.
Two days after a spirited victory over No. 13 Arizona, the Bruins experienced a debacle in the desert during an 88-79 loss to Arizona State at Wells Fargo Arena.
UCLA was out of sync on offense and a step slow chasing the speedy Sun Devils guards on defense while having its four-game winning streak halted by a team that began the game with a .500 record in Pac-12 Conference play.
A triumph over the Sun Devils plus a USC victory over Arizona later in the day would have given the Bruins a share of the lead in the Pac-12 standings while holding the tiebreaker. USC also lost, 81-67.
UCLA had to settle for something closer to a heartbreaker given the opportunity for a breakthrough, though the outcome was hardly in doubt in the final minutes given that Arizona State led by as many as 16 points.
"We definitely missed a huge opportunity that we had with this loss tonight," UCLA forward GG Goloman said after the Bruins fell to 17-8 overall and 8-5 in the Pac-12. "But we beat Arizona on the road, which is a good thing and not a lot of teams can say that they did that."
Bruins guard Aaron Holiday was a capable distributor early with four assists in the first six minutes. He was a strong scorer late with 15 points in the final 2 minutes 42 seconds. He did very little in between those bursts of productivity and struggled to disrupt Sun Devils counterpart Tra Holder, who collected 22 points, six rebounds and four assists.
"I wasn't tired," said Holiday, who finished with 20 points on six-for-15 shooting to go with five assists and five turnovers in 35 minutes. "They just played better than us tonight."
Shannon Evans II scored 23 points and Kodi Justice had 17 for Arizona State (19-6, 7-6), which completed a home sweep of the L.A. schools while winning its only meeting of the season with the Bruins.
UCLA had trouble closing out on three-point shooters or stopping dribble penetration despite trying a variety of defenses.
Holiday was finally spared from the futile pursuit when he fouled out with 35 seconds left. He clapped his hands in frustration and untucked his jersey before walking over to the bench. He momentarily faked out Sun Devils students who yelled "Sit down!" by going halfway down and rising before taking a seat.
Coach Steve Alford said he empathized with Holiday, whose job duties entail guarding an opponent's top wing player while leading his team in scoring and ball handling amid heavy minutes. A rare off night could easily be forgiven.
"We understand what he's going through — he's getting the toughest assignment every night and we can't give him a break on that, so I think he fights," Alford said. "Was it one of his more outstanding games? No, but we certainly understand it."
UCLA had already been down for the count long before Holiday took a seat in the game's final minute.
The Bruins were doomed by a cold stretch that spanned 6 1/2 minutes late in the first half. They missed nine consecutive shots, their only points coming on two free throws, as Arizona State transformed a four-point deficit into a nine-point lead.
UP NEXT
Thursday vs. Oregon State, 8 p.m., Pauley Pavilion, FS1 — The Beavers used a late surge to beat the Bruins last month in Corvallis, but have gone 0-5 on the road in Pac-12 Conference games. Each of those defeats has come by single digits, however.
Follow Ben Bolch on Twitter @latbbolch
---
Get the latest on L.A.'s teams in the daily Sports Report newsletter.
You may occasionally receive promotional content from the Los Angeles Times.