False starts foil UCLA's last chance in 31-28 loss at Arizona State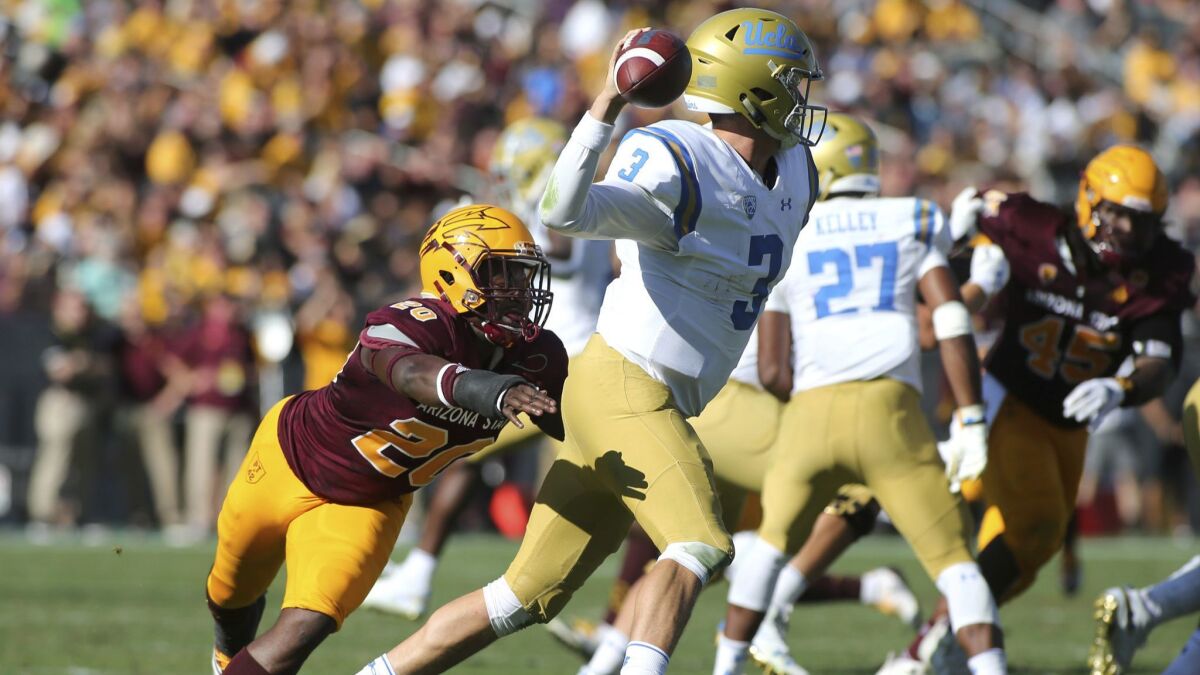 Reporting from Tempe, Ariz. —
Wilton Speight pirouetted into the air as the whistle blew to end the play before it could begin.
It was a snapshot of disgust over mistakes that have towered over UCLA like a 100-foot shadow all season.
The Bruins fought through the penalties and the dropped passes and the missed tackles Saturday against Arizona State, a big defensive stop producing one last chance with 93 seconds left.
UCLA trailed by three points and needed only to drive into field-goal range behind the play of a quarterback who finally resembled the player the Bruins hoped they were getting as a graduate transfer.
Speight never got the chance.
Consecutive false starts pushed the Bruins back and bled precious seconds off the clock, the final indignities of a 31-28 loss at Sun Devil Stadium.
The penalties forced Speight to heave a desperation pass over the middle that fell incomplete on the game's last play, giving UCLA another reminder of how close the Bruins are to a breakthrough as well as how much work remains to be done.
"Yeah, it's very frustrating," Speight said after UCLA (2-8 overall, 2-5 Pac-12 Conference) suffered a third consecutive loss. "Yeah."
The Bruins were left with nothing to show for what might have been their best offensive display of the season. UCLA piled up 439 yards on an afternoon that coach Chip Kelly's playcalling was dynamic, tailback Joshua Kelley running behind the sturdy blocking of a three-tight-end set for the game's first touchdown.
Speight easily compiled his best day as a Bruin, completing 26 of 35 passes for 335 yards and two touchdowns with one interception that came on a tipped pass. Tight end Caleb Wilson snagged 11 of those passes for a season-high 164 yards and two touchdowns.
And yet …
UCLA endured many of the same bugaboos that have hurt it since the season opener. Mo Osling ran into a punt returner. The run defense yielded 281 yards. One Bruins drive in Arizona State territory ended in a failed fourth-down conversion when a guard fell and another on the Speight pass that was tipped and intercepted by cornerback Chase Lucas.
"I think our guys played with good effort," an unusually hoarse Kelly said, "but if we're going to hurt ourselves, we're not going to win football games in this conference."
The Bruins helped themselves late in the second quarter when cornerback Darnay Holmes intercepted a Manny Wilkins pass intended for receiver N'Keal Harry and ran it back 31 yards for a touchdown.
But the 14-10 lead that Holmes' highlight provided was short-lived. Wilkins immediately guided the Sun Devils (6-4, 4-3) on a 10-play, 75-yard drive that ended with his five-yard touchdown pass to Nick Ralston with 58 seconds left before halftime.
UCLA played catch-up for the rest of the game.
The Bruins had a chance to take the lead early in the fourth quarter on a drive that ended when Kelly elected to punt instead of going for it on fourth and five from Arizona State's 40-yard line.
"You punt it and pin them down there," Kelly, who had a reputation for being audacious in fourth-down situations when he was at Oregon, said of his decision-making. "I don't know anywhere where you would go for it on fourth and five on [the] 40-yard line with 12 minutes to go in the fourth quarter."
The Bruins appeared to be sunk when Arizona State proceeded to drain more than eight minutes off the clock, Wilkins reaching the ball over the goal line for a one-yard touchdown that gave Arizona State a 31-21 lead with only 3 minutes 56 seconds left.
That's when Speight showed why Kelly had given him the start despite freshman Dorian Thompson-Robinson having fully recovered from the injury that sidelined him last weekend against Oregon. Speight drove the Bruins 75 yards for a touchdown in less than two minutes, finishing with a 10-yard touchdown pass to Wilson with 1:57 left.
An onside kick failed, but UCLA's defense held firm. Lineman Osa Odighizuwa pummeled tailback Eno Benjamin (182 yards rushing and one touchdown) for a four-yard loss on first down and the Sun Devils were forced to punt after a three and out.
"There's no quit at all with our guys," Wilson said.
The stop gave the Bruins the ball at their 20-yard line with what seemed like more than enough time to drive for a tying field goal. Things started in promising fashion when Speight completed consecutive passes to receiver Chase Cota for a combined 21 yards.
But on second and one, Speight had the ball stripped. Speight recovered the fumble on the 12-yard sack, forcing the Bruins to quicken their pace. In theory, anyway.
On third and 13, guard Chris Murray was called for a false start, leading to Speight's visible display of frustration.
"Obviously, I should have not shown that, just such a heat-of-the-moment-type situation with the crowd and everything," Speight said. "Credit to the fans at Arizona State for making it a hostile environment."
On third and 18, with the decibel level rising, left tackle Andre James was called for a false start.
"It was loud," Wilson said. "You could barely hear the cadence."
The second penalty further drained the clock and gave the Bruins only one more play, which ended with Speight's pass hitting the artificial turf.
It was just one more instance of coming close leaving the Bruins heartbroken.
"We're not in this to be on the wrong side of 31-28," Kelly said. "We're in it to win it."
UP NEXT >>> UCLA fans would almost surely grant Chip Kelly a pass for a disappointing first season with the Bruins should his team manage to beat the Trojans, who are enduring their own struggles under embattled coach Clay Helton. USC has won the last three games in the series, including a 36-14 blowout in 2016 at the Rose Bowl.
Follow Ben Bolch on Twitter @latbbolch
---
Get the latest on L.A.'s teams in the daily Sports Report newsletter.
You may occasionally receive promotional content from the Los Angeles Times.