UCLA baseball brings nation's best pitching into the postseason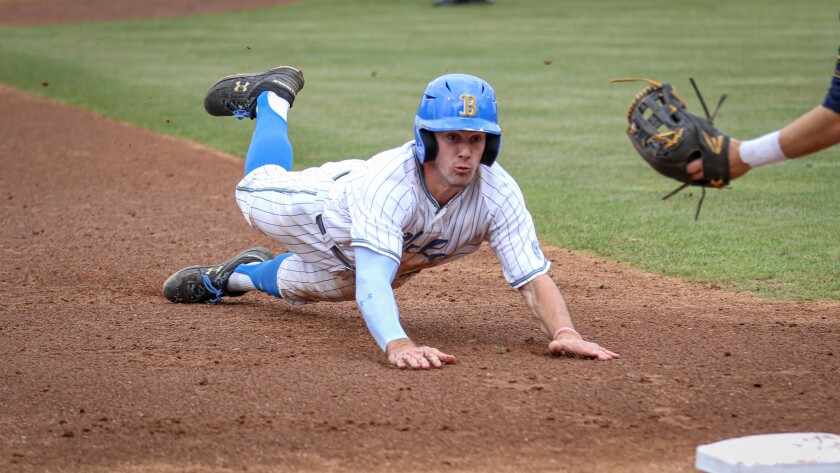 UCLA was supposed to enter this season with a loaded starting rotation featuring a combination of experienced veterans and talented freshmen.
But UCLA ace Ryan Garcia had a forearm strain before the season and missed the first 12 games. Freshman Nick Nistrini was dynamic the first two weeks, striking out 17 in 102/3 scoreless innings before going down just before Garcia returned. Left-hander Justin Hooper, who had a 3.69 ERA and 52 strikeouts in 462/3 innings before an injury cut short his 2018 season, had setbacks to his recovery and pitched less than an inning.
The Bruins lost sophomore Zach Pettway, who began this season in their Friday starter role, late in April. Everyone had to bump up a spot in the rotation without Pettway, so UCLA gave freshman Sean Mullen a midweek start. He pitched three strong innings and looked slated for more opportunities, but he fell ill on a trip to Arizona State. He had to have an emergency appendectomy and has not pitched since.
And yet, UCLA enters the Los Angeles Regional this weekend as the No. 1 overall seed in the NCAA tournament. The Bruins never slowed, never faltered. They rolled through the competition compiling a 47-8 record, winning all 15 of their weekend series and taking the Pac-12 title with a 24-5 mark.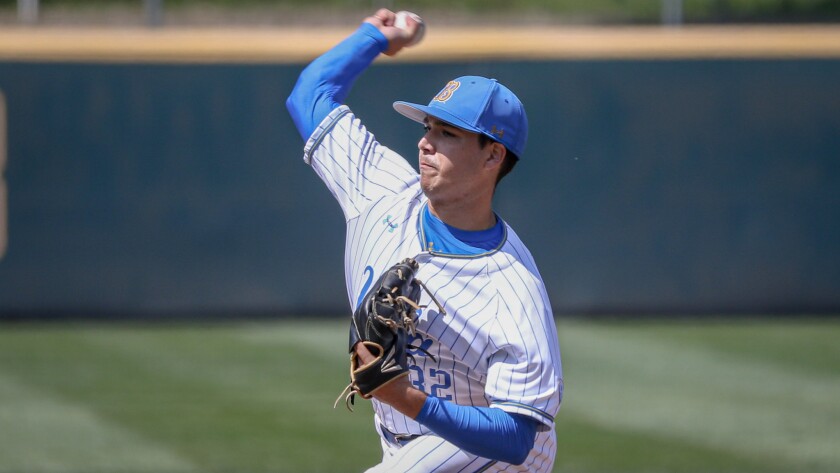 "It's been kind of chaotic, to say the least," Garcia said of UCLA's flurry of injuries, "but everyone is going out there each inning, treating it the same, going pitch to pitch. That's our main focus, pitch to pitch, no matter what's going on."
Five starting pitchers were injured and the Bruins have produced the best pitching in the nation. They lead the nation in ERA (2.59), shutouts (11) and are holding opponents to a .192 batting average.
Garcia is a big part of the pitching staff's success. The junior right-hander didn't make his first start until nearly a third of the way through the season but has been one of the top pitchers in the country since returning. Garcia has gone 9-0 with a 1.42 ERA in 11 starts, earning Pac-12 pitcher of the year. He has given up 41 hits in 76 innings while striking out 101.
Perhaps more important has been the development of redshirt junior Jack Ralston, who did not pitch his first two years at UCLA and was used sparingly in 2018. He got pushed into the midweek starting role at one point last season but struggled to a 1-4 record and a 6.44 ERA in 361/3 innings. This season he's 11-0 with a 2.43 ERA, striking out 97 in a team-high 89 innings.
"He's been one of the main keys of this team," coach John Savage said. "Who would ever think that he's put himself in this position? He's going to be a pro pitcher and I'm so proud of him. He's just worked and worked and worked to the point where he's put himself in an area that we never thought he'd get to.
"I just haven't seen a guy make this sort of jump. Every pitch has gotten better. The command has gotten better. He's just really stepped up in a big way. We've had our fair share of injuries and he's one of the guys that has really, really responded."
Ralston is expected to start UCLA's second game this weekend against either Baylor or Loyola Marymount after the Bruins open with Nebraska Omaha.
"We have the next-man-up mentality," Ralston said. "If someone goes down, we always say next man up. I think we have a lot of depth on this team and that's one of our strengths."
Ralston isn't the only Bruin success story this year. Similarly, Nathan Hadley was a relative afterthought on the staff. He had elbow surgery that cost him the 2017 season and struggled in his return last year, having a 5.06 ERA in 16 appearances. Hadley was close to signing with the Colorado Rockies organization last summer, but he didn't pass his physical and chose to return to UCLA.
It's been a boon for the Bruins bullpen. Hadley has more than twice as many innings pitched as hits allowed this season and is striking out 11.1 batters per nine innings.
"I don't know where we'd be without Nate this year," Savage said. "I think he's one of the best setup guys in the country."
Hadley is the first cog in a trio of backend bullpen arms that opponents are not eager to see. Hadley (8-1, 2.41 ERA in 34 appearances) often pitches the seventh inning, followed by Kyle Mora (3-2, 2.22 ERA in a Division I-leading 43 appearances) and then closer Holden Powell, who leads the Pac-12 with 16 saves and has a 2.03 ERA.
"It's unbelievable," junior second baseman Chase Strumpf said. "Hadley and Ralston, those are amazing stories. Nate has absolutely shoved this year so far. Really stepped up. Proved himself to be one of the top pitchers in the nation. The same with Jack. He came in, now he's our Saturday guy. He's 11-0. Unreal. First-team [Pac-12], all this stuff. It's just such an inspiring story."
Ralston and Hadley are two pieces of a pitching staff that has UCLA primed to make a run back to the College World Series despite several injuries that could have derailed the season.
"We've had just a bunch of guys step up. You go up and down that pitching stat sheet and there's a lot of guys that have really good numbers. They wanted to be the best staff in the country," Savage said. "I mean we've lost a lot of guys. It hasn't fazed any of them. … It's just a credit to their makeup and a credit to their discipline and their work ethic. It's also a credit to the depth of our roster. Our depth is very good and we've needed it."
---
Get the latest on L.A.'s teams in the daily Sports Report newsletter.
You may occasionally receive promotional content from the Los Angeles Times.