UCLA basketball: Gyorgy Goloman out six to eight weeks with injured leg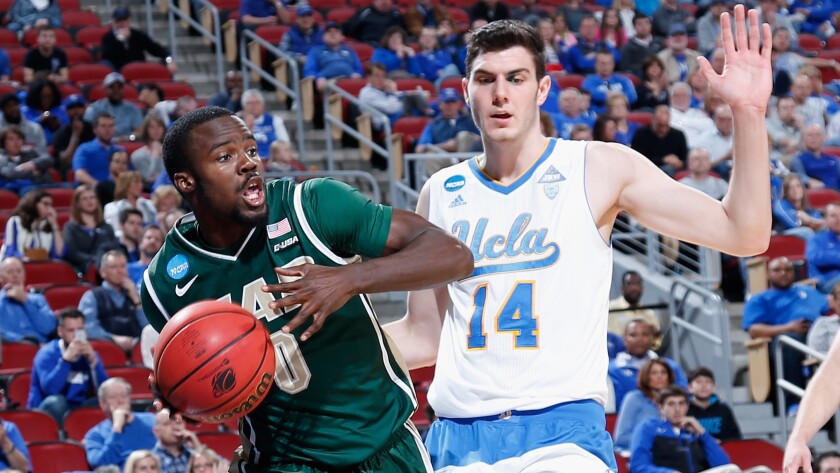 Last year, UCLA's sophomore forward Gyorgy Goloman was a redshirt candidate, a project from Hungary who UCLA Coach Steve Alford hoped, with time, would develop into a contributor.
The Bruins' lack of depth forced him into game action, and he appeared in 35 games and averaged 10.8 minutes. His scoring and rebounding contributions were minimal, but the experience, and an off-season in the weight room, had Alford optimistic.
Then, after injuring his right leg in the preseason, Goloman was diagnosed this week with a stress fracture that will sideline him six to eight weeks.
"We've lost GG for a while," Alford said at UCLA's annual media day Wednesday. "It's unfortunate. He's had a tremendous summer for us. He's gained 20 pounds, grew an inch."
With the departure of forward Kevon Looney to the NBA, Goloman was a candidate to fill some of the missing minutes. Forward Tony Parker said Goloman was "playing really, really well" before the injury.
"His jumper was coming on strong, he was shooting the three well," Parker said. "The injury, it really sucks."
Parker also had a recent health scare, an injury to his foot that required a walking boot for several days. The injury was diagnosed as minor, a toe strain, Parker is now out of the boot, and Alford said he is expected to be back in practice soon.
Parker is UCLA's only senior, and he averaged 11.5 points and 6.7 rebounds last season.
Allegations denied
In an article published Sunday in the Chronicle of Higher Education, a former UCLA basketball academic advisor alleged that assistant coach Duane Broussard asked him to have a player's grade changed.
In an interview with The Times, Will Collier, the former advisor, confirmed his account of the allegations and said he refused to make the change.
"I thought that I finally got to this place where to all outside indications took education seriously, were going to hold young men accountable and kind of make sure they could maximize the educational opportunity," Collier said. "What I saw there was quite to the contrary."
Alford said Collier's claim was not true.
"Our university has looked at all those things, looked at every allegation, and there's no merit to any of it," Alford said.
"There's nobody in this business who does it any better than Duane does," the head coach added. "Not just with his energy and his passion, but just how he goes about it with his ethics."
Dribble for the cure
UCLA reported its annual Dribble for the Cure event to support pediatric cancer research set a record for donations Sunday, surpassing the $1-million mark for the first time in the event's eight years.
---
Get the latest on L.A.'s teams in the daily Sports Report newsletter.
You may occasionally receive promotional content from the Los Angeles Times.