Bryce Alford keeps climbing in the UCLA record books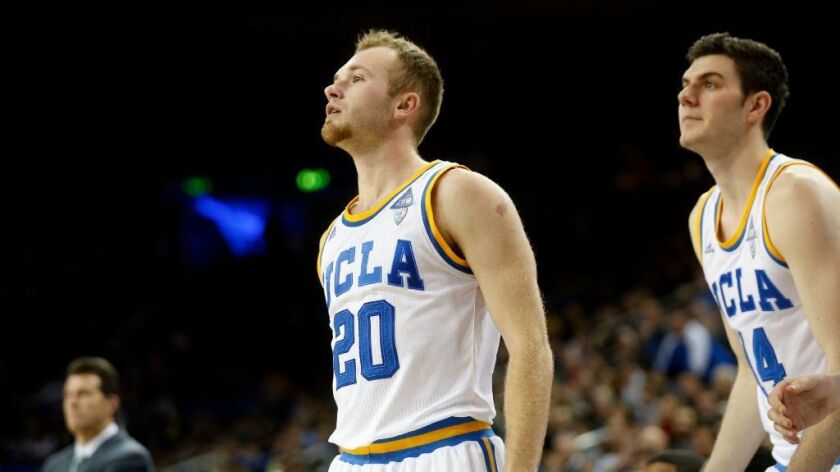 Bryce Alford was once derided as playing a starring role for UCLA only because his father, Steve Alford, coached the team.
He's about to experience a different kind of Bruins kinship. Remember Kareem Abdul-Jabbar, Don MacLean and Reggie Miller?
Bryce Alford is on pace to have his name alongside those UCLA legends on the school's career scoring list by the end of this season.
The senior shooting guard moved into 16th place Sunday with 1,650 points, surpassing Darren Collison (1,634) and Kenny Fields (1,638). Next up: Marques Johnson (1,659), Gail Goodrich (1,691) and David Greenwood (1,721).
"It's wild," Alford said Tuesday. "It's not something that I ever even could imagine dreaming about. The opportunity that this place has given me, it's been remarkable what I've been able to do here."
Alford said he was only aware of his standing in the record books because of his grandfather, Sam Alford. Steve's father and high school coach likes to keep tabs on the family pursuit.
If Bryce maintains his average of 16.8 points per game and the Bruins play 16 more games — which assumes a minimum of one game in the Pac-12 Conference tournament and one in the NCAA tournament — he would finish his career with 1,918 points. That would put him fifth on UCLA's scoring list, trailing only Miller and Jason Kapono, who each scored 2,095 points, Abdul-Jabbar (2,325) and MacLean (2,608).
Alford could also challenge Kapono's school record of 317 three-pointers. Alford has made 266 shots from beyond the arc and is averaging 3.1 per game, putting him on track to finish his career with 315 if the Bruins play 16 more games.
"That's something I would definitely like to get," said Alford, who has spoken to Kapono about his shooting prowess.
Alford has been UCLA's leading scorer since Pac-12 play started, averaging 18.3 points in conference games. He said he watched film of NBA shooting guards J.J. Redick and C.J. McCollum to help with his transition back to shooting guard after primarily playing point guard earlier in his college career.
"Just figuring out ways to get open," said Alford, who is making a career-best 44.9% of his three-pointers.
As for the detractors who say his success is largely a function of his last name, Alford has learned to shrug.
"Over my career I've figured out that no matter what I do those same voices are going to say the same things, so to me it has absolutely nothing to do with what I do on the court," Alford said.
"I think those people who say those negative things about me, that I play just because my dad's here or whatever, I'm not going to be able to change those voices regardless of what I do. So for me it's about playing for my family, for my teammates, everything else."
Etc.
UCLA senior guard Isaac Hamilton could also finish his career among the top 30 scorers in school history, despite playing only three seasons. Hamilton ranks No. 43 with 1,159 points. … UCLA's victory over Stanford on Sunday was its 10th consecutive victory at Pauley Pavilion, giving the Bruins their longest home winning streak since they won 15 consecutive games during the 2013-14 season. … UCLA remained No. 4 in the latest Associated Press ranking.
Follow Ben Bolch on Twitter: @latbbolch
---
Get the latest on L.A.'s teams in the daily Sports Report newsletter.
You may occasionally receive promotional content from the Los Angeles Times.