What UCLA does on the road this week could have bearing on NCAA prospects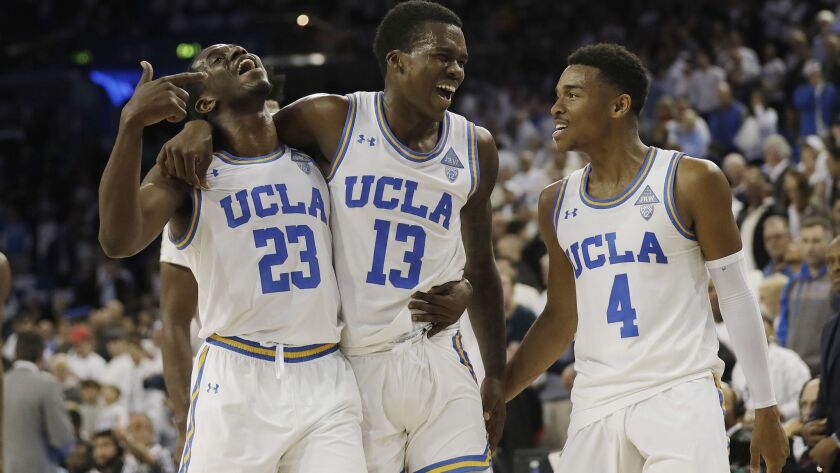 UCLA's early resume for making the NCAA tournament is one that might get stuck deep inside a filing cabinet, only to be pulled out if scores of other candidates fall through.
The Bruins' best win has come against Notre Dame, a power-conference school in the midst of a mediocre season. They have lost their only two games against nationally ranked teams. They are coming off a defeat against Belmont, out of the Ohio Valley Conference, on their home court.
That makes what happens over the next four days perhaps just as important as anything over the two months to follow.
UCLA (7-3) will face Cincinnati (9-2) on Wednesday at Fifth Third Arena, followed by a matchup against No. 15 Ohio State (9-1) on Saturday at the United Center in Chicago as part of the CBS Sports Classic.
The two games represent the Bruins' last chance to make a positive impression nationally before opening play in the Pac-12 Conference, where momentous victories will be hard to find.
"I think this is a huge trip," Bruins coach Steve Alford said before his team departed Los Angeles.
The Pac-12 is ranked as the worst major conference, according to the metrics of analyst Ken Pomeroy, and has gone only 6-24 against teams from Power Six conferences. Pac-12 schools had won 64.4% of their nonconference games before Tuesday, the lowest percentage since they won only 61.1% during the infamous 2011-12 season.
That was when just two Pac-12 teams made the NCAA tournament, both with double-digit seedings, and conference regular-season champion Washington was left out despite going 14-4 in conference games.
Winning at least one game this week could help the Bruins avoid a similar fate. Ohio State is ranked No. 23 in the new NCAA Evaluation Tool, or NET, that is being used by the selection committee that will pick and seed teams for the NCAA tournament. Cincinnati is ranked No. 28.
Success on the trip could help the Bruins in multiple areas.
"It has a lot to do with your nonconference resume and things you're trying to build toward," Alford said. "Not just resume, but just what you're building toward going into the Christmas break knowing you only got two weeks left before conference starts. You gotta prove yourself and I think that's what this trip is going to be about."
UCLA was in a similar spot this time last season before beating Kentucky in New Orleans as part of the CBS Sports Classic. The Bruins went on to go 11-7 in Pac-12 play and scraped their way into an NCAA tournament play-in game, which they lost to St. Bonaventure.
They might have to fare even better in conference games this season unless they go 2-0 this week.
The Pac-12 features only three teams ranked in the NET's top 50 — No. 40 UCLA, No. 46 Arizona State and No. 48 Colorado. The Bruins will get to play Arizona State only once because of the conference's unbalanced schedule.
It probably helps UCLA that Belmont is No. 36 in the NET and is picked by CBS Sports' Jerry Palm to be seeded No. 8 in the Midwest region in his latest NCAA tournament projections. Palm has projected UCLA as a No. 10 seed in the West region.
It's a precarious spot but one that could change appreciably depending on what happens in the next few days.
"We're appreciative of the opportunity," UCLA shooting guard Prince Ali said. "If we take care of business, we'll be all right."
UP NEXT
VS. CINCINNATI
When: 6 p.m. PST Wednesday.
Where: Fifth Third Arena, Cincinnati.
On the air: TV: ESPN2; Radio: 570.
Update: UCLA's first true road game of the season will be a tough one. Cincinnati is coming off a loss to Ben Howland-coached Mississippi State and features one of the stingiest defenses in the country. "They're coming off a loss like we are," Alford said, "so it's a very dangerous team that becomes even more dangerous."
Follow Ben Bolch on Twitter @latbbolch
---
Get the latest on L.A.'s teams in the daily Sports Report newsletter.
You may occasionally receive promotional content from the Los Angeles Times.