UCLA focusing on itself heading into unlikely first-place showdown at Oregon State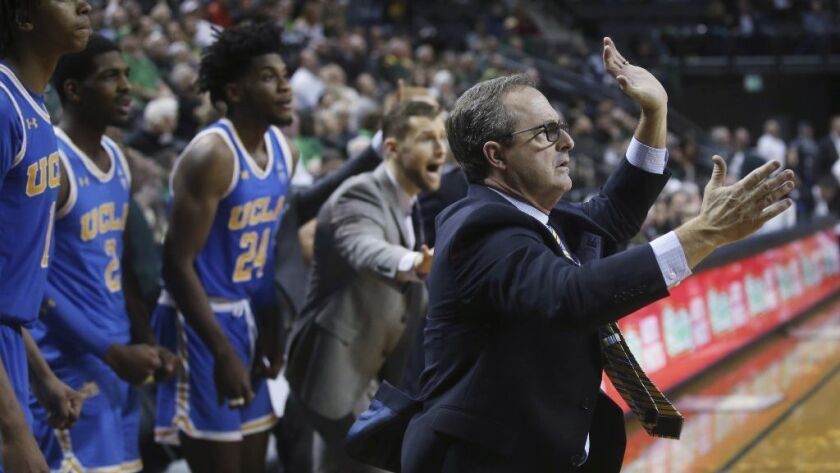 Reporting from Corvallis, Ore. —
One by one, his players bounded out of the locker room behind him inside Oregon's Matthew Knight Arena, the euphoria of a crazy comeback swathing Murry Bartow in a cocoon of delirium.
The UCLA interim coach told a reporter his head was spinning, unable to recall what he had said to his players inside the locker room only moments earlier. There appeared to be another lapse when Bartow was asked for a scouting report on Oregon State, the Bruins' next opponent.
"I'll be honest with you, I know nothing," Bartow said. "I know nothing."
His words were more thoughtful than they might have seemed. Bartow did not intend to denigrate the Beavers, off to their best start in the Pac-12 Conference in eight years, but to illustrate that his focus remained primarily on his own team and fixing its smorgasbord of issues.
For all of the heightened effort and intensity the Bruins have displayed in starting 3-0 under Bartow, some fundamental problems remain. This is a team that has struggled to avoid turnovers, make free throws or even box out opponents, whether it's been coached by Bartow or his predecessor, Steve Alford.
"Right now, we're trying to almost completely focus on us, because we've got so much to improve [on] and get better [at]," Bartow said. "So I've told the team over and over, it's 95% about us and then we'll look at 5% of the other team."
A day after his team completed an improbable 87-84 overtime triumph over Oregon, Bartow showed his players footage of the game's last 12 minutes in an effort to pinpoint habits both good and bad. He also wanted to increase the likelihood of some carryover from an ending in which the Bruins came back from down 17 points in the second half and four points in overtime.
"There won't be any letup," Bartow said Saturday. "We could potentially lose because Oregon State's really, really good, but it won't be because we're down coming off this loss or anything like that."
It will be an unlikely showdown for a spot near the top of the conference standings when UCLA (10-6 overall, 3-0 Pac-12) faces Oregon State (10-4, 2-0) on Sunday evening at Gill Coliseum. The Bruins were expected to contend for the conference title, but not the Beavers, who have won their first two Pac-12 games for the first time since the 2010-11 season.
By Saturday, Bartow had freshened up considerably on Oregon State. He mentioned his respect for guards Stephen and Ethan Thompson as well as leading scorer Tres Tinkle, who sat out the Beavers' overtime victory over USC on Thursday with a sprained ankle. Oregon State coach Wayne Tinkle, Tres' father, told reporters after the game that he expected his son to play against UCLA, barring a setback.
The Bruins are seeking a rare road sweep, having last notched one by beating Arizona State and Arizona in February 2017. UCLA did not get any road sweeps in four of the five seasons Alford took the Bruins through a Pac-12 schedule.
"It would be huge just with all the turmoil going on," Bruins sophomore forward Chris Smith said after putting his team in position for the sweep with a layup in the final second of regulation against Oregon. "It's been tough for us lately. Just to persevere through all this and get a road sweep, it would be great."
UP NEXT
AT OREGON STATE
When: Sunday, 7 p.m.
Where: Gill Coliseum.
On the air: TV: FS1; Radio: 570.
Update: Bartow said point guard Jaylen Hands' famed lifting of center Moses Brown's chin during overtime was just one of a handful of instances against Oregon when Hands showed great leadership. Bartow said Hands also consoled Smith after Smith had missed a free throw with 0.7 seconds left in regulation, sending the game into overtime. "Jaylen's obviously a critical part of our team," Bartow said, "and I like so many things he's doing."
Follow Ben Bolch on Twitter @latbbolch
---
Get the latest on L.A.'s teams in the daily Sports Report newsletter.
You may occasionally receive promotional content from the Los Angeles Times.