UCLA to get its biggest Pac-12 test with unbeaten Washington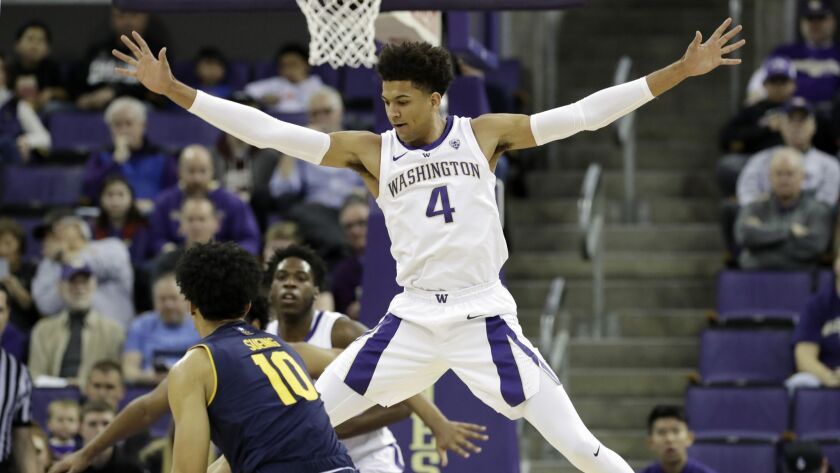 Reporting from Seattle —
Murry Bartow has been saying for more than a week now that UCLA is capable of beating any team in the Pac-12 Conference.
The Bruins are about to find out if that's true.
UCLA will face the conference's only remaining unbeaten team in Pac-12 play Saturday afternoon when it takes on Washington at Alaska Airlines Arena, where the Huskies have gone 11-0 this season.
Bartow, the Bruins' interim coach, fully acknowledged that his assertion about his team comes with a caveat.
"We're also bright enough, smart enough to know that if we don't play a great game [Saturday]," Bartow said Friday during a conference call with reporters, "we don't have a chance."
UCLA (12-9 overall, 5-3 Pac-12) has defended well, improved its ball movement and made 58.3% of its shots during a two-game winning streak, trends it must sustain to knock off the Huskies (17-4, 8-0).
Washington is trying to become only the ninth Pac-12 team to start 9-0 in conference play since the 1978-79 season while boosting its candidacy for an at-large berth in the NCAA tournament.
The Huskies are unranked in the national polls but are a respectable No. 29 in the most recent NCAA Evaluation Tool ranking, far ahead of their Pac-12 brethren. Arizona State is next with a No. 61 NET ranking and the Bruins, stuck in a four-way tie for third place in the conference standings, are No. 89.
Sign up for our daily sports newsletter »
Washington's success starts with its smothering 2-3 zone defense, which it plays exclusively. That has helped the Huskies give up a conference-low 64.6 points per game while opponents make only 39.9% of their shots. Colorado is the only Pac-12 team that has scored 70 points against the Huskies this season.
Success against Washington's defense, Bartow said, will start with getting the stops and rebounds that allow the Bruins to push the ball in transition.
"If we're attacking their zone after makes," Bartow said, "we'll have no chance to win."
Bartow said Washington uses its length and athleticism to extend the top of its zone farther than the Bruins do when they're using a similar 2-3 alignment.
"They have some guys who are really tailor-made for the zone," Bartow said. "They get steals, deflections, block shots and they're very, very active. You can ask anyone who's played against them, it's not real easy to score."
Washington guard Matisse Thybulle causes many of the headaches. He had seven steals and two blocks to go with his 17 points on Wednesday during the Huskies' 75-62 victory over USC.
The Huskies also feature guard Jaylen Nowell, the only Division I player averaging at least 16 points, five rebounds and three assists while shooting 50% from the field and 40% from three-point range. Given those numbers, it should come as no surprise that Nowell was selected the Pac-12 player of the week three times before the end of January.
UCLA is playing some of its best basketball of the season thanks to a sharing approach in which at least four players have reached double figures in scoring over the last two games. Back-to-back blowouts of undermanned teams have given the Bruins a sense of invincibility that's going to be put to the test Saturday, along with their coach's sentiments about their potential.
"We've just got to go out there and have the same intensity we had out here," UCLA center Moses Brown said Wednesday after the Bruins thumped Washington State by 20 points, "and we'll be unbeatable."
UP NEXT
AT WASHINGTON
When: Saturday, 1 p.m.
Where: Alaska Airlines Arena.
On the air: TV: ESPN2; Radio: 1150.
Update: UCLA interim coach Murry Bartow said he's liked what freshman forward Jalen Hill has provided since moving into the starting lineup over the last three games. "He's going to defend and rebound and he's a good screener," Bartow said of Hill, who is averaging 4.3 points and 6.7 rebounds over that stretch. "Each guy's got to know what his niche is, and I think Jalen really understands that."
Follow Ben Bolch on Twitter @latbbolch
---
Get the latest on L.A.'s teams in the daily Sports Report newsletter.
You may occasionally receive promotional content from the Los Angeles Times.