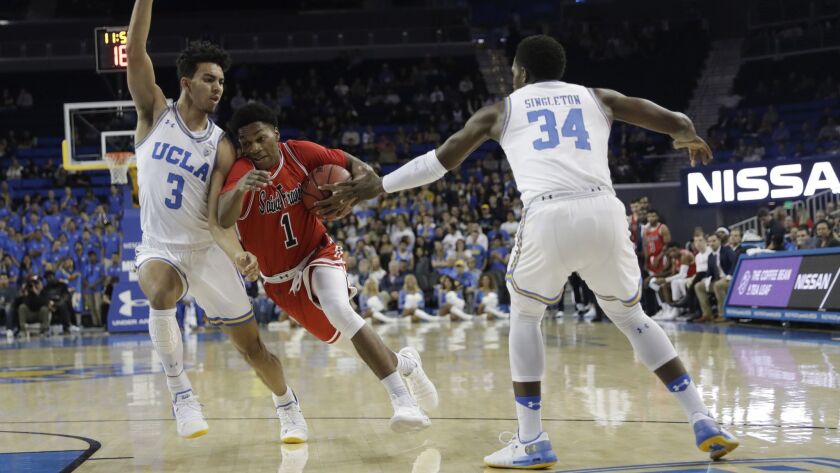 David Singleton went on his official visit to UCLA with Jules Bernard, lived with him in the campus dorms over the summer and now rooms with him in an off-campus apartment.
The Bruins' backcourt of the future has been nearly inseparable … except for that time the actual backcourt intervened.
Singleton spent one night sprawled on the court inside Pauley Pavilion before the season, trading soft sheets for hardwood. He was exhausted after one of his many late-night workouts that left him too worn out to make the trek home, so he just laid down and went to sleep.
"Because I was just so excited to be at UCLA, to be a Bruin," Singleton explained Tuesday, "I was just in there shooting, just working on my game, trying to prepare for the season."
Sign up for our daily sports newsletter »
The dedication won Singleton a legion of admirers but irritated some sticklers because players aren't supposed to be inside their home gym from midnight to 5 a.m. Oh well. After he woke up, Singleton showered in the locker room and went on about his day as usual.
One of the first faces Singleton usually sees each morning is that of Bernard, the fellow freshman guard who can be as single-minded as his roommate is dedicated, attacking the basket as if his scholarship depended on it.
"Sometimes he gets kind of blinders on where once he makes the decision to drive, he's going," UCLA interim coach Murry Bartow said, "and three guys might converge on him and maybe he's got a guy open in the corner but he just gets his eyes set to go to the rim."
The roommates' differing styles complement one another and have given Bruins fans a glimpse of a brighter future amid a gloomy present for a .500 team. Singleton has starred when given heavy minutes and Bernard is coming off his best back-to-back games of the season, helping spark UCLA's comeback victory over California before scoring a career-high 19 points against Stanford on Saturday.
Singleton said he called Bernard "Jules Harden" because he's left-handed like James Harden and uses the Houston Rockets star whenever he plays the video game NBA 2K.
"It's fun playing with Jules," Singleton said, "because he's an aggressive slasher and when a lot of defenses collapse on him, I just find an opening and call for the ball, or if my pump fake draws an extra defender, I give it to him for an open shot slashing and getting to the rim."
Bernard, who is averaging 6.6 points and 2.9 rebounds, said his aggressiveness is a function of his upbringing.
"My parents taught me that if you want something," he said, "you gotta go get it."
Bernard has gone a bit too far at times, logging nearly twice as many turnovers (38) as assists (22), but his coach doesn't want him to fundamentally alter the way he plays.
"I'd rather him play fast and aggressively than back on his heels," Bartow said, "but he's got to cut his turnovers down; he's got a few too many."
Singleton has committed only seven turnovers, a figure that's all the more impressive considering he had to switch from shooting guard to backup point guard with freshman Tyger Campbell going down with a knee injury before the season. Singleton has averaged 4.6 points while making a team-high 44.2% of his three-pointers.
While their first college season hasn't gone as planned, Singleton and Bernard hope to eventually replicate the success they enjoyed as widely coveted high school recruits.
"Both of those guys will have great, great careers here," Bartow said, "because they're both workers, they both like to listen, they both want to be coached."
Ali put on notice
Bartow reiterated his support for Prince Ali amid a four-game slump in which he's averaged 3.3 points while shooting 22.7%, but acknowledged the junior guard's role might be reduced.
"I've got to see some very sudden improvement out of him in terms of what he's doing," Bartow said. " … For him to continue to get the same amount of minutes, he's got to perform better and I think he'd tell you that too, that he's got to perform a little bit better than he has the last four or five games."
Follow Ben Bolch on Twitter @latbbolch
---