UCLA shifts focus to coaching search as players mull over whether to stay or turn pro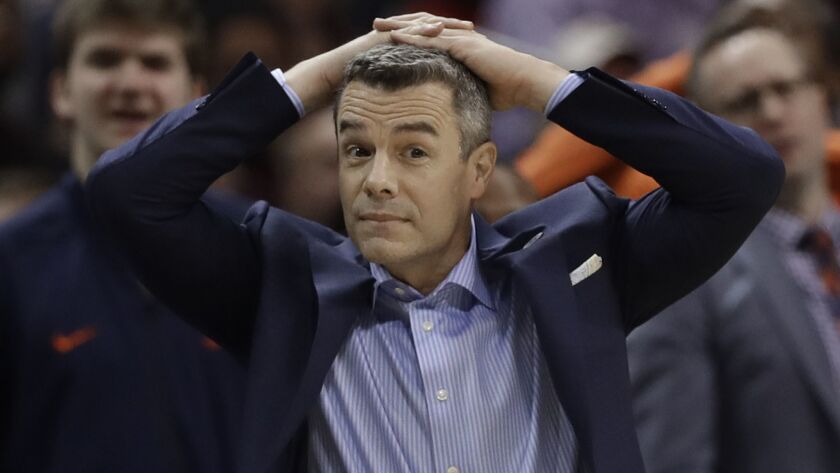 Reporting from Las Vegas —
It was presumably intended as a gesture of appreciation, one coach acknowledging another's philosophy, when UCLA women's basketball coach Cori Close retweeted a video of Virginia's Tony Bennett talking about the importance of internal fortitude.
"I love the transformational coach that Tony Bennett is," Close wrote Friday in a tweet she later deleted.
She isn't alone in her admiration.
Widely believed to be the school's top target as its next men's basketball coach, Bennett provides the sort of charismatic presence UCLA is seeking to jolt its fading flagship program back to national relevance.
The coaching search is expected to start building momentum in the coming weeks as the candidates' seasons end and interviews begin.
Whoever takes over the post vacated by the mid-season dismissal of coach Steve Alford and the departure of interim successor Murry Bartow shouldn't have to commence anything close to a full rebuild. There will be a solid base of talent even if a handful of players depart for the NBA.
The lobbying among fans started as the Bruins milled about on the court in the final minute of their quarterfinal loss to Arizona State in a Pac-12 Conference tournament quarterfinal on Thursday night.
"Kris Wilkes, one more year baby!" a fan shouted.
Wilkes, Jaylen Hands, Chris Smith and Moses Brown said after the game they hadn't decided about their futures. Cody Riley could also be contemplating going pro based on his having declared for the NBA draft last season before withdrawing his name and returning to UCLA.
Wilkes is the only Bruin to make ESPN's list of the top-100 best available players for the June draft, at No. 68. That would make him a borderline second-round pick. One NBA scout recently told the Los Angeles Times that Hands could also slip into the second round and that Brown could conceivably go in the first round if he impressed a team in a workout based on his being 7 feet 2.
"Everybody's got a bright future, no matter if somebody wants to come back or they want to leave," Smith said. "I know all these guys have a bright future whatever they want to do."
Sign up for our daily sports newsletter »
Freshmen David Singleton, Jules Bernard and Jalen Hill are all expected back next season, providing the possible core of any starting lineup. They'll be joined by soon-to-be redshirt freshmen Tyger Campbell (torn knee ligament) and Shareef O'Neal (heart defect), whose first college seasons were derailed by injuries.
Campbell and O'Neal should be fully recovered in time for next season, as should Singleton (broken foot) and junior shooting guard Prince Ali (plantar fasciitis in left foot). Campbell and Singleton would become the primary ballhandlers if Hands departed for the NBA.
Incoming freshmen Jaime Jaquez and Jake Kyman could provide the reliable long-range shooting that was missing for a team that made only 35.5% of its three-pointers. UCLA's new coach could also add another player or two in the spring to offset any defections to the NBA.
The question is how just how many returners those newcomers will get to play alongside.
"If a lot of us come back," Smith said, "I think we can be for sure a top team in this conference and definitely make a run in the [NCAA] tournament for sure."
As players lingered in the locker room Thursday night, it was as if they didn't want to say goodbye to one another after the Bruins (17-16) failed to make the NCAA tournament for the second time in four years.
Said Bernard: "I think the hardest thing to take is, this is the last time we're going to play with this team."
Said Brown: "Honestly, I'm just here appreciating the time I have left with my brothers and really that's it."
Several players said they hadn't thought much about UCLA's next coach, having been preoccupied with trying to make the best of their final games. Their priorities will be shifting soon enough.
"Now that the season's over," Ali said, "we have time to just think about things like that."
Follow Ben Bolch on Twitter @latbbolch
---
Get the latest on L.A.'s teams in the daily Sports Report newsletter.
You may occasionally receive promotional content from the Los Angeles Times.