More than 50 years later, UCLA's Moses Brown stirs up memories of another dominant big man from New York
Reporting from Las Vegas —
Seasoned UCLA basketball fans have discovered what it would take for the Bruins to land another dominant 7-footer from New York.
An act of Moses.
Moses Brown has generated some early comparisons to Kareem Abdul-Jabbar that go beyond height and hometown. Both are highly skilled big men who ruled the area around the basket from the moment they lumbered into Pauley Pavilion.
When Brown tallied 19 points and 17 rebounds against Purdue at Fort Wayne earlier this month, he became the first Bruin to reach those figures in his college debut since Abdul-Jabbar (then known as Lew Alcindor) collected 56 points and 21 rebounds as a sophomore during a romp over USC in December 1966. Freshmen were barred from playing varsity at the time because of NCAA rules.
Nobody is forecasting Brown as a threat to surpass Abdul-Jabbar as the NBA's all-time leading scorer, but the 7-foot-2 freshman center has given the Bruins a shot-blocking, rebound-snagging, dunk-hoarding presence they have lacked in recent years.
And, yes, he even has toyed with a sky hook that became the signature move of his famed UCLA predecessor.
"I feel like if I develop my skill set and have a go-to move like he had," Brown said of Abdul-Jabbar, "I'll be pretty much unstoppable."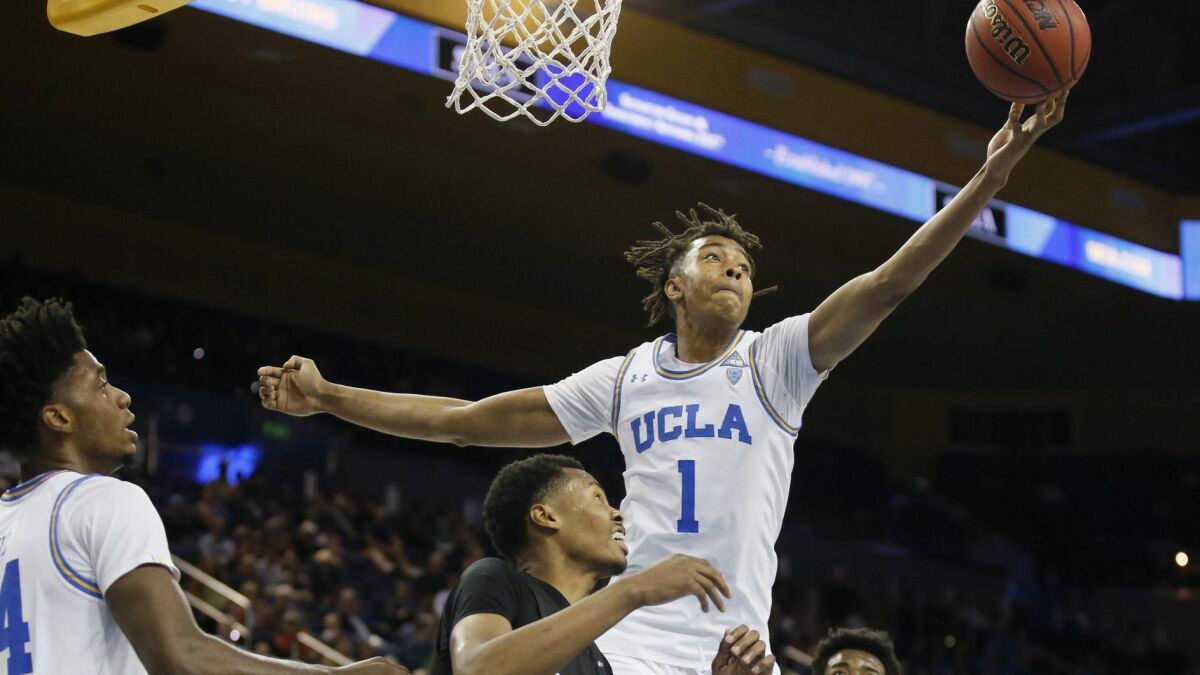 Some might say he's already there.
Brown became the first UCLA freshman to record double-doubles in each of his first three games and will give the No. 17 Bruins (4-0) perhaps the most feared player on the court Thursday night at Orleans Arena when they face No. 11 Michigan State (3-1) in the Continental Tire Las Vegas Invitational.
"He's special," UCLA coach Steve Alford said. "And I think you're going to see him just continue to evolve because he's got a motor, he cares, he works. You can get on him [and] he responds to good, tough criticism of making him get better."
There are plenty of areas to target for a player who has struggled to play out of double- and triple-teams, compiled some comedy-reel traveling violations and shot one free throw that hit nothing but backboard.
But he also possesses soft, reliable hands that seem to catch every pass. He's avoided the over-reliance on reaching that leads to foul trouble for many big men. His averages of 17.3 points, 12 rebounds and 3.3 blocks a game while shooting 78.9% portend a short college stay.
Brown's eight blocks against St. Francis in his third college game prompted Alford to tease him afterward as the coach was leaving the interview room inside Pauley Pavilion while Brown entered to speak with reporters.
"You're not going to block my shot," Alford, the legendary sharpshooter who remains highly competitive at 53, told his star player. "I'm going to mess with you. I'll fake and you're going to foul me."
Brown is a product of the same neighborhood in Hollis, Queens, that produced Abdul-Jabbar. Malcolm Brown, Moses' father, said their residence is about seven blocks from where Abdul-Jabbar lived and they frequented some of the same parks growing up.
Moses liked to rouse Malcolm, a construction worker, from his slumber on days he wasn't working to take him to a park on Hollis Avenue where father and son would sometimes play until 2 a.m. Their one-on-one games ceased once Moses knocked out some of Malcolm's teeth when he was a sophomore in high school.
"I got elbowed in the mouth," said Malcolm, a former 6-7 center who played in junior college, "and I told myself, 'I can't afford to miss more teeth.'"
Brown was 6 feet by the sixth grade and grew six inches to 6-10 during the summer between his sophomore and junior years in high school while recovering from a fractured growth plate in his left knee. He dunked in a game for the first time at 15, long after he had surpassed his peers in height.
"I just didn't notice how tall I was," Brown said, "until I actually got older and I realized I'm actually a giant compared to regular people."
He remained a humble hulk in part because of his father's devotion as a single parent and the relentlessness of a grandmother who instilled a work ethic in him.
"My mom would cook and clean and wash clothes at the same time," Malcolm said, "and every time she would leave the kitchen it would be spick-and-span, so he got it honest."
Brown said he picked UCLA because he clicked with the coaching staff and enjoyed the friendly vibe he felt on campus. He's become an instant favorite of classmates who ask him to pose for selfies, taken by his height and massive feet that fill every crevice of his size 18 shoes.
He required a custom-length bed in his room, school officials realizing there's nothing standard-issue about "Big Mo." On the court, being the next big thing solves more problems than it creates, especially for his teammates.
"It's pretty good when you get down into the paint and you have nowhere to go," sophomore forward Kris Wilkes said, "you just throw it up to Mo."
But how long will Brown stick around to catch those lobs? Alford has already intimated that he expected Brown to stay for only one college season, though Brown said he's "not in any rush" to reach the NBA.
Some who have observed both Brown and Abdul-Jabbar said that Brown relies more on power than his 7-1 predecessor, who developed a variety of moves around the basket after the NCAA outlawed dunking before his junior season.
None became more famous than the sky hook, something Brown said he's tried in practice and might unveil during a game in another reminder of the New Yorker who came before him.
"Sure," Brown said. "I'll pull it out."
Up next
vs. Michigan State
When: 7.
Where: Orleans Arena, Las Vegas.
On the air: TV: FS1; Radio: 570.
Update: Michigan State has won three consecutive games since a season-opening loss to then-No. 1 Kansas. The Spartans are led by junior guards Cassius Winston (17.3 points per game) and Joshua Langford (17). The Bruins will play either No. 7 North Carolina or Texas on Friday.
Follow Ben Bolch on Twitter @latbbolch
Get the latest on L.A.'s teams in the daily Sports Report newsletter.
You may occasionally receive promotional content from the Los Angeles Times.