UCLA beats Cal in final seconds after Josh Rosen is knocked out of game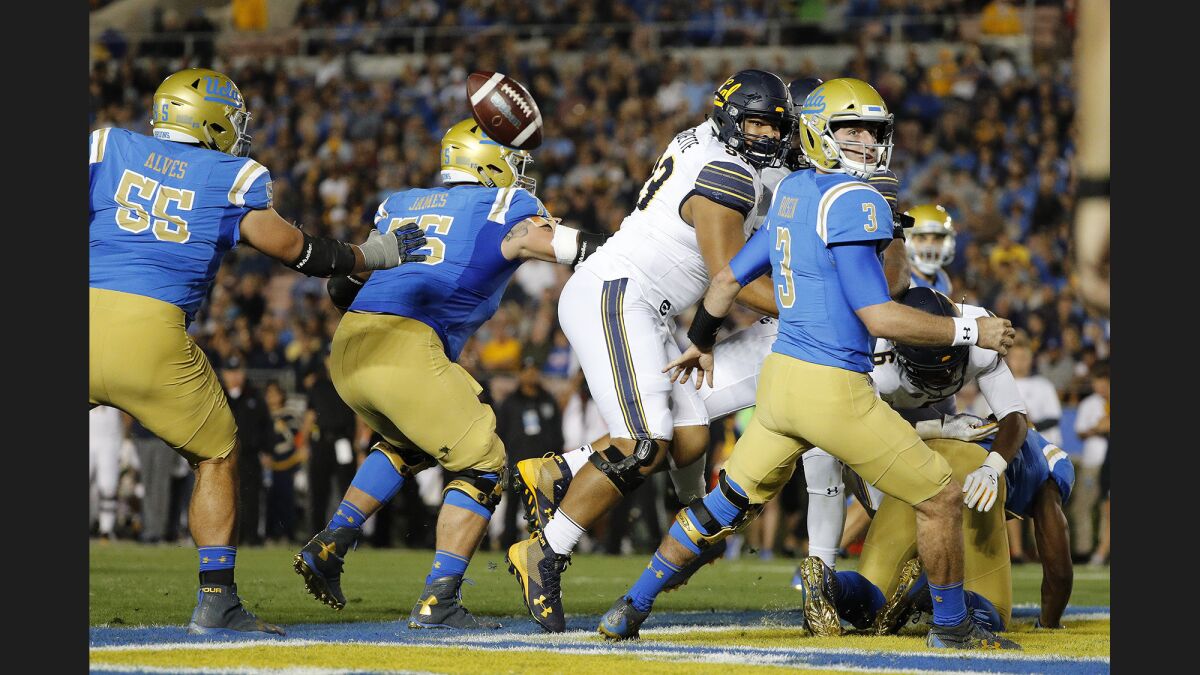 As UCLA prepared to enter a new era, it was forced to contemplate the unhappiest of endings.
Quarterback Josh Rosen was forced out of what might have been his final home game as a Bruin on Friday night after getting thrown to the turf for a sack late in the second quarter at the Rose Bowl.
Rosen remained in the game against California for three more plays but appeared to acknowledge that he would not return after a discussion with team staffers. He clutched his helmet with both hands and slammed it to the ground while seated on the bench in the moments before halftime.
Things would turn considerably more upbeat for UCLA when backup quarterback Devon Modster helped his team drive into position for J.J. Molson's 37-yard field goal with four seconds left that gave the Bruins a 30-27 victory.
"Unbelievable win for our guys," Molson said after making the first game-winning kick of his career. "That's all I care about. That's all I'm here to celebrate is our win, not my kick."
UCLA, 6-6 overall and 4-5 in the Pac-12 Conference, got the victory it needed to become eligible for a bowl while completing its first undefeated season on its home field since 2005. The Bruins also won on senior night for the first time since 2011.
UCLA linebacker Kenny Young thwarted Cal's final play when he recovered a lateral.
Rosen's early exit left him 24 yards short of surpassing Brett Hundley for the school's single-season passing record. Rosen completed 13 of 18 passes for 202 yards and two touchdowns, giving him 3,717 yards for the season.
UCLA interim coach Jedd Fisch did not specify the nature of Rosen's injury but said he was pulled for precautionary reasons.
"We want to make sure that he is healthy for the bowl game," Fisch said. "He got hit pretty hard on that one sack and he wants to make sure that he is healthy for the bowl game as well."
Not all of the drama was confined to the field.
Speculation intensified that the Bruins were close to hiring former Oregon coach Chip Kelly as the replacement for the recently fired Jim Mora after Yahoo Sports reported that Florida was no longer considering Kelly for its coaching vacancy. Florida officials reportedly met with Kelly on Sunday, two days before Kelly sat down with a contingent of UCLA officials to discuss their opening.
Mora was fired Sunday, five days before the Bruins' final home game of the season.
UCLA senior safety Jaleel Wadood questioned the timing of Mora's dismissal on social media before the game Friday, tweeting, "What type of people don't even let my man coach Mora not even get to send his seniors off on senior night. All he did for the program that's the least ya'll could've did smh."
Fisch and the Bruins position coaches hugged the team's seniors as they were recognized and ran onto the field before the game. Mora was featured in his usual two-page spread inside UCLA's official gameday magazine, which presumably went to press before his firing.
Bruins players said this week they wanted to beat Cal (5-7, 2-7) as a tribute to Mora because it would leave his legacy as having guided the team to bowl games in five of his six seasons. Representatives from the Independence Bowl distributed an information sheet to media in the press box touting the Dec. 27 game that will be played in Shreveport, La.
UCLA's bowl hopes appeared to take a big hit when Cal linebacker Alex Funches yanked Rosen to the ground for the Bears' third sack of the game. Rosen was slow to get up, his jersey featuring a huge rip below the right shoulder.
Rosen missed most of two games earlier this season after suffering a concussion in the first half against Washington on Oct. 28. Rosen later said he had tried to play through his symptoms before being removed from the game against the Huskies.
Rosen is a junior but would likely be one of the top picks in the NFL draft should he opt to turn pro.
Modster showed some nice touch on back-to-back passes midway through the third quarter, completing one to Jordan Lasley for 37 yards and another to Eldridge Massington for a gain of 16. Tailback Brandon Stephens ran for a one-yard touchdown that gave the Bruins a 24-17 lead.
Modster completed 14 of 18 passes for 191 yards and Lasley caught 12 passes for a career-high 227 yards and a touchdown. Modster helped the Bruins move into field goal range after they started their final drove at their own 25-yard line with 2:22 left in the game. He completed an 18-yard pass to Lasley on third and four to help sustain the drive.
"He's a big target, fast," Modster said of Lasley. "You know he's just one of those guys you can trust down the field, even if, you know a couple times I underthrew him and he just made a play."
Cal had tied the score at 27-27 when quarterback Ross Bowers connected with receiver Jordan Veasy on a fade route for a six-yard touchdown in the left corner of the end zone.
Rosen was roughed up well before his departure.
He was sacked twice in the first quarter and fumbled the ball while cocking his arm back to pass in the end zone. Rosen picked up the ball and somehow lunged past the goal line to avoid a safety.
The passes Rosen threw were mostly on target. He completed seven of eight in the first quarter, including a 14-yard touchdown to a falling Theo Howard in the front corner of the end zone.
Rosen later lofted a jump ball to a spinning, leaping Lasley, who made the catch in front of the goal line and went into the end zone for a 17-yard touchdown that gave the Bruins a 17-6 lead.
Follow Ben Bolch on Twitter @latbbolch
Get the latest on L.A.'s teams in the daily Sports Report newsletter.
You may occasionally receive promotional content from the Los Angeles Times.