After an 0-5 start, UCLA defeats Cal for Chip Kelly's first victory as Bruins' head coach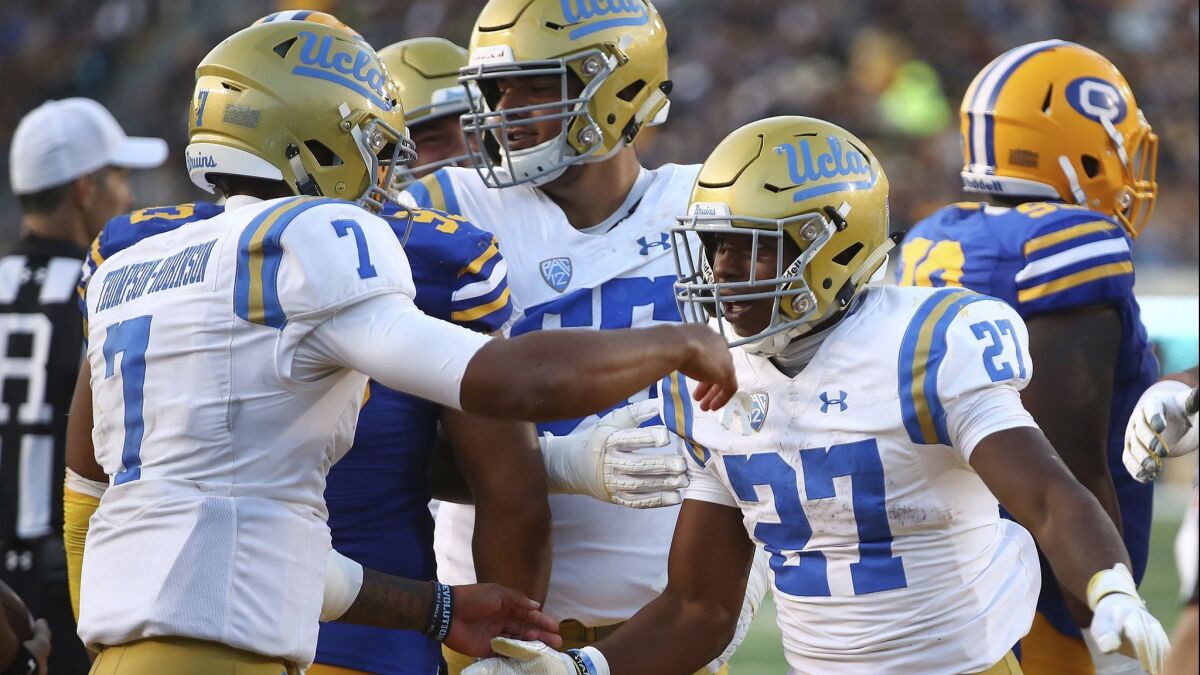 Reporting from Berkeley —
Defensive lineman Atonio Mafi pointed toward the throng of blue and smiled. Kicker J.J. Molson flapped his arms, urging everyone to sustain the decibel level. Tight end Caleb Wilson flung his white gloves to a fan perched above a railing.
The revelry continued in the locker room after the Bruins' 37-7 victory over California on Saturday at California Memorial Stadium. Players sang the school's fight song so heartily that it could be heard outside through thick doors.
"It felt right," Bruins tailback Joshua Kelley, slapping his chest, said of the impromptu rendition. "It felt tremendous."
It also felt overdue, the first victory of the Chip Kelly era coming after five consecutive losses to open the season. But the measured improvements the Bruins (1-5 overall, 1-2 Pac-12) showed in recent weeks coalesced into dominance across the board.
"You don't rise to the occasion, you sink to your level of training and we've trained well in the last couple of weeks," Kelly said. "We're starting to realize that all that hard work they've put in has paid off for them, so I think this is a good example for them to learn from."
Kelley finished with a career-high 157 yards rushing and three touchdowns in 30 carries. The Bruins forced five turnovers while committing none, matching their combined number of takeaways from their previous five games. Their only punt return went for 40 yards.
"I just liked the energy that these guys played with tonight in all three phases," Kelly said after logging his first victory since late in the 2016 season with the San Francisco 49ers. The Bruins also snapped a 12-game road losing streak dating to the 2016 season.
UCLA recovered three fumbles and intercepted two passes. The game's final minutes were an extended celebration on the Bruins sideline after linebacker Keisean Lucier-South picked up a fumble and ran 38 yards for a touchdown that gave his team a 30-point lead.
Kelley has given the Bruins the reliable run threat they've been missing in recent seasons. He had 114 yards by halftime, becoming the first UCLA ballcarrier since Jordon James in 2013 to tally at least 100 yards in three straight games.
Bruins quarterback Dorian Thompson-Robinson completed his first nine passes on the way to going 13 of 15 for 141 yards. In his last two games, the true freshman has completed a combined 40 of 53 passes (75%).
"We knew we could play like this," Thompson-Robinson said. "It was just about finding that rhythm and everybody doing their job."
Cal managed just 310 yards of offense and converted three of 14 third downs against a defense that had allowed opponents to convert 53.8% of those situations earlier this season.
"We're starting to figure it out," said UCLA safety Adarius Pickett, who recovered a fumble caused by cornerback Darnay Holmes.
The Golden Bears (3-3, 0-3) briefly created some drama when they took the opening kickoff of the second half and drove 75 yards. Patrick Laird's one-yard touchdown run cut Cal's deficit to 13-7.
But the Bruins responded immediately with two big plays by Thompson-Robinson. He completed a 24-yard pass to Theo Howard and scrambled 15 yards to the one-yard line, setting up Kelley for his second touchdown run on the next play. UCLA scored the game's final 24 points.
It was a double dose of dominance for UCLA, which recently overtook Cal as the top public university in the United States according to Times Higher Education's most recent rankings of universities from across the world. Some Cal students didn't agree with the change, a sign hanging from a sorority near the stadium taking a vulgar shot at its rival while adding "We Still #1."
The Golden Bears might have a bigger gap to make up on the field after being thoroughly outclassed Saturday. The Bruins didn't view the outcome as much as an arrival as a first step.
"Just seeing the smiles on these guys' faces," Thompson-Robinson said, "that really encourages you to want to keep playing better every week."
UP NEXT >>> Arizona quarterback Khalil Tate aggravated his bothersome left ankle Friday during the Wildcats' 42-10 loss to Utah, forcing coach Kevin Sumlin to go with backups Jamarye Joiner and Rhett Rodriguez. Sumlin said Tate seemed to be hurt worse than in previous weeks and could barely move after playing only two series.
Follow Ben Bolch on Twitter @latbbolch
---
Get the latest on L.A.'s teams in the daily Sports Report newsletter.
You may occasionally receive promotional content from the Los Angeles Times.