UCLA's Jim Mora is satisfied with bottom line: a victory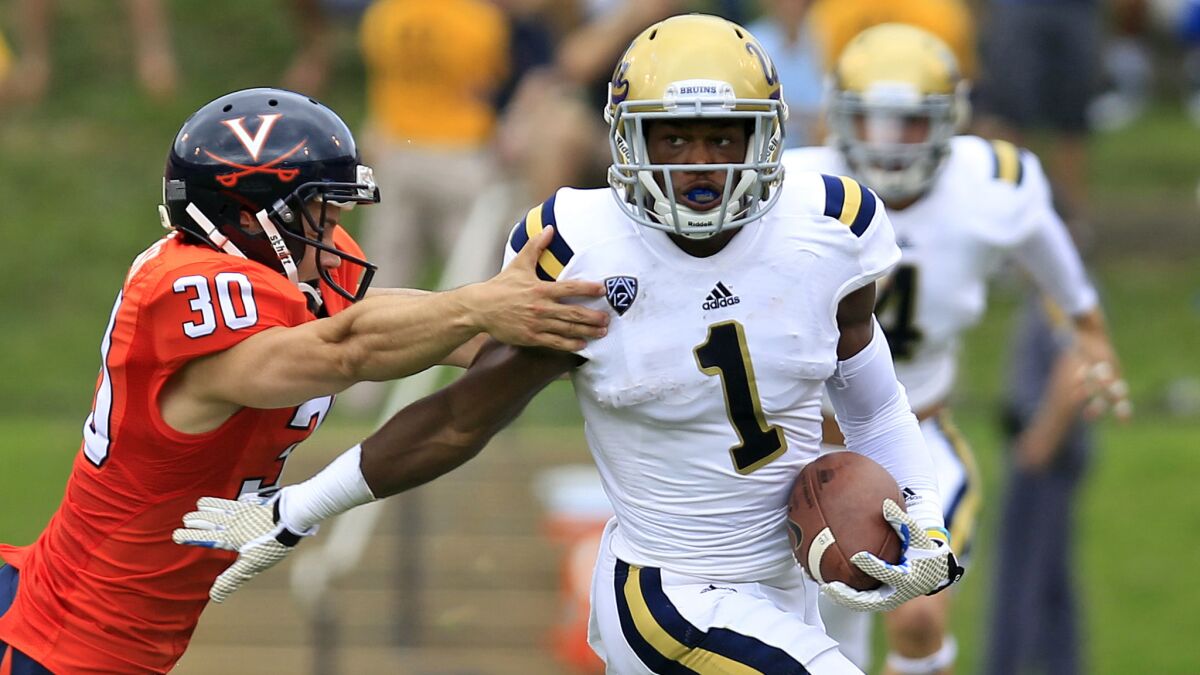 'We looked physical on defense. We looked fast,' UCLA Coach Jim Mora says.
While some might be pondering whether UCLA was deserving of all the preseason chatter, the Bruins shrugged and went back to work Sunday.
A 28-20 victory at Virginia on Saturday left little doubt that the seventh-ranked Bruins have work to do. But Coach Jim Mora said there was one important upside to the season opener.
"The goal in a first game which is the goal of any game, but certainly the first one, is to win … win," Mora said. "We met that objective."
After a month of training camp "first games are always a crapshoot, especially when you are playing a really quality opponent three time zones away," Mora said.
There are plenty of questions about the Bruins' slow start. UCLA scored one offensive touchdown and left Charlottesville with a victory because the defense scored three touchdowns.
But the Bruins were just happy to have a victory.
"I think a lot of teams are saying that, at least the ones who played quality opponents," Mora said.
Top-ranked Florida State got past Oklahoma State. Second-ranked Alabama struggled with West Virginia. Fifth-ranked Ohio State labored against Navy. Where Virginia ranks with those teams will be determined over the course of the season.
Conversely, third-ranked Oregon buried South Dakota. UCLA gets a crack at such a tomato can this week, when it plays host to Memphis. The Bruins opened as a 24-point favorite.
As for the first-game perceptions, the Bruins were keeping those at arm's length.
"It's not that we put outside pressure on ourselves, but understanding that we have high expectations in the first place," quarterback Brett Hundley said after the game. "So we have to learn how to handle those, and how to really come on the field and play our brand of football."
Mora was more to the point during Sunday's media teleconference, saying "I don't care what people are saying … well, I do care, but really all that matters is reaching our standards of improving every day."
There was room for that.
The offensive line was the starting point. Hundley was sacked five times, and UCLA had only 116 yards rushing. The offensive line woes were in part because of the absence of center Jake Brendel, who sat out because of a sprained knee.
"That was the first game Jake hadn't been the starting center since I came here," Mora said. "He's a linchpin."
Mora said that Brendel is "very close" to returning.
But, Mora said, "every single game, a coach see things on the film that were not as bad as he thought and things that were not as good as he thought."
Asked whether he could cite something that was a little worse than he thought, Mora said, "not really."
Asked about what was better than he thought, he said, "the defensive line. Eddie Vanderdoes, Kenny Clark and Owamagbe Odighizuwa were dominant."
Stonewalling Virginia
Mora's check list for defense: "Always stop the run first, affect the quarterback second and, if you get take-aways, hope you can turn them into points."
Check … check … and triple-check.
The Bruins limited Virginia to 120 yards rushing. Odighizuwa got his hand on the ball as it left quarterback Grey Lambert's hand, leading to an interception by Ishmael Adams, who returned it for a touchdown. UCLA scored on two other take-aways, safety Randall Goforth on a fumble return and linebacker Eric Kendricks on an interception.
"We have impact players who can make plays," Mora said. "We looked physical on defense. We looked fast."
The three touchdowns came in handy.
"We have a have a great offense and we got to have their back," Kendricks said.
Myles Jack is dinged
UCLA linebacker Myles Jack, who made 13 tackles, suffered an ankle injury against Virginia. Mora said that it was minor and that Jack should practice Tuesday.
---
Get the latest on L.A.'s teams in the daily Sports Report newsletter.
You may occasionally receive promotional content from the Los Angeles Times.