Mum is Jim Mora's word on Brett Hundley's injury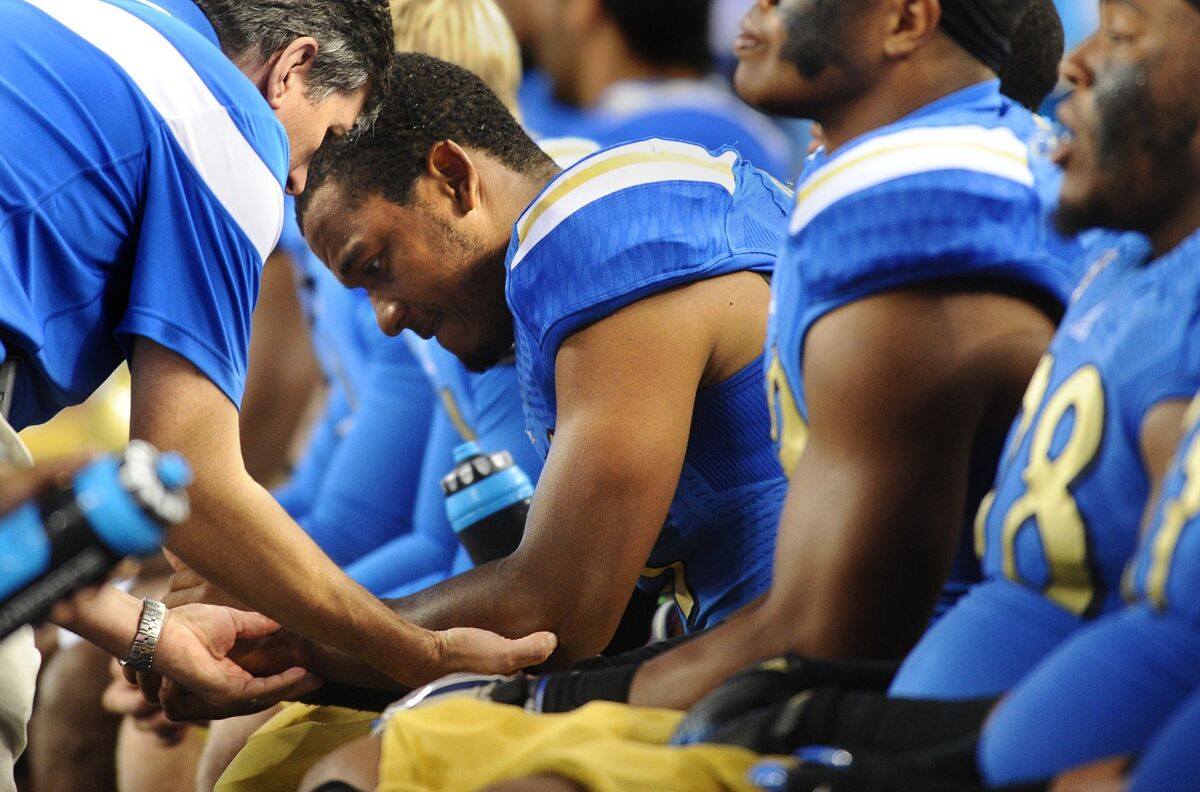 At UCLA Sunday, no news was … well, no news.
Whether quarterback Brett Hundley will be available against Arizona State on Sept. 25 remained unanswered.
A tight-lipped Coach Jim Mora said that Hundley, who suffered an elbow injury in a 20-17 victory over Texas on Saturday, had yet to undergo an MRI to determine whether there was more severe damage than the X-ray revealed during the game.
"There is nothing new," was Mora's report. Little insight will likely be coming through the Bruins' bye week.
Asked when they had to make a decision on Hundley's availability, Mora said, "I'm not going to tell anything to anybody until kickoff of the Arizona State game. Nobody … nothing."
Presumably, he'll tell Hundley.
Indications are that Hundley suffered a minor hyperextension to the elbow and should be ready to play. An MRI is needed to confirm that.
If Hundley cannot play, the offense will be left in the hands of Jerry Neuheisel, who saved the Bruins on Saturday. His 33-yard touchdown pass to Jordan Payton gave UCLA a 20-17 lead with three minutes left.
With 10 days before the next game, Neuheisel would have extra time to get comfortable as a starter, though Mora said that was not an issue.
"It gives him a few more snaps in practice, but Jerry pretty much prepares very thoroughly," Mora said.
The bye week hit a good time for others who are injured.
The most serious is safety Randall Goforth, who separated his right shoulder against Memphis on Sept. 6. He had separated his left shoulder twice previously.
The options for Goforth include wearing a brace, more rest, rehabilitation or surgery.
"We'll move cautiously, taking into account that he hurt the other shoulder in training camp and spring [practice]," Mora said. "We want to make sure we make the right decision for his long-term health and the good of the team."
Safety Anthony Jefferson missed the Texas game after suffering an ankle injury in pre-game warm-ups.
"I didn't get a report on A.J., so I don't know," Mora said. "I'm sure he is better than he was yesterday."
Tackle Malcolm Bunche left the game in the fourth quarter with a leg injury, but returned late in the game.
"I haven't gotten a report on him, but he was moving around better [Sunday]," Mora said.
Ground hog play
Neuheisel was quick after the game to point out who did the heavy lifting, as he boasted about his offensive line.
"I can't thank those guys enough for protecting me," Neuheisel said. "The second half, they were in control."
Texas had three sacks, but none came in the second half.
Neuheisel singled out Jake Brendel, the Bruins' veteran center.
"There were multiple times where I would go up him and say, 'what do you think?' " Neuheisel said. "He would tell me and I would relay it to the sideline. Most of the run game, he was driving the bus for us."
The Bruins had 217 yards rushing. Paul Perkins had his first 100-yard game of his college career, finishing with 126. Jordon James, who had gained only five yards the first two games, had 69 yards in eight carries.
"I was more than comfortable handing the ball to Paul and Jordon," Neuheisel said. "Those guys were killing it. I know it doesn't look like much, but four and five yards a play is like a body shot in boxing. It takes the wind out of you."
The other QB
Arizona State lost quarterback Taylor Kelly and linebacker Laiu Moekiola. Kelly injured his foot against Colorado in the third quarter and spent rest of Saturday's game on the sideline on crutches wearing a walking boot. Moekiola, a key defensive player, injured his right arm.
Kelly carved up the Bruins in a 38-33 Arizona State victory last season. He threw for 225 yards and ran for another 99.
On Saturday, Mike Bercovici replaced Kelly and was asked to do little beyond hand off. Coach Todd Graham did not sound upbeat after the game.
"I'm pretty concerned, I believe that was the tough part tonight, but the best part about it is that you have to be able to respond," Graham said. "We've got a lot of confidence in Bercovici."
Still, Graham said, "These guys were very important to us, two team captains that you lose but we'll work harder on it. We've got a week and a half, so we have a chance to get those two back, so we will see how that goes."
Twitter: @cfosterlatimes
---
Get the latest on L.A.'s teams in the daily Sports Report newsletter.
You may occasionally receive promotional content from the Los Angeles Times.