UCLA's decimated defense must face Stanford's will to run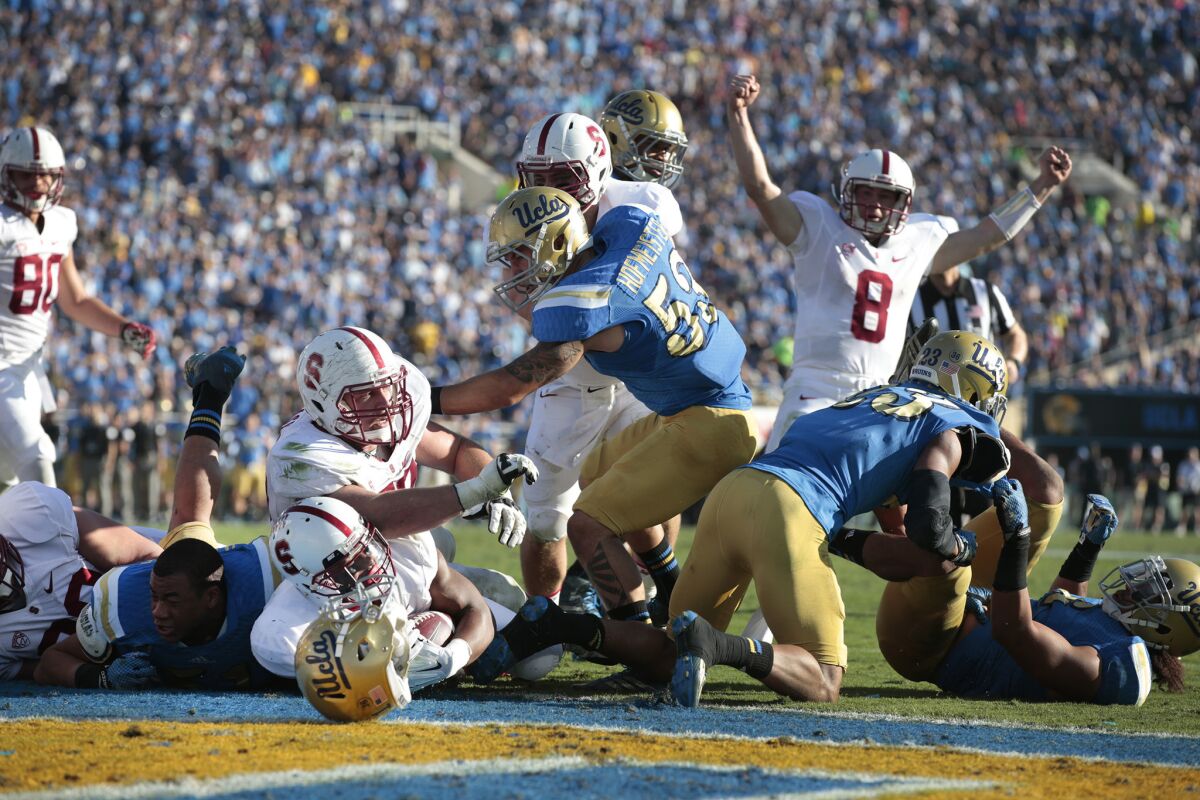 There will be no surprises this week for UCLA.
The Bruins play Stanford, which comes with a warning label — "intellectual brutality."
"It's kind of an oxymoron," UCLA linebacker Deon Hollins said. "They're Stanford, they have tough academic rigors."
The academic part is not the toughness the Bruins' defense will face in Palo Alto on Thursday.
The game will likely teeter on how well UCLA deals with Stanford's will to run. The Cardinal averages 209.8 yards rushing per game, 27th nationally. The Bruins allow 197.0 yards per game, 99th.
"They don't try to hide anything," Hollins said. "There is nothing that tricks you."
UCLA Coach Jim Mora described that intellectual brutality in historic terms.
Whether it's Jim Harbaugh coaching, or his replacement, David Shaw, the Cardinal "has always had this combination of a tremendous offensive line, tight ends and a running back that just grinds it out, makes plays, makes you miss and makes clutch catches," Mora said.
Christian McCaffrey fills that role this season.
McCaffrey, a sophomore, is second in the nation in all-purpose yards, averaging 229.8 per game. He has 608 yards rushing and a team-high 15 receptions for 168 yards.
"A lot of times, people think they have him down and he's still wiggling around back there," Hollins said. "Their offensive line does a good opening holes, and he breaks a lot of tackles."
And the Bruins' defense, decimated by injuries, has missed a lot of tackles the last two games.
Arizona gained 353 yards rushing against a UCLA defense playing without multi-talented linebacker Myles Jack for the first time. The follow up was allowing Arizona State to gain 192 yards rushing.
"We came out against Arizona State and played good run defense early," Mora said. "They got some things late, but we were much better."
The Bruins have had "to rearrange the puzzle" on defense, Mora said. Whether the pieces are in place will be evident against Stanford and McCaffrey.
"You got to tackle well because he's a guy who is slippery," Mora said.
The other side
UCLA's offense will also have its hands full against a Stanford defense that also takes a physical approach. Just another challenge to the Bruins' offense line, tackle Caleb Benenoch said.
"Playing line at UCLA, we bear the brunt for a lot things for a while now, from before I got here," Benenoch said. "The offensive line has kind been the whipping boy. We kind of have a chip on our shoulder. We take that into the weight room, we take that onto the field. We got to fight to earn respect every week."
UCLA's offensive line woes lasted more than a decade before the 2012 season, mainly because of untimely injuries and misjudgments in recruiting. But the Bruins have had the Pac-12's leading rusher two of the last three seasons — Johnathan Franklin (2012) and Paul Perkins (2014).
Johnson out
Receiver and defensive back Mossi Johnson will miss the remainder of the season after severely injuring his knee last week.
The sophomore, who was injured in a one-on-one drill during practice, will have surgery "in a week or two," Mora said.
Johnson had eight receptions for 41 yards this season. He had added defense to his duties two weeks ago and saw time at safety the last two games.
UCLA has lost four players for the season — Johnson, Jack, defensive tackle Eddie Vanderdoes and cornerback Fabian Moreau — which left Mora giving a familiar speech Sunday.
"Injuries are a part of this game, unfortunately," Mora said. "You're first thought is for the young man who got hurt. They work so hard to get where they are."
But, he said, "You just got to keep looking forward and can't let it become a distraction."
Twitter: @cfosterlatimes
---
Get the latest on L.A.'s teams in the daily Sports Report newsletter.
You may occasionally receive promotional content from the Los Angeles Times.