UCLA could be on target for a break against Brigham Young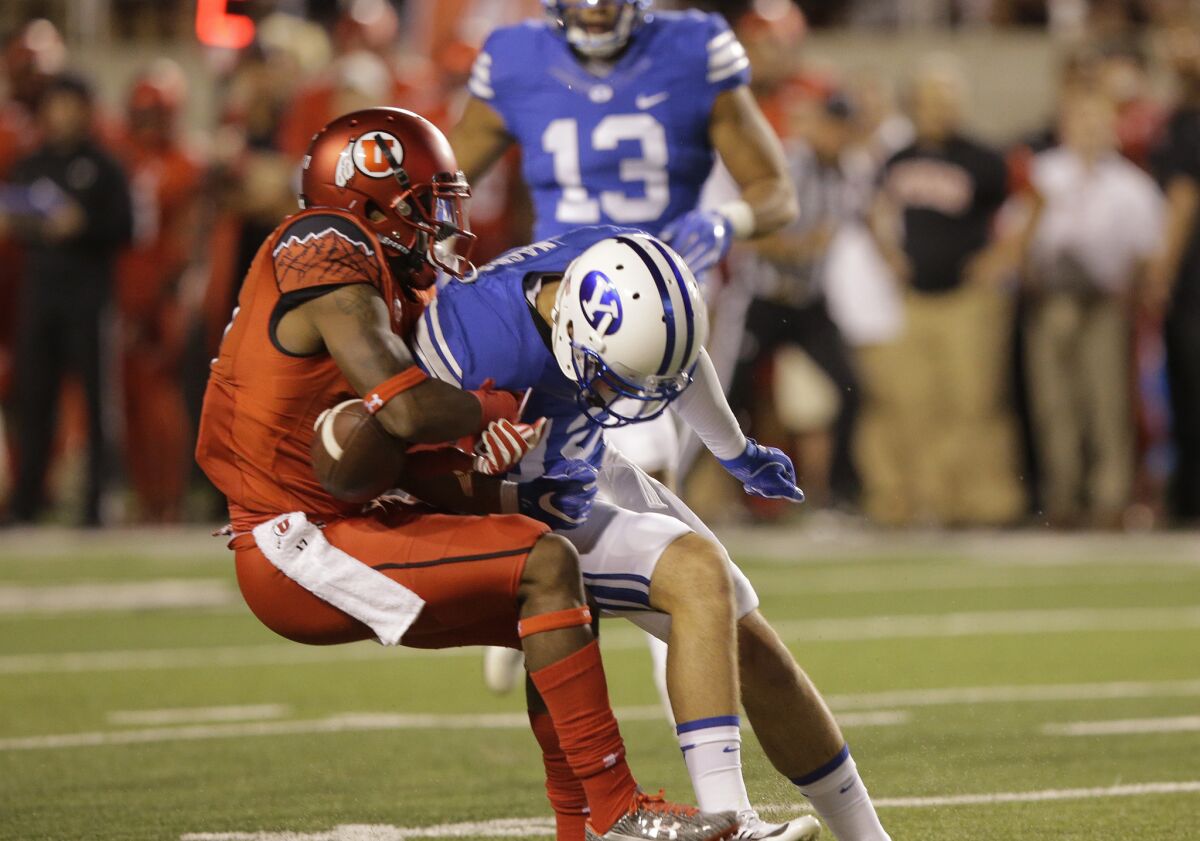 UCLA benefited from three targeting penalties Saturday night. Two that occurred hundreds of miles from the Rose Bowl.
Brigham Young safety Kai Nacua and cornerback Austin McChesney were ejected in the third quarter of the Cougars' 20-19 loss to Utah after being called for targeting on consecutive plays. Barring a successful appeal, both players will be ineligible to play in the first half of Brigham Young's home opener against the Bruins on Saturday in Provo, Utah, because of NCAA rules.
That could be a big loss for the Cougars. Nacua had two interceptions in less than three full quarters against Utah and his absence would further weaken a defense that has given up 203.5 yards passing per game, ranking 61st among major-college teams.
The targeting rule is designed to curtail dangerous hits and has resulted in automatic ejections since 2013. The rule has been somewhat controversial because it involves an element of subjectivity, although instant-replay officials are required to review targeting penalties called by on-field referees.
"I support the rule as long as it's judged very harshly in terms of, 'We better be damn sure that this is targeting before we take the ability of this kid to play away from him,' " UCLA Coach Jim Mora said Monday. "I just think that it has to be judged very, very, very carefully because you only get 12 guaranteed games. To take one away or take a half away, that's a heavy punishment. If it's obviously targeting and it's beyond any doubt that it was targeting, then I support it. If it's gray area, then I don't."
A targeting call also played a pivotal role for UCLA during the Bruins' 42-21 victory over Nevada Las Vegas on Saturday. Rebels safety Kenny Keys was ejected early in the fourth quarter after committing the infraction while defending receiver Eldridge Massington on third down, resulting in a first down for the Bruins during a drive that extended their lead to two touchdowns. "I didn't feel it at all," Massington said of the hit. "I could have stayed in the game, but they took my helmet."
Targeting does not require players crashing into someone with the top of their helmets. Players can also be penalized for making contact to the head or neck area of an opponent who is considered defenseless.
UCLA linebacker Kenny Young was called for the latter infraction last season against BYU quarterback Tanner Mangum while Mangum was sliding to the ground. "That was legit," Mora said of the call against Young.
The coach felt differently about a targeting penalty against Nebraska's Nate Gerry in last season's Foster Farms Bowl against UCLA running back Paul Perkins. It was too close to call, Mora said.
"I was just like, 'Well, this is really unfair,' " Mora said. "This kid's last game of his career and you can't be sure that it was targeting. I was standing right there and it was on one of my players and I'm going to protect my players and it blew me away. So I think we have to be really, really careful, but I do support the rule. The bottom line is I support the rule."
Victory formation?
UCLA ran 65 of its 80 plays (81.3%) against Las Vegas out of the shotgun formation after touting itself for months as more of a pro-style, quarterback-under-center team.
What does it mean? Not much, according to Mora. The Bruins will continue to utilize both styles as they see fit. "It's what's being effective that day, how we want to attack them, what plays we want to run, what's the situation," Mora said.
Quick hits
Mora said he was hopeful that defensive tackle Eddie Vanderdoes (knee), defensive end Takkarist McKinley (groin), fullback Cameron Griffin (concussion), linebacker Cameron Judge (shoulder) and defensive end Deon Hollins (concussion) could play against BYU. Mora also said he was hoping that safety Jaleel Wadood, whose injury the coach described as "bumps and bruises," could play. Mora said the availability of Vanderdoes, who suffered a mild left knee strain against Las Vegas, was "just a matter of how fast he heals and how well he feels on Saturday." ...
Running back Nate Starks, who has been held out of the first two games for undisclosed reasons, could "hopefully" play against BYU, Mora said. ...
UCLA's game against Stanford on Sept. 24 at the Rose Bowl will start at 5 p.m. and be televised by Channel 7.
ben.bolch@latimes.com
Twitter: @latbbolch
Get the latest on L.A.'s teams in the daily Sports Report newsletter.
You may occasionally receive promotional content from the Los Angeles Times.