UCLA's offensive linemen can't put up a false front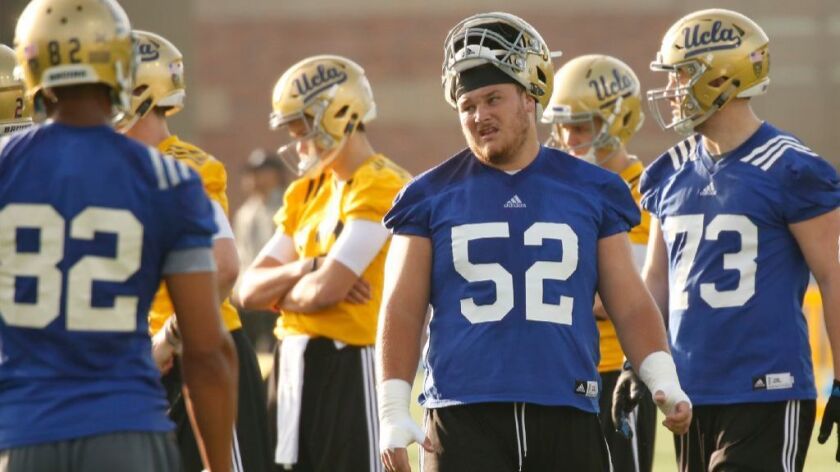 UCLA's offensive linemen did not toil in anonymity last season. They were repeatedly called out on message boards as the subject of fan angst after struggling to protect quarterback Josh Rosen or open even modest-sized holes for the running backs.
If all goes well, the Bruins linemen will want their names known in the coming months for a job well done. In the early days of training camp, the primary starting unit has consisted of Kolton Miller at left tackle, Najee Toran at left guard, Scott Quessenberry at center, Andre James at right guard and graduate transfer Sunny Odogwu at right tackle. Kenny Lacy replaced Odogwu for the latter portion of practice Friday after Odogwu appeared to be a bit banged up.
New offensive line coach Hank Fraley said no decisions have been made as far as the starting five.
"You would like to have a starting 10," Fraley said. "That would be nice to have two depths, but the guys are pushing each other all the way across the board."
UCLA seems to have a bit more quality depth than last season. Poasi Moala made three starts in 2016 and coach Jim Mora recently mentioned Michael Alves, Zach Bateman, Paco Perez and Jake Burton as candidates to contribute. James and Lacy are among the players who are interchangeable at tackle and guard, providing additional insurance.
"We rotate a lot because you never know how injuries will work," said James, who acknowledged a preference for playing right guard. "Last year and the year before that, there's always dudes going down, so to be able to work together with a whole bunch of different people, that's a big thing."
The 6-foot-7, 315-pound Odogwu, a native of Nigeria who spent the previous four years at Miami (Fla.), has provided an infusion of size and spirit.
"Sunny is very big and loud," Lacy said. "A big personality. Keeps the group light. We've loved to have him so far."
The last No. 42
Jackie Robinson's jersey number is displayed prominently throughout UCLA's campus, a 42-inch-tall bronze "42" atop a plaque outside the Jackie Robinson Athletics & Recreation Complex.
One place it won't be found after this season: on the front and back of a football jersey.
Senior linebacker Kenny Young will be the last Bruins football player to wear No. 42, three years after the school announced that it would retire that number across all sports in honor of the four-sport standout who went on to break Major League Baseball's color barrier with the Brooklyn Dodgers.
Jelly Felix, a senior outfielder on UCLA's softball team, is the only other player on campus still wearing No. 42.
Young initially picked the number at John Curtis High in New Orleans not as a tribute to Robinson but because he figured it was one with which he could bring distinction to himself. He's certainly come to realize the privilege of representing No. 42 as a Bruin.
"You think about the things that Jackie did in that jersey and out of that jersey," Young said of Robinson, who wore several numbers while at UCLA. "It was bigger than sports, it was bigger than whatever he was going through and I think that the way he handled it on the field, off the field and how he handled it with people was tremendous because it could be easy for him to snap or be like, 'You know what, man, I hate the way I'm being treated' or, 'I hate the way such and such people are being treated. Let me be a [jerk] to those guys back.'
"Nah. He answered it with dignity and character."
Young, a second-team All-Pac-12 Conference selection last season who is on the watch lists for several national awards in 2017, said he wanted to uphold the principles of his jersey forebear.
"Forty-two's just a number," Young said, "but for Jackie to be in it, words don't even do justice to explaining your feeling of being in that position. It's something special. I just wished that the inspiration that he gave to me, I'm that living inspiration to that next kid."
Quick hits
Running back Soso Jamabo missed a second consecutive practice, one day after Mora said he was being held out because of back tightness. But running back Jalen Starks returned after having missed a practice for what Mora said was a family emergency. . . . Sophomore Lokeni Toailoa played middle linebacker with the first team, flanked by Young and Josh Woods. Toailoa was the linebacker who came off the field in nickel defense situations. . . . The Bruins wore shoulder pads in camp for the first time.
Follow Ben Bolch on Twitter @latbbolch
---
Get the latest on L.A.'s teams in the daily Sports Report newsletter.
You may occasionally receive promotional content from the Los Angeles Times.