Josh Rosen finding his rhythm in practice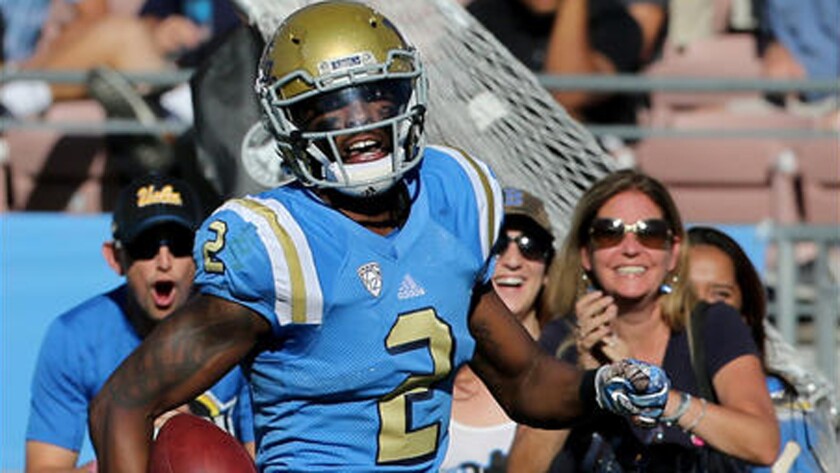 Jordan Lasley sprinted past the defensive backs, extending his arms to catch a 65-yard pass from Josh Rosen with only open field in front of him.
The final play of UCLA's practice Saturday afternoon resulted in a touchdown. It also felt like something pulled from the archives of recent days. Rosen has completed pass after pass after pass, with only the receiver and the yardage varying.
The Bruins quarterback has appeared increasingly locked in with three weeks to go before the season opener against Texas A&M on Sept. 3 at the Rose Bowl.
"Obviously that's what we're after," Bruins coach Jim Mora said of the consistency exhibited by Rosen. "It's a good sign. There's been about three or four days where it seems like he's found a little bit of a rhythm; we just gotta keep pushing him and he'll keep pushing himself."
After favoring receiver Darren Andrews in the early days of training camp, Rosen has diversified his targets over the last week. He has repeatedly connected with receiver Christian Pabico and tight end Caleb Wilson while also regularly finding tailback Bolu Olorunfunmi coming out of the backfield.
Rosen completed 19 of 31 passes for two touchdowns and no interceptions Saturday during Fan Appreciation Day before hundreds of onlookers who lined the ledges of a parking lot, a conference center and the new Wasserman Football Center.
There is no doubt Rosen has completely recovered from the shoulder injury that limited him to six games last season, but his receiving corps is not at full strength. Audie Omotosho did not practice Saturday, Demetric Felton sustained an undisclosed injury and Theo Howard limped off the field after suffering what appeared to be an injury to his left ankle or foot.
Howard was able to walk around the perimeter of the field after being attended to by a trainer. "It looked like he was getting better," Mora said.
Rosen withstood a ferocious hit after scrambling downfield toward the middle of practice. The hit triggered a shoving match between tailback Soso Jamabo and defensive lineman Osa Odighizuwa, who has been one of the standouts of recent practices.
"He's really made a move the last few days," Mora said of Odighizuwa.
Defensive lineman Rick Wade provided one of the highlights of the day, picking up a fumble and racing for a touchdown that he punctuated by spiking the ball. Freshman defensive back Quentin Lake also intercepted a pass from backup quarterback Matt Lynch.
Quick hits
Mora provided a play-by-play with reporters as several of his players used T-shirt guns to launch freebies toward fans lining a terrace of the Luskin Conference Center after practice. "Let's see if they can make it up there," Mora said as Lynch prepared to pull the trigger. "Oh they can, nice!" Mora said, before another T-shirt traveled only halfway to its target before floating toward the ground. "Oh, that's a dud." … Tight end Austin Roberts did not practice because of an injury, Mora said. … Tailback Brandon Stephens, slowed by an injury in recent days, ran before practice and could return as soon as Monday, Mora said. … Kicker J.J. Molson made all three of his field goals, including a 35-yarder.
Twitter: @latbbolch
---
Get the latest on L.A.'s teams in the daily Sports Report newsletter.
You may occasionally receive promotional content from the Los Angeles Times.