UCLA's offensive line applauded for performance against Arizona State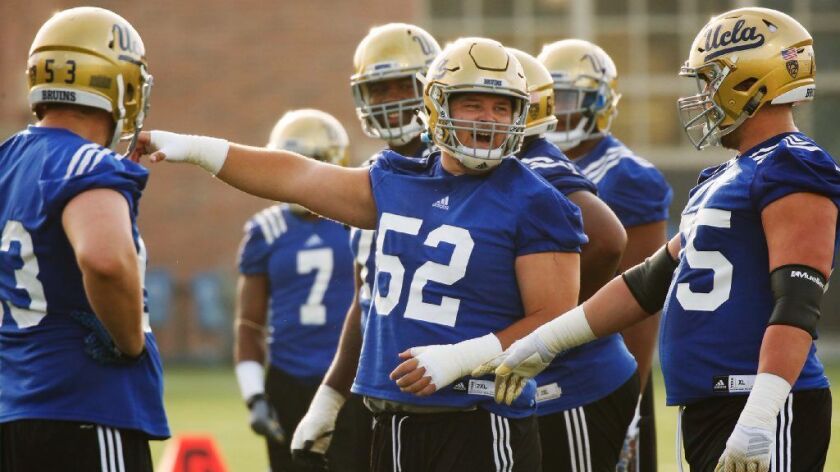 UCLA's offensive line was singled out Monday, two days after quarterback Josh Rosen suffered a bloody nose.
It wasn't any sort of reprimand. The starting line of left tackle Kolton Miller, left guard Najee Toran, center Scott Quessenberry, right guard Michael Alves and right tackle Andre James received kudos in front of the entire team for not allowing any sacks against Arizona State while opening holes that contributed to the team's top rushing performance of the season.
"Our offensive line did a tremendous job again," Bruins coach Jim Mora said Monday after the Bruins ran for a season-high 192 yards.
Rosen's bloody nose was the result of the quarterback absorbing a blow on a facemask penalty in the fourth quarter Saturday, after he decided to fake a handoff and run the ball.
"We know how Josh is, he doesn't like to concede a play, he doesn't like to give up, he actually pulled the ball on a couple of those zone reads and scrambled for six inches," Mora quipped. "He's like all of our guys, they've got grit and I applaud him for that."
Rosen remaining upright was an encouraging development after he was sacked four times in the first half against Washington on Oct. 28, including the hit in which he suffered a concussion that forced him out of that game and required him to sit out UCLA's game against Utah the next week.
The Bruins have allowed 21 sacks this season, ranking seventh in the Pac-12 Conference. They will face a USC pass rush on Saturday that has generated a Pac-12-leading 36 sacks.
"Defensively, they fly around," Mora said of the Trojans. "They play with a lot of energy; they're very talented."
UCLA held Arizona State to 93 yards rushing in the second half after the Sun Devils had 201 yards before halftime. Part of the improvement could be attributed to Arizona State being in comeback mode and passing more, but Mora said he noticed continued development among his young defensive line.
"I've seen things start to slow down," Mora said. "I've seen it in practice on a consistent basis, I've started to see it in games on a more consistent basis with the front four."
The Bruins moved hybrid linebacker Keisean Lucier-South back to the defensive line and shifted safety Adarius Pickett closer to the line of scrimmage to help counter Arizona State's constant motion and misdirection plays.
Mora said he also liked the way safety Mossi Johnson tackled while helping limit the Sun Devils to only one running play that went for more than 20 yards.
"We've seen too many open-field tackles missed that turned into 50-yard gains," Mora said. "Even though they had some holes in there because we weren't exactly right [with coverages], Mossi was coming up with Pick[ett] and they were making tackles, so it was a 12-yarder instead of a 55-yarder.
Linebacker Krys Barnes might have qualified as the guttiest Bruin on Saturday after persevering through 97 plays only two days after it appeared he wasn't going to be able to participate because of an infection that caused difficulty breathing.
A turning point came when the medication Barnes was given helped moderate his symptoms, to a degree.
"He could hardly breathe at times," Mora said of Barnes, who had played in a few previous games after experiencing fluid buildup in his lungs.
Mora said he was hopeful that another week of recovery would help Barnes feel better going into the game against the Trojans. The Bruins are also hopeful to get defensive end Jaelan Phillips (concussion), safety Jaleel Wadood (neck) and reserve quarterback Devon Modster (thumb) back.
Mora said Modster was still unable to grip a football Saturday after suffering a non-displaced fracture against Utah but could have played in an emergency role to hand the ball off to the running backs.
Follow Ben Bolch on Twitter @latbbolch
---
Get the latest on L.A.'s teams in the daily Sports Report newsletter.
You may occasionally receive promotional content from the Los Angeles Times.