UCLA, with five players sidelined by concussions, appears to be extra cautious with athletes' safety
Josh Rosen's final act as a UCLA quarterback was one of frustration. He slammed his helmet to the Rose Bowl grass while seated on the bench last November during a game against California, fully aware that his season was in jeopardy.
He had just suffered his second concussion in a span of 28 days, threatening his return not just for the second half of the Bruins' final home game. Rosen soon learned that the repeated concussions would also keep him out of the team's bowl game a month later.
"I thought I was fine to play," Rosen said last week during a telephone interview. "I still, to this day, don't think it was a concussion [against Cal]. But, I mean, they were just being overly cautious. I think it's just better being safe than sorry."
Nearly a year later, the Bruins' medical staff appears to have taken safeguarding players to a new level.
Coach Chip Kelly recently announced that five players — tailbacks Soso Jamabo and Bolu Olorunfunmi and linebackers Jaelan Phillips, Je'Vari Anderson and Mique Juarez — would miss the rest of the season because of concussions at a time when UCLA had half its schedule left to play.
Two other players said they had taken medical retirements before the season after repeatedly suffering concussions, brain injuries caused by blows to the head or hits to the body that cause the head and brain to jolt back and forth. Concussions can result in a host of short- and long-term complications.
"We've had a lot and we just deal with them," said Kelly, who acknowledged this is the most he's had in nine season as an NFL or college head coach. "But I think our training staff and medical staff does an outstanding job."
The number of UCLA players sidelined appears to be an outlier among college football teams, given that only one other Pac-12 Conference player — Washington defensive back Austin Joyner — is known to have been ruled out for the season because of concussions, though some schools are more open about disclosing injuries than others.
"Even given the higher number of players in college [versus the NFL], five players ruled out midway through the season does seem higher than typical," said David Chao, an orthopedic surgeon and former team physician for the Chargers. "The aberration could be explained by chance, it could be explained by UCLA being diligent with its athletes in protecting them. Without evaluating each circumstance, it's hard to make a broad conclusion."
Chao said scenarios that could cause a player to be declared out with a concussion in midseason included repeated concussions, lingering symptoms and players not willing to return and accept the increased health risks associated with additional concussions.
UCLA does not make injured players available for interviews and an athletic department official said the medical staff would not comment because of student privacy concerns.
The official said the medical and training staffs had remained the same since Kelly replaced predecessor Jim Mora and that their evaluation and treatment of concussions was consistent with previous years. The official added that each player was evaluated on an individual basis and the medical staff's guiding principle was to err on the side of caution.
What had changed, the official said, was the team's increased level of transparency and communication with the public about the injuries.
UCLA had at least two players — Rosen and linebacker Breland Brandt — whose seasons ended prematurely because of concussions in 2017. Brandt announced his medical retirement on Twitter while Rosen's condition was closely guarded.
Rosen said he knew shortly after he was held out of the second half against Cal that he would not play in the Cactus Bowl last December. But interim coach Jedd Fisch never publicly divulged Rosen's status until the day of the game. Rosen even warmed up in full uniform on Chase Field in Phoenix before reemerging in sweat pants for kickoff.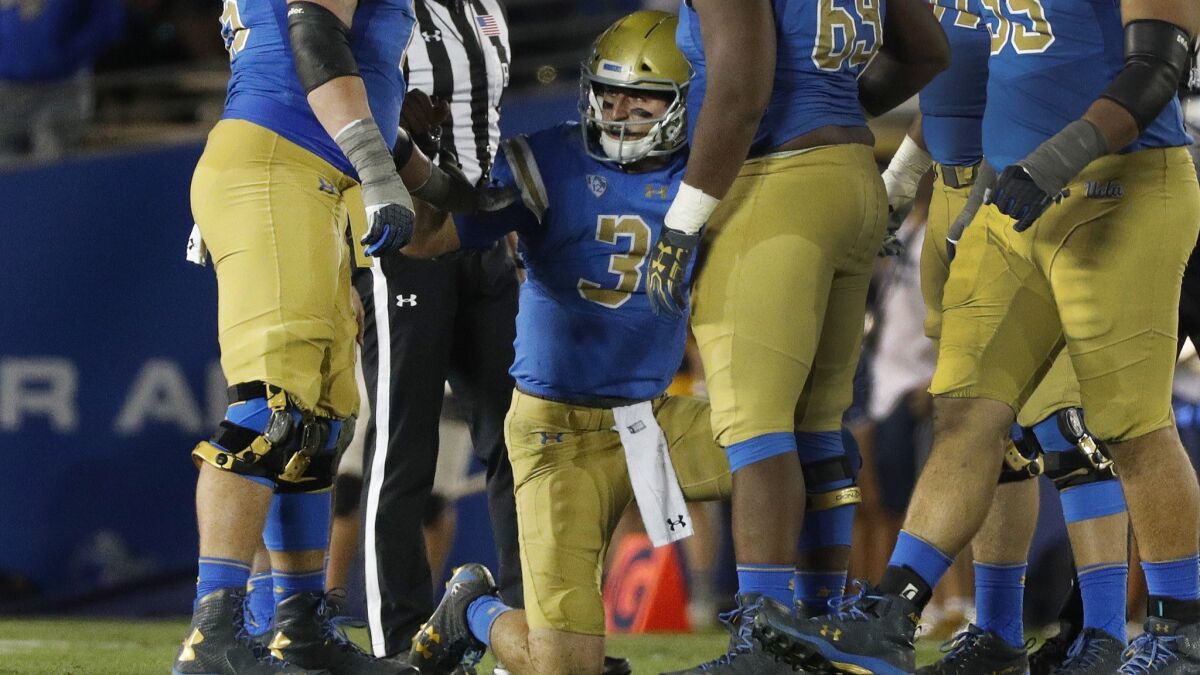 "That's just what coach wanted me to do," Rosen said. "I don't know if they were playing mind games with the other team or whatever."
Fisch said Rosen had been cleared to practice but not to play and the coach "did not see a reason why Josh would not work on his craft throughout all bowl preparations up to and including bowl game warmup."
Rosen suffered his first concussion on the first drive of the Bruins' game against Washington in October 2017 and tried to play through his worsening symptoms before being removed from the game by medical personnel in the third quarter. He sat out against Utah the following week before returning a week later against Arizona State after having cleared the team's concussion protocol.
"I went over to the Stein [Eye] Institute and did a bunch of different testing there," said Rosen, now a rookie with the Arizona Cardinals. "I ended up getting cleared, but even though I passed every single test they still held me out a minimum of one week, so I mean I thought it was done very well."
Rosen said the concussion protocol involved waiting for symptoms to resolve before undergoing comprehensive testing to ensure he had returned to baseline levels that had been recorded before the season. He acknowledged having tried to talk his way into playing in the Cactus Bowl before being overruled.
"They were just being very cautious because it was the second one within the same month," Rosen said. "The bad ones that they really want to look out for are the repeats in the same season. Those are the ones they … worry about."
It was unclear if any of the UCLA players recently sidelined had suffered multiple concussions this season. Phillips missed two games in 2017 because of a concussion and Olorunfunmi missed three days during training camp in August because of an unspecified injury.
Kelly said it seemed as if more concussions were occurring in games than practices, though he could not offer a specific breakdown. Anderson has not played this season and Juarez appeared in the first game against Cincinnati before suffering an injury in practice the following week that forced him to walk into a medical shed for treatment. He has not played since.
The five players recently ruled out weren't the first to be lost for the season. Offensive linemen Jax Wacaser and tight end Jimmy Jaggers took medical retirements before the season because of repeated concussions.
Jaggers said at the time that he had suffered a third concussion as the result of a car accident and Wacaser said he had sustained a fourth concussion in spring practice. Wacaser said he was told that a fifth concussion would put him at a substantially increased risk for brain damage.
Chao said one trend that has increased concussion safety is a rise in self-reporting among players because of increased awareness of potential dangers.
"There might be a few hardcore coaches that secretly roll their eyes, but outwardly there's nobody, there's no teammate and no coach who's going to roll their eyes figuratively or otherwise at a player that self-reports something, so I think the players think it's OK," Chao said. "The culture has changed and that's a good thing."
While the severity of concussions can vary widely, Chao said players are being held out longer before being allowed to return in the NFL. As recently as three years ago, Chao said, players were mostly returning to play the week after suffering a concussion. Now, most players miss at least one game before being cleared to return.
NFL players must be cleared by a doctor not affiliated with the team in order to come back from a concussion, reducing the possibility of their being rushed back to play before they are ready.
Like most college programs, UCLA does not have that additional protection. Given the school's apparent cautious approach, however, it may not be necessary.
"I think just sort of around the country, they're getting more and more diligent with covering all these things and making sure that no one's slipping through the cracks," Rosen said. "But college is kind of tough because they don't have as much oversight as they do in the NFL, and even in the NFL sometimes it slips through, so I guess it's better to be safe than sorry."
Etc.
Kelly said defensive back Colin Samuel suffered a torn knee ligament against Utah and is out for the season.
Follow Ben Bolch on Twitter @latbbolch
Get the latest on L.A.'s teams in the daily Sports Report newsletter.
You may occasionally receive promotional content from the Los Angeles Times.