Christine Peng-Peng Lee came to UCLA on crutches and left as a champion
Approaching the four-inch-wide leather stage, she dusted her left foot with chalk, hoping to ensure a grip that would prevent her fragile knee from a tremble, twitch or buckle.
The slightest twinge, the smallest tremor, could force a lean that might send her tumbling, and who would want to end 20 years of toil in a heap on the floor?
Wearing a silver-sequined blue leotard, Christine Peng-Peng Lee paused to wave and smile, just as she had ahead of her balance beam routine at the 2012 Pacific Rim Championships, when UCLA gymnastics coach Valorie Kondos Field first saw that she could be special.
"She was primed to be the best Canadian Olympic gymnast that the women's program had ever had," Field recalled.
Now the woman the Bruins call "Miss Val" desperately needed Lee to shine one final time.
Lee inhaled, exhaled and waited for one … two … three seconds. With another smile for the crowd, she placed her right foot behind her left, posing like a ballerina, one arm in the air the other pointing straight ahead. If someone snapped a photograph, it might end up in her pink memories box.
Gripping the beam, she opened with one of her favorite moves, the Homma flares, scissoring her legs between her torso and the beam. Moments later she stood, hands over her head, and stopped.
She didn't know that a 9.975 — a score only one other gymnast at this meet had achieved on the beam — would give UCLA its first national championship since 2010. No, Lee figured with the way the Bruins started the competition, there was no way she could save it. So she focused on herself.
This was her last event, the culmination of a lifetime of training that included six years in Westwood that started on crutches. Earlier, as she scanned the stands at Chaifetz Arena in St. Louis, she realized this was the end. Whether she nailed the routine or fumbled it away, her gymnastics career would be over, and she'd be a 24-year-old in search of something new.
"Just think about it as another performance," Lee told herself before the routine.
She vaulted forward and flipped. Her left foot landed on the beam's edge, her back facing the blue landing pad. She pushed off, her knee bones grinding where cartilage used to be. Her legs drifted over her head and, with a resounding thud, her feet speared the floor.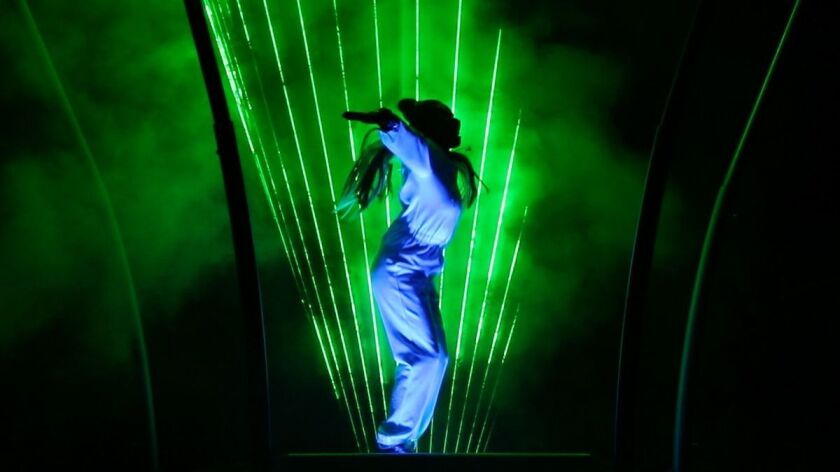 Her teammates burst into celebration, wailing, jumping and bawling. Not because they'd won — nobody knew yet — but because of what she'd been through and what she meant to them.
She'd seen her last blindfolded sandbag competition at Santa Monica Beach, her last gathering at the Dogwood dorm. There would be no more Jenga challenges or gobbling dim sum with her "dumpling squad" buddies.
But she had this — the grandest of finales — before she would zip down Interstate 5 toward San Diego and the next phase of her life.
Forget the score, forget the possibility of any championship. It was bliss.
::
She wanted a maple leaf on her leotard and her picture up on the wall.
The leaf identified members of the Canadian national team. The picture went up if you became an Olympian.
Lee was enrolled at Sports Seneca, a school and gymnastics academy in Toronto. She already could perform a quadruple twist on the trampoline and there were whispers that she might be heir to the country's gymnastics throne.
She was 10.
Even then, Kondos Field knew of her; she saw Lee at Sports Seneca while recruiting an older gymnast. But before the maple leaf, or the wall photo, or UCLA, little Christine had plenty of challenges to overcome.
A broken hand in Lee's first year at the academy left her weeping in her mother's car. She fainted weeks later when the cast was removed and revealed muscle atrophy. Then there was the bullying.
Most of the girls at Seneca were close friends by the time she arrived, and Lee was left out of their cliques. It didn't help that she earned podium spots ahead of more-tenured classmates. Or that she didn't reach puberty as early, leading to insults about her size and lack of development. There was no shortage of drama.
She's tried to block out the specifics.
"Kids," she recently recalled, "have no mercy."
She considered quitting but already had tried that once, very young, and it didn't work out. When she was 6, two years into training, she dabbled with cooking, playing the guitar, gave track and field a run, even played the dormouse in a production of Alice in Wonderland. But she had returned to the gym, and she wasn't ready to leave again.
Soon, she didn't have to worry about her peers. In June 2008, Sports Seneca closed, although coach Brian McVey agreed to keep working with Lee and her best friend, Taylor Lindsay-Noel.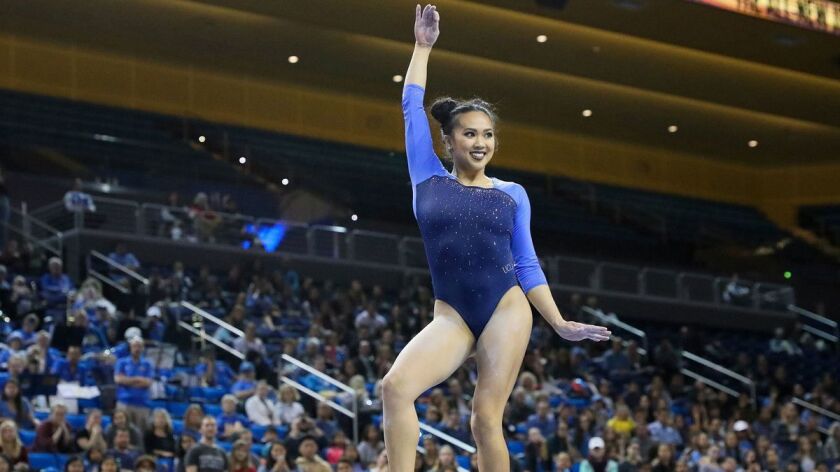 They were training together on July 15, 2008, when Lindsay-Noel tried something called a "toe-on double front" on the uneven parallel bars. Releasing her grip from the top bar more than eight feet off the floor, she landed on her neck. And there was no safety padding to break her fall.
Lee vividly remembers her friend's motionless body strewn like a napkin across the floor. She remembers getting rushed into the locker room, her heart thumping, her hands and feet trembling with fear.
Lindsay-Noel was paralyzed with a broken spine.
It was Lee's first exposure to serious injury, and it made the back pain she soon felt even more of a concern. She couldn't stoop to pick up a pencil she dropped in math class. Using the bathroom felt like her back was being branded. She cried when she sneezed.
"You're 14 years old," her father told her. "You shouldn't be like this."
A specialist found that her spine was unstable, a condition that left unaddressed could lead to paralysis. She was advised to take a year away from gymnastics, with no running or physical strain of any kind.
It was another in what became a long string of setbacks.
A couple of years later, in May 2011, she suffered a dislocated left kneecap while preparing for Olympic qualifying.
She recovered just in time to travel to Tokyo for the world championships in November and the Pacific Rim Championships that followed. There, competing against the likes of Americans Jordyn Wieber and Gabby Douglas, Lee placed third in the all-around, second on beam and second on floor, the best marks of any Canadian gymnast.
Were she able to replicate those performances a few months later, she might become the first Canadian woman to win a medal in artistic gymnastics. She carried that hope — and a new personal motto: no regrets — into the Canadian nationals in May 2012, a final tune-up for the Olympics.
It was during vault practice on the eve of that competition that she tried something new. "I don't know how I'm going to land," she recalled thinking. "I'm going to land on my face."
Instead, she landed as intended, on her feet. But in pain.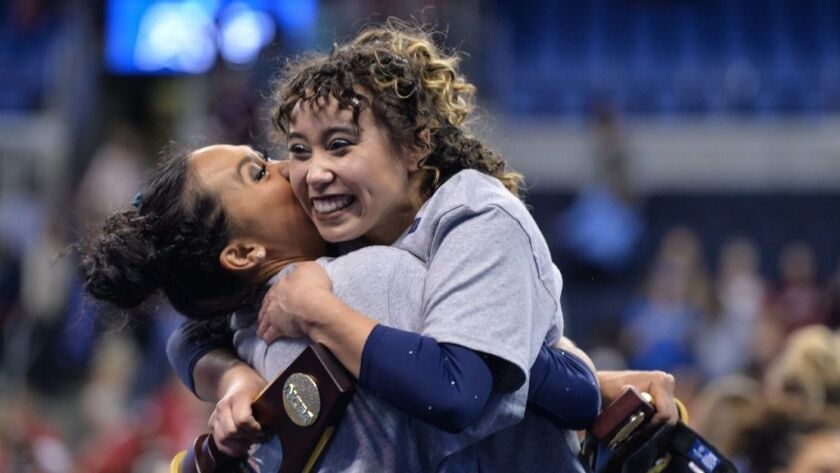 Lee tumbled to the floor, grabbing and squeezing her left knee until she heard a pop.
Helped onto a table, she could see the joint swelled into a "huge puffball."
"I was just praying to God," she said, "that I did not have an ACL injury."
The diagnosis was twice as bad: a torn ACL and MCL. The knee felt like a Slinky.
The Olympics were just weeks away, and Lee was left asking "Why me?" — until her mother mentioned that she was proud of her for even attempting the new vault.
She was an honorary gymnastics captain for Canada in the 2012 Olympics, but through all the training and injuries she never competed in the Games. She was a heroic national team star, whose profile dissolved into relative anonymity over a matter of weeks.
But remember that motto, "no regrets"?
"I'm proud of myself for actually going for it," she said. "I actually probably would have regretted not doing it, so to me, that was my whole mantra, and I stuck with it."
::
Lee arrived at UCLA on crutches two weeks after surgery that placed cadaver tissue in her knee to stimulate the growth of new ligaments. She already knew she couldn't compete during her first year. Getting to class up and down the hills of Westwood proved difficult enough.
She did not yet know she would have to wait another year beyond that.
When she finished with the rehabilitation protocol, her left knee still felt looser than the other. An MRI revealed the cadaver ligament had dissolved. That meant a second reconstruction, this time using her own tissue.
Lee didn't compete for UCLA until Jan. 12, 2015, halfway through her junior year of school. With her injury history, she couldn't perform a floor routine but still had hopes of reaching the Olympics the following year.
Then a thumb injury eliminated the bars from her repertoire, and torn meniscus in her knees took away the vault.
There were more thoughts of quitting. Her UCLA teammates made her want to stay.
::
With two events to go in April's national final, UCLA trailed defending champion Oklahoma by a substantial margin. And watching the Bruins during warmups for the uneven bars didn't inspire much hope.
One after another, they slipped and fell onto the mats.
But then Nia Dennis opened with a 9.8375, and JaNay Honest followed with a 9.9.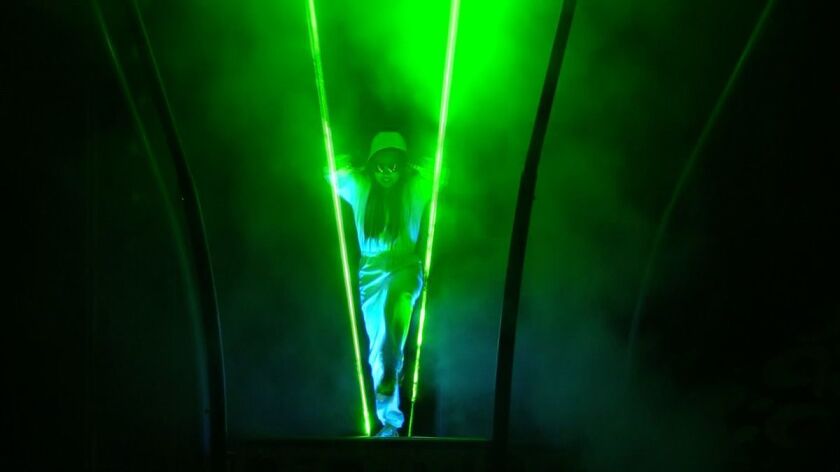 Lee approached her coach with a request: "Can I have a hug?"
"What?" Kondos Field answered. "Why?"
"Can I just get a hug? Please?" Lee begged.
"You know what Miss Val?" Lee said at the end of their embrace. "This is my last bar routine ever. I'm just gonna go up and have the time of my life."
And she did. Her score: a perfect 10 — the first of the competition.
UCLA recorded a season-best 49.6375 points on the bars as a team, cutting its deficit by nearly half, to .175.
In the final event, the balance beam, Grace Glenn led off for UCLA with a 9.9375. A fall by former U.S. Olympian Madison Kocian hurt the comeback chances, but Brielle Nguyen rallied with a score of 9.875 and Katelyn Ohashi was even better with a 9.95.
That meant Kyla Ross and Lee still needed to be almost perfect for the Bruins to have a chance.
Ross earned four 10s, culminating in a score of 9.9875. Lee was even better.
"I looked at the scoreboard, and I saw UCLA on top, and I am still in shock," Lee told reporters afterward. "My tears have not come out yet. … They're still dancing and having a party in my eyeballs."
::
When Lee arrived at UCLA in 2012, though barely able to walk, she asked to be included in a trip to Santa Monica Beach for a team-building challenge.
She expected to cheer on teammates while they played volleyball or tossed around a Frisbee. Instead, she found 116 sandbags scattered across the shore.
The women were told to partner up. One was assigned to fill the bags while blindfolded, the other told to direct the sightless teammate in building something using the bags.
Lee decided to make a trampoline, because the team's motto that year focused on how every thread makes a trampoline more powerful.
"It was awful," said Lee, who recalled turning to her partner, Danusia Francis, and asking whether this was how Americans had fun.
"It was kinda funny," Lee said, "but it was one of those things where we definitely bonded."
The next few years provided more fond memories.
She grew close with teammates Anna and Grace Glenn, twins who Lee mentored when they arrived on campus in 2017. She invited them over to watch "The Secret Life of Pets," to wade at the beach and to eat Chinese food. The trio later added Nguyen to form the "dumpling squad," a homage to their Chinese heritage, and met up to scarf down dim sum, noodles and other favorites.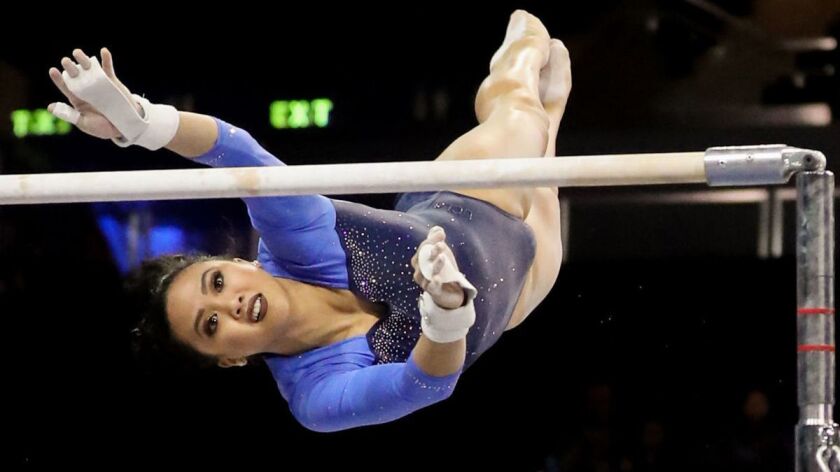 "She was my go-to person this year," Anna Glenn said of Lee. "I'm not gonna have that anymore."
There was the Jenga challenge before a meet at Berkeley, and Lee's chats with Nguyen about the importance and relevance of essential oils. There was Senior Day, when Lee performed a floor routine without flips and mid-air twists, just dancing while her more stable-kneed teammates added background moves.
And there was the last day of practice, which Lee filmed and posted for the 20,000 subscribers on her YouTube channel. It included the team inviting a guy who was dancing in the window at their workout to lead a routine to the music of Beyonce's "Countdown." The video also visualized a sentiment that seemed to be shared by all the seniors: acceptance about moving on.
"I'm ready," Napualani Hall said. "Sad, but ready."
Lee tried to save some UCLA memories in a pink box kept under her bed. She said it contained notes, photos, letters and a horde of gymnastics posters she took from the office of sports information director Liza David.
"I like to hang onto things," she said.
The box, an old clothing carrier that once contained a dress, already has been tucked away in a storage unit. Someday, Lee said, she might reopen it and put in pictures that commemorate UCLA's title.
Or not.
That part of her life is already behind her, and she's started something new.
::
Emerging from the darkness in a cloud of blue mist, she partners in dance with green lasers, moving with them, swaying alongside and stepping through when they form jail-like bars.
"Ladies and gentlemen," Lee announced after the three-minute routine, "welcome to our show."
She hosts IllumiNight, a laser light and dance show at SeaWorld San Diego. It opened June 16 at the Nautilus Amphitheater and runs nightly through Aug. 12 with additional weekend shows through Sept. 3.
The job entails bits of gymnastics — the pageantry of performance, acrobatic stunts by the other dancers, and colorful costumes — but is also very different.
She didn't use her voice in gymnastics; the routines spoke for themselves. Now she opens with a rap: "Let's get wild/Take a dip/Take a chance/Are you ready 'cause I know you wanna/Daaaaance."
Sparkling, black pants, a long-sleeved tribal-print shirt and dance shoes have replaced leotards and chalk.
After a recent 25-minute performance, a girl using a UCLA flag as a blanket asked for a picture, as did a family wearing UCLA t-shirts. One woman who had no idea who Lee was approached to ask advice for her niece, who wanted to host shows like IllumiNight.
"Actually," Lee explained, "my background is in gymnastics."
It's a strange feeling, starting over in a world that feels new.
"Sometimes I get messages saying, 'Oh my gosh, I've been through this injury,' or, 'I've done this, but you really inspired me to come back to gymnastics,'" she said. "I think that's why, when it came to the Olympics, I didn't need that Olympic title to say, 'I win.' Because I feel like how I got to the Olympics and how I pursued it … will be talked about more than me just going."
Her biggest concern about leaving gymnastics? Not that she'll miss the awards or championships.
It's that those messages might stop coming.
---
Get the latest on L.A.'s teams in the daily Sports Report newsletter.
You may occasionally receive promotional content from the Los Angeles Times.