UCLA fires on all cylinders, rout Loyola Marymount 82-58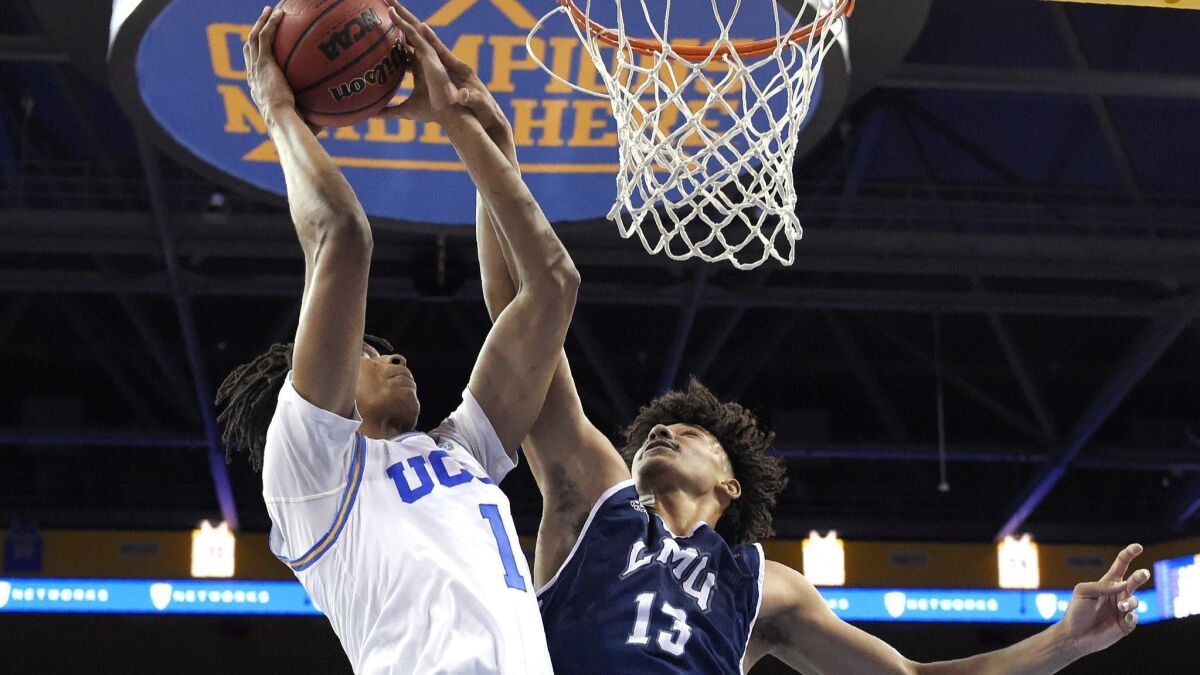 Maybe Lob City didn't depart Los Angeles so much as change locations.
Pauley Pavilion was the new home of alley-oop passes flying through the air Sunday night, with UCLA point guard Jaylen Hands feeding center Moses Brown for dunks three times in the game's first 5½ minutes.
The Bruins were in a sharing mood for much of an 82-58 victory over Loyola Marymount that represented their best all-around effort of the season.
UCLA (6-2) logged assists on eight of its first nine baskets while building a double-digit lead it held for most of a drama-free game. The Bruins were also committed defensively, holding Loyola Marymount to 29% shooting, and avoided lengthy lulls while handing the Lions (8-1) their first loss of the season.
"I'm proud of what our guys were able to do for 40 minutes," UCLA coach Steve Alford said.
Hands and Brown finished with double-doubles and forward Kris Wilkes scored 14 of his 17 points in the second half as the Bruins pleased a season-high crowd of 8,242. Some of the biggest roars came from Hands passes that turned into Brown dunks, lobs reminiscent of the Clippers' attack before they recently disbanded their core.
"Every time he drives," Brown said of Hands, "he can just throw it up and I'll be right there to catch it."
Hands notched the first double-double of his career, finishing with 17 points and 10 assists. The sophomore has reached double figures in assists in each of his last two games after doing that only once in the first 37 games of his career.
"He's been such a much better player when he's been an assist-first guy and getting everybody involved and letting his points come," Alford said. "His teammates are loving playing with him right now because he's finding everybody."
Brown compiled his first double-double since the third game of the season. His 12 points, 10 rebounds and three blocks were all the more impressive because they mostly came against 7-foot-3 counterpart Mattias Markusson, the rare college player taller than the 7-2 Brown. Brown said he was driven by a recent two-game downturn in which he was a nonfactor against nationally ranked Michigan State and North Carolina.
"I definitely didn't like how that felt, so I just learned that I have to come out with more intensity," Brown said. "I learned that this is the next level, it's not high school anymore so I can't play around with these teams."
UCLA's early ball movement alleviated Alford's fears of the Bruins being able to score against a team that entered the game giving up an average of only 56.5 points per game, eighth nationally.
But UCLA's sustained defensive effort might have been even more impressive.
The Bruins showed how strong defense can lead to easy offense in the second half, with a Brown block leading to a Wilkes dunk and a Hands steal allowing him to go in for a breakaway dunk.
Alford praised shooting guard Prince Ali for his tenacious defense on Loyola Marymount's James Batemon, who entered the game averaging a team-leading 20.3 points per game but was held to seven points on two-for-14 shooting. Batemon missed all five of his three-pointers while abandoning drives toward the basket in favor of jump shots.
"We thought he had to score, he had to get his average or more," Alford said, "for them to really have a legit chance I think of getting us in here."
Forward Dameane Douglas scored a team-high 11 points for Loyola Marymount, which did not bear much resemblance to the team that had beaten Georgetown and Nevada Las Vegas while getting off to the best start in school history. The Lions made only two of 16 three-pointers against the Bruins.
"Offensively, we really broke ranks," Loyola Marymount coach Mike Dunlap said. "We got impulsive. We didn't go inside-out. We were settling for shots on the outside when we should have been going inside."
That wasn't a problem for the Bruins while logging what might have been their best victory of the season. The Lions entered the game ranked No. 25 nationally in the new NCAA Evaluation Tool that will be used to pick and seed teams for the NCAA tournament.
For maybe the first time all season, the Bruins looked like a team capable of making a sustained run come March.
"As far as home wins," Alford said, "this is as good as it's got so far in my opinion."
UCLA next
Saturday vs. Notre Dame, 7:30 p.m., Pauley Pavilion, ESPN2 — This is the resumption of a longstanding rivalry in which the teams have met 48 times but not since December 2009. The Bruins lead the series 28-20.
Follow Ben Bolch on Twitter @latbbolch
---
Get the latest on L.A.'s teams in the daily Sports Report newsletter.
You may occasionally receive promotional content from the Los Angeles Times.