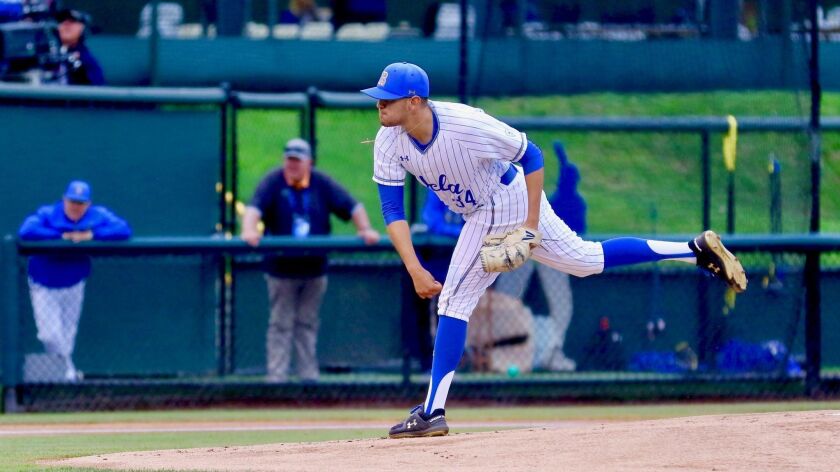 The looming question heading into Monday night's finale of the Los Angeles Regional was who UCLA baseball coach John Savage would choose to start on the mound after the team was forced to use nine different pitchers, two of them twice, to get through Sunday's doubleheader.
Junior right-hander Felix Rubi got the ball and although he only lasted 1 1/3 innings, he did keep his team in the game and the Bruins went on to defeat Loyola Marymount 6-3 at Jackie Robinson Stadium to continue their quest to the College World Series in Omaha.
Six pitchers combined to scatter six hits for the clinching win and the Bruins are expected to host a three-game super regional series against Corvallis Region champion Michigan over the weekend.
After two errors off the glove of first baseman Michael Toglia led to two runs in the opening frame, Rubi retired No. 8 hitter Dylan Hirsch on a fly out to left field to limit the damage. UCLA quickly tied it up in the bottom of the first when Ryan Kreidler singled, Chase Strumpf doubled, Jake Pries hit a sacrifice fly and Strumpf scored on an errant throw to the plate.
Rubi, a former All-City pitcher at Kennedy High in Granada Hills who then became a closer for Glendale College, was lifted with two on and one out in the second, but following a walk to load the bases, reliever Michael Townsend got Trevin Esquerra to ground into a double play.
Kreidler hustled for a leadoff double in the third and UCLA took the lead on a sacrifice fly by Toglia, who was picked in the first round of the MLB draft by the Colorado Rockies shortly before the game began. Jeremy Ydens smacked a double off the left-field fence to begin the fourth, Kreidler was hit by a pitch and Strumpf, who was drafted 64th overall by the Chicago Cubs during his at-bat, belted a three-run homer to left to give the Pac-12 champions a commanding 6-2 lead.
West Coast Conference tournament winner Loyola Marymount crept a run closer in the fifth when Brandon Shearer scored on an error by Strumpf at second base.
Townsend went 2 2/3 innings, freshman Jack Filby pitched one inning and senior Nate Hadley retired the side in the sixth. UCLA loaded the bases in the bottom half, threatening to break the game open, but Pries fouled out to catcher Cooper Uhl, who made a basket catch up against the padding near the home dugout. UCLA's fourth reliever, staff ace Ryan Garcia, pitched around a one-out hit in the seventh, then got the Lions in order, giving a fist pump after fanning Hirsch to end the eighth.
Sophomore right-hander Holden Powell closed the door in the ninth, striking out Uhl and Nick Sogard, then getting Kenny Oyama to ground out to shortstop to end the game.
UCLA freshman Matt McLain started for center fielder and leadoff hitter Garrett Mitchell, who was sick, and Jake Hirabayashi made his first start of the playoffs at third base.
On Sunday, UCLA (51-9) beat Baylor 11-6 behind Rubi, who gave up one run and threw 40 pitches in three innings of relief, and then beat Loyola Marymout to force a final game against LMU on Monday to decide a super regional berth.
LMU (34-25) ended the Bruins' 11-game winning streak (their longest since 2013 when they captured their only national championship) with a 3-2 triumph Saturday that put top-ranked UCLA on the brink of elimination.
"We fought, we battled, we threw strikes, we hung in there with them, we just couldn't get the timely hit. It's not the result we wanted but the umpiring was great all weekend and I tip my cap to John [Savage] and his coaching staff. They are No. 1 in the country for a reason," said Loyola Marymount coach Jason Gill.
---