No. 22 UCLA impresses then regresses in 89-76 loss to No. 11 North Carolina
NEW YORK — UCLA Coach Steve Alford was frustrated with his team's performance on Thanksgiving at the Maui Invitational. UCLA's defense, he said, was not good, "at all."
In its next six games, UCLA would play a No. 1-ranked team, Kentucky; a top-20 team on the road, Gonzaga; and a former No. 1, North Carolina. Basketball statistician Ken Pomeroy's projections gave the Bruins a 1% chance of winning all three.
Midway through the first half against North Carolina on Saturday, the improbable was taking form. No. 22 UCLA had won its first two challenges, and now was giving No. 11 North Carolina fits. In the first half, the Bruins led by double digits. Could it happen?
Then the old defense returned. The Tar Heels stormed back and sprinted past the Bruins to win, 89-76, at the Barclays Center. UCLA would have to settle for two out of three of the marquee nonconference games.
"We just had two glaring weaknesses today," Alford said, identifying them as turnovers and transition defense.
Before Saturday, UCLA had committed more than 10 turnovers just once in December. Against North Carolina, it had 17. Players bobbled easy exchanges, stepped out of bounds and dribbled off their feet. Big men were caught frequently in North Carolina's trap defense.
Four transition layups sparked a 13-0 Carolina run in the second half, and UCLA did not have the firepower to erase the 16-point deficit. The Tar Heels' 24 points off turnovers were a season high.
North Carolina had to rely on its speed because the Bruins had mostly shut down its three-point offense. In the first half, the Tar Heels made one of 11 three-point attempts. Meanwhile, a stream of three-pointers ignited UCLA to an 11-point lead.
Last season, in a 22-point loss to North Carolina in the Bahamas, Isaac Hamilton seemingly could not have played worse. He didn't score, missed all six of his shots and had seven turnovers. Hamilton has been streaky. At times, he has disappeared or played frantically. At others, such as against Gonzaga, he has caught fire.
In the first six minutes Saturday, he took four three-pointers, and made all of them. He finished with a team-high 23 points on nine-for-12 shooting and committed just two turnovers.
Bruins guard Isaac Hamilton tries to beat North Carolina forward Isaiah Hicks to a loose ball in the second half Saturday.
(Frank Franklin II / Associated Press)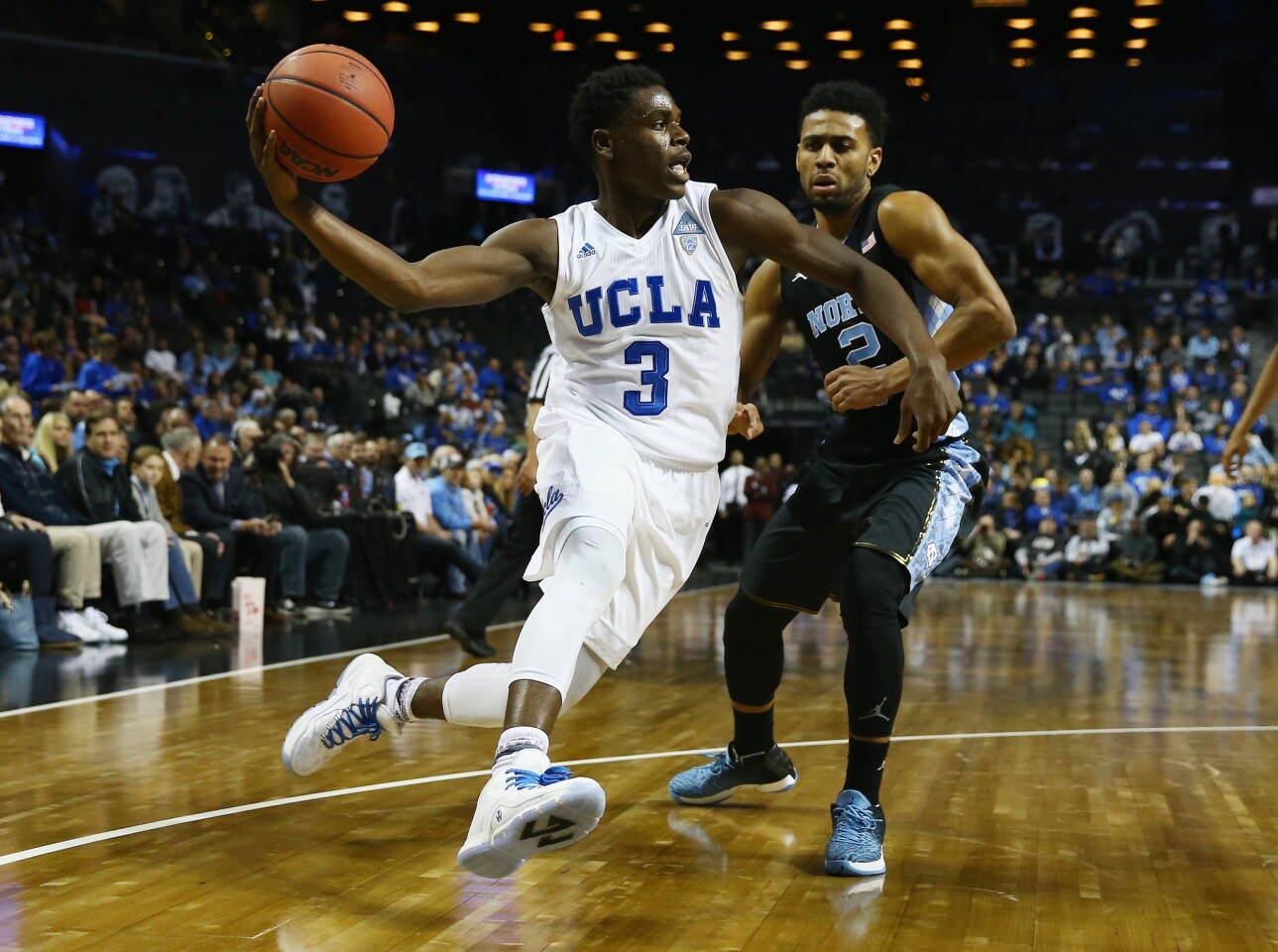 Bruins guard Aaron Holiday prepares to pass after driving against North Carolina guard Joel Berry II on Saturday.
(Al Bello / Getty Images)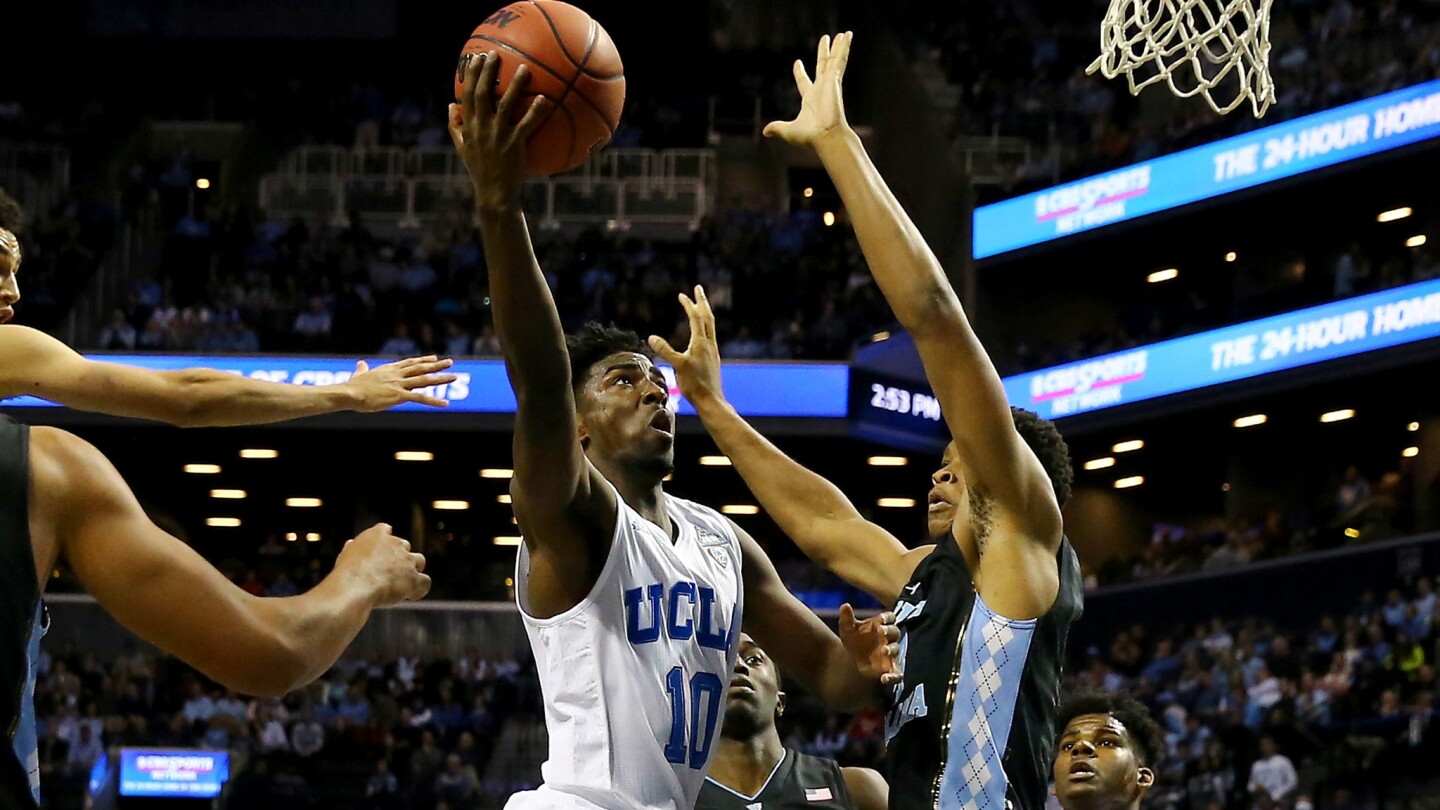 Bruins guard Isaac Hamilton drives down the lane for a layup against North Carolina on Dec. 19.
(Al Bello / Getty Images)
UCLA forward Jonah Bolden battles Tar Heels forward Isaiah Hicks for a rebound during their game Saturday at Barclays Center.
(Al Bello / Getty Images)
UCLA guard Bryce Alford is defended by Tar Heels guard Joel Berry II during their game Saturday in Brooklyn.
(Al Bello / Getty Images)
North Carolina guard Nate Britt drives against UCLA forward Tony Parker in the first half.
(Al Bello / Getty Images)
UCLA guard Bryce Alford (20) lofts an off-balance shot after driving down the lane against North Carolina in the first half.
(Frank Franklin II / Associated Press)
North Carolina's Brice Johnson (11) and UCLA's Tony Parker (23) fight for control of the ball in the first half Saturday.
(Frank Franklin II / Associated Press)
"Once one went down, I feel better, and I feel like the next one will go down as well," Hamilton said.
North Carolina, playing without forward Kennedy Meeks, had no answer inside for UCLA early. But then center Thomas Welsh picked up three fouls in just eight minutes, and Tony Parker picked up a quick two, and UCLA's lead evaporated in a hurry. By halftime, North Carolina had tied the score, 38-38.
Less than four minutes into the second half, Parker picked up his fourth foul.
"It was huge," he said. "I let my teammates down."
Parker still managed to record a double-double, with 13 points and 11 rebounds in 21 minutes. But the two big men were on the court at the same time for only 11 minutes 10 seconds. Without both, UCLA was not the same.
North Carolina forward Brice Johnson missed his first shot and then made his next 11. He scored 27 points and implied afterward the Bruins didn't respect him in the paint.
"Those are the shots I shoot in practice every day," Johnson said. "If you let me get it down there, that's what I do."
Alford said he believed his team had regressed, especially defensively. Still, he said, there was much to be encouraged about in the past month. After Maui, he said, he did not have a target win total in mind. But two out of three against top-20 competition would've been overly optimistic.
In the locker room, Alford told the players they had made him proud.
Then, Alford said, "I told them in the locker room, 'Make me proud again.'"
UCLA NEXT UP
Tuesday vs. McNeese State, 8 p.m., Pauley Pavilion, Pac-12 Networks — McNeese State has just two wins, against Dillard and Louisiana State-Alexandria, but gave LSU a challenge in an 81-70 loss in its opener.
zach.helfand@latimes.com
---
Get the latest on L.A.'s teams in the daily Sports Report newsletter.
You may occasionally receive promotional content from the Los Angeles Times.