Defense is the problem again, as UCLA falls below .500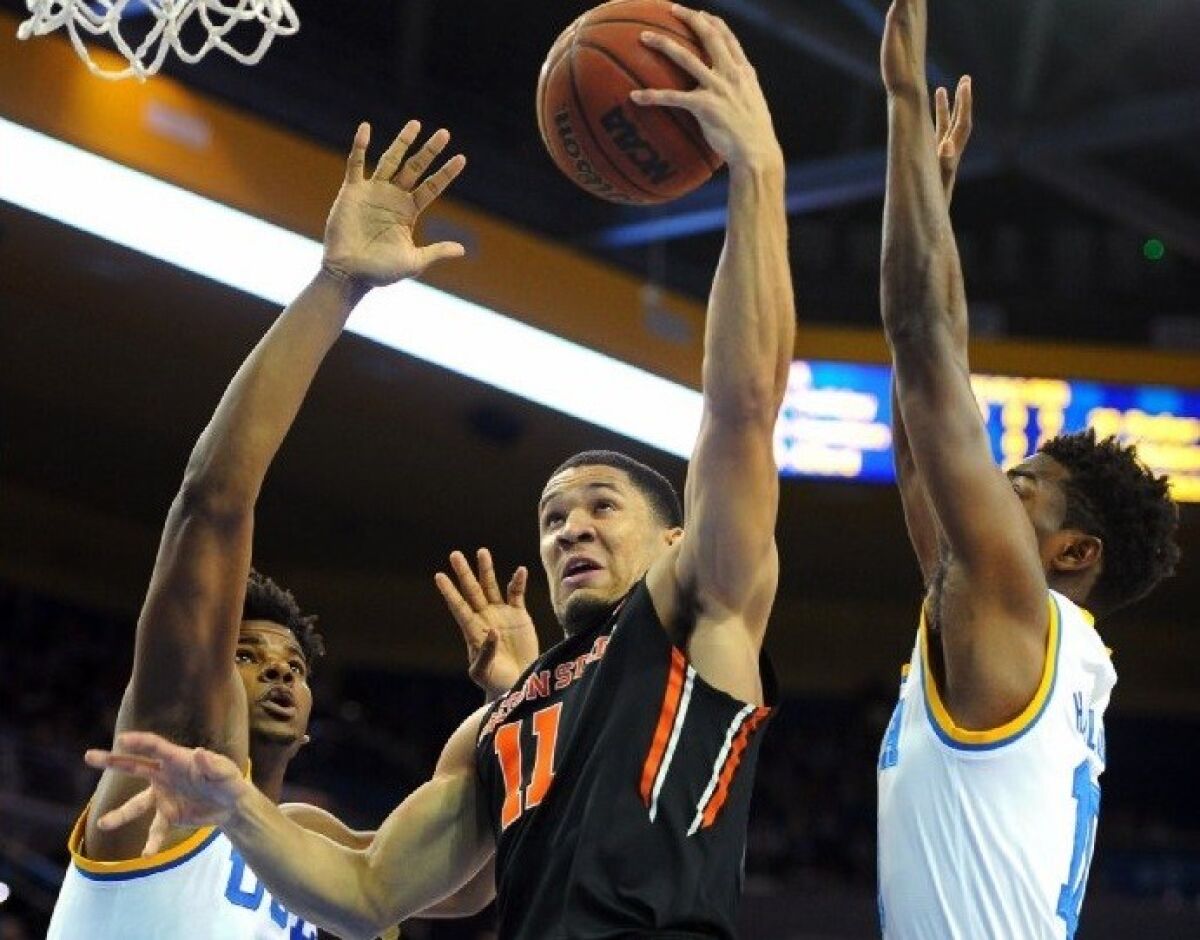 With 1:25 remaining in UCLA's regular-season finale at Pauley Pavilion, the Bruins were trailing Oregon State by nine points and quickly approaching a fourth consecutive loss.
But four offensive rebounds, two forced turnovers, and a trio of three-pointers later, UCLA managed to pull within two points with a handful of seconds remaining. Then, the reality check: Freshman Aaron Holiday lost control of his dribble, Oregon State threw a quick outlet pass to Gary Payton II, and one windmill dunk later, the Bruins were back to square one, defeated by a score of 86-82.
"I thought toward the end of the game, we started picking it up defensively," sophomore center Thomas Welsh said. "But that's what we need to do from the start. We can't just wait until the end when we're in a horrible spot to get that going."
UCLA (15-16, 6-12) finishes the regular season with a sub-.500 record for only the fourth time since John Wooden took over as head coach in 1948. As the 10th seed in the Pac-12 tournament, the Bruins will take on seventh-seeded USC, which has blown them out twice this season.
UCLA's immediate concern, however, is the status of junior guard Bryce Alford, who was hit in the jaw while trying to trap Oregon State's Malcolm Duvivier late in the game. Duvivier was assessed a flagrant foul on the play, and Alford was escorted to the locker room. He did not return and is expected to receive a CT scan to check for fractures.
"He got hit in the jaw pretty hard," said his father, Coach Steve Alford. "We've got to hope Bryce is OK."
Scoring wasn't the problem for the Bruins against the Beavers (18-11, 9-9). After going into the break tied at 31, they exploded for 51 in the second half. Bryce Alford contributed 18 points and five assists, and was joined in double-figures by junior guard Isaac Hamilton (21 points, including two three-pointers in the final minute), Welsh (14 points, 12 rebounds), senior Tony Parker (14 points, nine rebounds), and Holiday (10 points).
As in previous defeats, Steve Alford pointed to his team's defense as its weak link. The Bruins had brief stretches of defensive intensity, holding the Beavers without a basket for seven minutes in the first half, but couldn't sustain that effort all the way through. The Beavers shot 61.5% in the final 20 minutes, including a blistering six of nine from beyond the arc.
Four Oregon State players finished in double figures, including guard Stephen Thompson Jr. (23 points), who missed all seven of his attempts in the first half, but shot seven of nine afterward. He and Payton (17 points, six assists, five rebounds) maneuvered around the court with ease.
With or without Bryce Alford, UCLA will have to win its conference tournament to qualify for the NCAA tournament. "We get season three [the conference tournament] like everybody else, but we have to do something in season three that's special to guarantee season four," Steve Alford said.
Alford's message resonated with Parker, who has made it to the NCAA tournament every year he has been at UCLA, and was the only player honored on Senior Day.
"Big games, we play well. I think we've just got to keep it up, go out here and really fight for wins," Parker said of the Pac-12 tournament. "It's a new season and you really have to put forth effort. … We've got to come out and play hard. Everybody is 0-0 now."
Follow Alex Shultz on Twitter @AlexShultz
---
Get the latest on L.A.'s teams in the daily Sports Report newsletter.
You may occasionally receive promotional content from the Los Angeles Times.