Column: UCLA's tank looks empty after latest loss to Oregon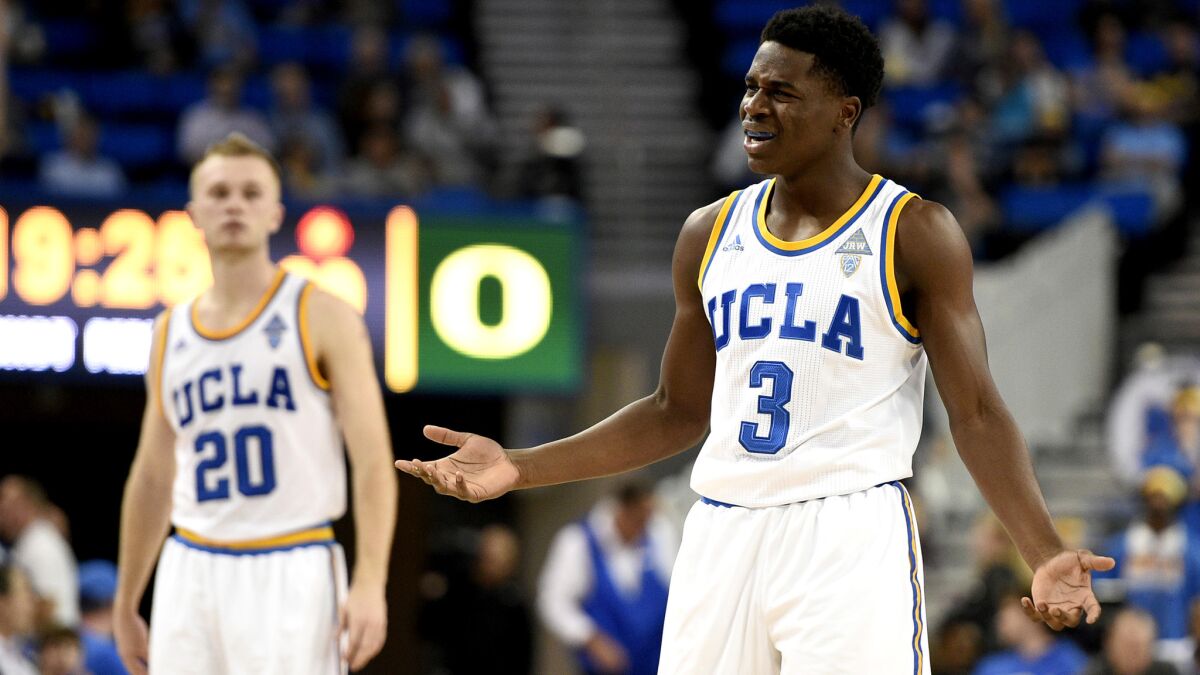 The game had been completed for barely five minutes, and the saddest gym in Los Angeles was already mostly empty.
Students had run out of the end zone bleachers. Boosters had spun on their heels, turned their backs on the final seconds, and climbed hastily of the lower section.
UCLA had lost another basketball game, Pauley Pavilion had lost another bit of its fading aura, and up on a concourse, one voice could be heard above the murmurs and whispers.
"It's getting hard to watch," said a man.
A Bruin fan? A cynical sportswriter? No, that was a direct quote from a blue-vested usher. That's how bad it is here now. The people who are paid to watch can't watch.
For the 15th time in 30 games this season, in front of a small and frowning crown that expected the worst and got it, UCLA was beaten Wednesday by No. 9 Oregon, 76-68, in a game that typified a season.
The Bruins raised hopes with an 11-point lead late in the first half. This is the team that earlier beat Kentucky, Gonzaga and Arizona, remember?
The Bruins then collapsed by being overwhelmed by 13 points in the second half. This is also the team that has lost nine of its last 13 games to ensure only the fourth losing conference record since 1948, remember? And, oh yeah, they'll probably miss the NCAA tournament for only the fifth time in 26 years.
After consecutive Sweet 16 appearances, the Bruins have stunned their fans with a collapse that seemingly nobody saw coming — fundamentals crumbling, teamwork disappearing, beaten for loose balls, battered on big plays.
It's bad enough that somehow, some way, league-best Oregon has wound up with much better athletes and players than UCLA. But fans audibly groaned in disbelief Wednesday when the Ducks clinched the game on consecutive … missed shots? Yep, Oregon's Jordan Bell and Tyler Dorsey grabbed offensive rebounds over out-of-position Bruins and scored baskets that lit up Pauley's exits.
The best part of the game wasn't even part of the game, it was the stirring national anthem sung a cappella by three members of UCLA's women's gymnastics team. Their moves have already gone viral, and on Wednesday, the voices of Alex Waller, Hallie Mossett, and Peng-Peng Lee were heavenly.
Maybe Steve Alford can recruit one of them. The third-year coach needs something right now. Players, strategies and, oh yeah, maybe some earmuffs to drown the growing cries for his job.
Seriously, people? This talk about bouncing Alford after three seasons is ridiculous, and not because his seven-year deal has a $10.4-million buyout.
This column space has proved unafraid to take on a UCLA basketball coach, witness the final days of Ben Howland, Steve Lavin and even Jim Harrick. But it is not time to chase Alford, not yet, not after what he already put on his resume, and what he could be adding to that resume soon.
Do you know how many other teams besides Alford's Bruins have been to the Sweet 16 in each of the last two seasons? Five.
Do you know what is currently the longest streak of Sweet 16 appearances? Four.
In college basketball's current climate, in a world where history-poor young athletes no longer view UCLA through the dazzling memory of John Wooden, Alford's achievements in his first two years here were strong. And next year could be even stronger, with a top recruiting class including one of the nation's top point guards in Lonzo Ball from Chino Hills, a top power forward in T.J. Leaf from San Diego, and a potentially powerful center named Ike Anigbogu from Corona Centennial.
This is a lousy year for Alford, his coaching and recruiting have both understandably been criticized, and he doesn't get a pass here. But he has certainly earned another year to get it right again.
When asked about the heat Wednesday night, Alford nodded.
"I get it. I understand it," he said. "But hopefully there will be some patience for us because our guys are working hard, and I think we're building it the way we want to build it."
He acknowledged that the growing pains of this year's freshmen, combined with the recent loss of future NBA players Kyle Anderson, Zach LaVine and Kevon Looney, have left his team undermanned. He won't say it, but Aaron Holiday, Prince Ali, Jonah Bolden and Alex Olesinski are all still in various stages of development and need more time.
"When we lost what we lost, there's going to be a transition year," he said. "Some of these guys aren't ready to do what we're asking them to do.
"They're giving good effort, they're fighting, but clearly a team like Oregon is more athletic than we are."
Alford also won't say it, but he was hoping for more veteran leadership, and has been let down by the lack of progress from Tony Parker, his only senior, who has struggled defensively.
"We're getting good people, good students, they're working, and right now that's all you can ask," he said.
Well, UCLA fans demand a lot more, but they're going to have to wait another year to get it, and so the saddest gym seemed even sadder Wednesday when, in the second half, cheerleaders flung souvenirs into the crowd.
They were gold T-shirts that read "UCLA Basketball 11-time National Champions" Most fans looked at them as if they were dusty relics, and left before putting them on.
Follow Bill Plaschke on Twitter: @billplaschke
---
Get the latest on L.A.'s teams in the daily Sports Report newsletter.
You may occasionally receive promotional content from the Los Angeles Times.