UCLA freshman quarterback Dorian Thompson-Robinson looks 'mature beyond his years'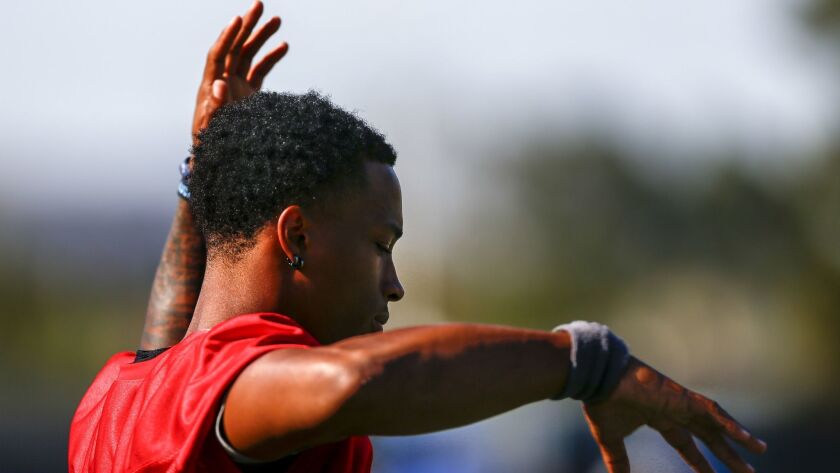 Chip Kelly described UCLA's early training camp practices as "chaos" because of the swarm of true freshmen just starting to learn the coach's hyperactive style.
Not all of the newcomers seemed lost.
Quarterback Dorian Thompson-Robinson has already won praise for his quick mastery of the Bruins offense.
"I definitely think he looks mature beyond his years," junior receiver Theo Howard said Thursday of a player who in high school started only one season at quarterback. "He's out there making great decisions."
Of course, that's been hard to verify by reporters who cover the Bruins. Media are granted access to only a 20-minute period of practice in which the quarterbacks stretch, make warmup tosses and throw a handful of passes in drills.
Kelly said that his quarterbacks had improved since the start of camp while absorbing the nuances of new plays each day, but the coach noted that it was premature to discuss separation among the primary candidates to replace Josh Rosen as the starter.
Thompson-Robinson is widely regarded as having the most upside among the contenders, a group that includes graduate transfer Wilton Speight and redshirt sophomore Devon Modster. The 6-foot-1, 200-pound Thompson-Robinson can run and pass, giving Kelly additional options in his play-calling.
He's also extremely precocious, pointing out his own mistakes before his high school offensive coordinator had to speak during a film session attended by The Times last fall.
Asked this week what made him unique, Thompson-Robinson said, "I would just say being a playmaker, just being able to extend plays, make plays with both my arm and my feet."
But can he make a successful transition from high school to major college football in a matter of months? The early returns seem encouraging.
"The game looks like it's not too fast for him," Howard said. "He's really settled down and he's making good decisions."
Depth charge
Kelly said that true freshman Chris Murray, making the transition from guard to center, was only one of six or seven players the Bruins were having snap the ball in an attempt to build depth.
Zach Sweeney, Boss Tagaloa, Michael Alves, Josh Wariboko-Alali and Jon Gaines are the other linemen that Kelly said were spending at least part of their practice time at center in an effort to build position versatility.
"If you're an inside player for us," Kelly said, "you gotta snap the football because you never know if we're going to need them at some point."
Etc.
Kelly said that receiver Damian Alloway, a redshirt sophomore who has been absent during the first week of practice, was "not in school right now." Alloway played in three games last season, carrying the ball once for five yards. … Linebacker Bo Calvert limped off the field during practice into a trainer's shed, where defensive back Octavius Spencer was holding his left shoulder while being examined. … Defensive back Colin Samuel and defensive lineman Marcus Moore wore yellow, non-contact jerseys to designate they were recovering from injuries. Kelly said that Samuel had hurt his ankle and was considered day to day.
Follow Ben Bolch on Twitter @latbbolch
---
Get the latest on L.A.'s teams in the daily Sports Report newsletter.
You may occasionally receive promotional content from the Los Angeles Times.