UCLA's Dorian Thompson-Robinson could get up to speed quickly if he prevails in quarterback battle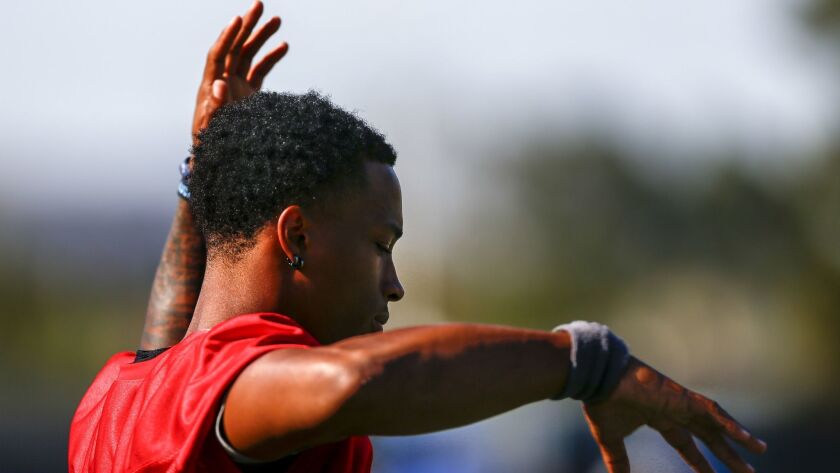 Dorian Thompson-Robinson might have one major ally in his quest to become UCLA's second true freshman to start a season opener at quarterback: the user-friendly offense his team is running.
"The spread offense is easier to teach than a lot of other offenses for the quarterback because it's a lot of reactive stuff," retired Oregon coach Mike Bellotti said in a recent interview with The Times, referring to the scheme preferred by Bruins coach Chip Kelly. "It's, 'This guy does this, I do this. Both of these guys come, I go here.' And I'm standing back three to five yards from the line of scrimmage, so a blitz coming takes more time or they have to declare it very early.
"What you do by spreading out the defense is, you make it easier for the quarterback to recognize what's happening. So it's easier for a younger player, or a less experienced player, to be more successful in that style of offense."
Quarterback Josh Rosen made a marvelous debut as a true freshman in 2015 by running the spread attack favored by Noel Mazzone, then the Bruins' offensive coordinator. Rosen set several school records, including most consecutive passing attempts without an interception (245), most completions in a game (34) and most passing yards in a season by a true freshman (3,670).
Rosen won the job by beating out veteran Jerry Neuheisel, a backup who had come off the bench to lead UCLA to a victory over Texas the previous season.
Thompson-Robinson faces even stiffer competition. He will have to edge redshirt Devon Modster, who helped the Bruins beat California last season after Rosen suffered a concussion, as well as graduate transfer Wilton Speight.
Bellotti, who was Kelly's boss first as head coach and then athletic director at Oregon, said he was surprised by the arrival of Speight after three seasons at Michigan.
"He doesn't fit into anything that Chip has done before," Bellotti said, referring to Speight's style as a pocket passer, "so he might be a safety valve, a backup with experience. That doesn't fit in to me."
Could Speight be like Nick Foles, the similarly built Philadelphia Eagles quarterback who set several NFL records under Kelly in 2013?
"He could be," Bellotti said, "but Chip got rid of Nick Foles."
The Eagles traded Foles before the 2014 season in favor of Sam Bradford, a move that didn't work out as hoped.
While Bellotti acknowledged that Speight having played in 21 college games was a plus, he said Thompson-Robinson's upside is equally enticing.
"I would assume like any coach, if I can get a guy that's battle-tested, that has been in the arena facing great competition and hasn't wilted, has proven he can do it, then that's something that resonates with me," Bellotti said. "But there's also something for just raw potential that you can mold."
Should Thompson-Robinson fail to win the full-time starting job, Kelly will have the option to use the quarterback in as many as four games while preserving his redshirt season. That would allow Thompson-Robinson to appear as a spot starter or off the bench against teams susceptible to his strengths as a mobile quarterback with a strong arm.
Kelly said he's used multiple quarterbacks in a game previously even when injuries weren't a factor.
"My philosophy is to try to win, so whoever gives us a chance to win" will play, Kelly said earlier in training camp. "If that means we've got to play seven quarterbacks, then I'll play seven."
Kelly didn't provide an update on the quarterback race when he last spoke with the media Tuesday other than to say, "They're progressing," and that there was no deadline to pick a a starter before the opener against Cincinnati on Sept. 1 at the Rose Bowl.
Etc.
Running back Bolu Olorunfunmi returned to practice Saturday after having missed the previous three sessions for unspecified reasons .… Defensive lineman Atonio Mafi was a full participant for the first time in training camp after having been slowed by his recovery from a knee injury suffered in high school .… Defensive lineman Otito Ogbonnia, defensive backs Keyon Riley and Octavius Spencer and linebackers Josh Woods, Bo Calvert and Je'Vari Anderson were all absent from the 20-minute portion of practice reporters were allowed to watch.
Follow Ben Bolch on Twitter @latbbolch
---
Get the latest on L.A.'s teams in the daily Sports Report newsletter.
You may occasionally receive promotional content from the Los Angeles Times.